Thailand Losing Face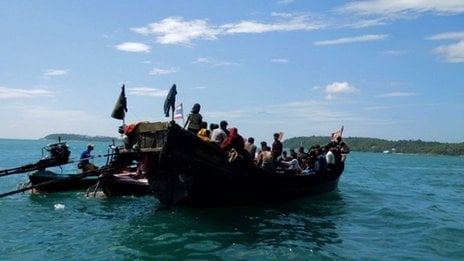 If you thought last week's story about Thailand's decision to forcibly deport Rohingya refugees escaping ethnic violence in Myanmar was horrifying enough, you should probably stop reading now. An investigation conducted by the BBC has uncovered evidence that Thai military and police officials have been complicit in intercepting refugees and then selling them to human traffickers. According to the report, the refugees are mostly transported to Malaysia.
The phenomenal piece by reporter Jonah Fisher charts the story of a fisherman named Ahmed who, along with dozens of others, sought asylum across the Thai border.
When they were caught by the Thai navy not far from shore Ahmed thought his ordeal was over. In fact it had just begun.
That night the Rohingya were taken from the border town of Ranong in a police van. After two hours they were bundled out and put in the back of six smaller vehicles and hidden under nets.
"We were forced to lay down next to each other just like canned fish," he said.
Ahmed did not know it at the time but a trade had taken place. The 61 Rohingya were now heading south towards Malaysia in the custody of people-smugglers.
Unbelievably, the report cites sources directly involved with the smuggling who attempt to justify the sale of the Rohingya as a humane and natural solution to an ever-increasing economic quandary facing Thailand. Malaysia is a Muslim country and the Rohingya are Muslim refugee seekers, says one person. Moreover, the unnamed official asserts that it might very well deter future Rohingya from proliferating along the Thai coast as the situation in Burma becomes even more dire.
Before one dismisses this idea as ludicrous, this kind of logic has been part and parcel of the Thai political system for years and often passes for policy.
Bangkok has said they will conduct their own investigation into the scandal, but it doesn't look good for Prime Minister Yingluck Shinawatra. Already facing a deadly Muslim insurrection in the south of the country, having her country's civil service being caught up in a sinister plot to traffic Muslims out of the country will certainly not help matters.
Photo: RFA