GailForce: Does Congress REALLY Want to Maintain Our Military Readiness?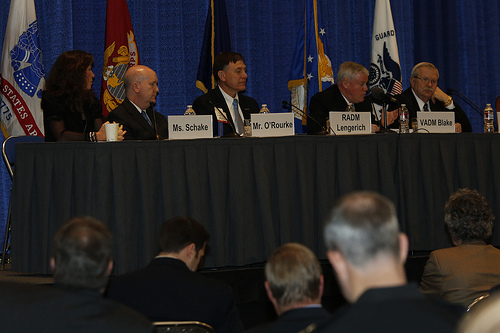 Judging by the budget gridlock the answer seems to be no.  As mentioned in my last blog, I spent last week in San Diego attending West 2013, a Navy/ Marine focused conference co-sponsored by AFCEA International and the U.S. Naval Institute.  The conference theme was:  Pivot to the Pacific What Are the Practical & Global Implications?  That may have been the theme going in but that wasn't the main topic.  Most of the focus, particularly on the first day revolved around what the impact of the Sequestration process and relying on continuing resolutions were doing to military readiness.  Cyber was also a prominent focus.  From my perspective the Pacific Pivot came in about third.
Admiral James A. Winnefeld, Jr., the Vice Chairman of the Joint Chiefs of Staff opened the conference by stating the current continuing resolution expires 27 Mar and we were in danger of sliding into a hollow force.  Force readiness is a major issue.  If the budget situation isn't resolved our military readiness will drop and we might find ourselves in a situation where the military may have to say they can't respond to a crisis. The Admiral stated:  "I know of no other time that we have come down this far this fast in the defense budget.  Our world is about to change. We're going to have less money."
During a panel session later in the day called, The Budget Clock is Ticking.  What Does it Mean?, Ronald O' Rourke, specialist in Naval Affairs from the Congressional Research Service, continued the theme.  He started out by saying in over 30 years he has not seen such a period of uncertainty.  That in turn causes anxiety among civilian workers about jobs and in industry.  It could mean delays on multi-year contracts.  This will particularly impact smaller firms.  The Navy's surface community has been trying to recover from 10 years of budget shortfalls.  It might lead to a situation with a reduced naval presence in parts of the world.  The absence of U.S. naval presence could cause a vacuum and lead to a crisis. It could also effect the perception of nations in a region of whether the U.S. will follow through on promises.
During the same panel session, Kori Schake, a Fellow of the Hoover Institution made the following points:
If the clock is ticking the bomb is about to go off.
Politics has dictated this is the path we're heading.
DOD leaderships has made a set of challenges.
You have defense guidance that is unexecutable.
Not sure where DOD thought political salvation was coming from.
Why is DOD so expensive to get things done?
We have an unaffordable volunteer force.
Entitlement programs driving up costs.
If DOD makes budget choices at the last minute, Congress and the public cannot have a discussion on what the risk is.
The Navy has done a terrific job working personnel issues.
She would recommend looking at army end strength.
Have Marines put away mission of sustained operations and have them be the force to kick the door in while Army ground forces mobilize.
What does this all mean?  I'm by no means a budget expert, I get a headache every time I sit down to pay my bills and balance my check book.  Even having spent over 28 years in the military, I still scratch my head a lot trying to figure out how the military pays for things.  I thought that when Congress approves the continuing resolution (CR) that meant the military budget would be okay for a while.  It turn out my understanding of the process was limited.
The current CR is based on funding at fiscal year 2012 levels.  Apparently under a CR it's difficult to move money from one pot to another.  The part of the budget they can control impacts on things like maintenance.  What types of things will be impacted?  Some aircraft maintenance will be cut.  Admiral Winnefeld said during a similar financial crisis in 1994 the Navy had to shut down an F-14 squadron for 3 months.  If unresolved this situation will lead to reduced naval operations.  NBC news in San Diego reported that $200 million in ship maintenance in San Diego alone would have to be deferred.
During the aforementioned budget panel, Vice Admiral John T. Blake, Deputy Chief of Naval Operations Integration of Capabilities and Resources, provided some more insight.  He said there were no easy solutions and asked how do you apply strategy to a budget you can no longer afford?  He said time is a factor.  The ship is sailing and once that happens and certain actions are taken because of budget issues it's difficult to turn the rudder and return to your original course.  My understanding was this would be particularly challenging to industry.  What happens if cancellation of a maintenance contract causes a company to go out of business?  What if they are the only company that had the capability to produce a certain part or piece of equipment?  The Navy would have to find another provider.
What jumped out at me concerning the budget thing was the expression of major concerns in public by senior leaders.  I don't ever remember so many military leaders speaking out like this in a public forum.  I don't mean to imply the military is secretive simply that it is a "glass if half full," "can do" environment.  Outgoing Secretary of Defense Leon Panetta has also been expressing major concern and sounding warnings on the budget issue.
Many may say, "Gail the defense budget is huge.  Surely they can take some cuts now that we're out of Iraq and winding down in Afghanistan."  I reply by pointing out the largest part of the defense budget goes to personnel and medical related costs.  I've already been notified of some health benefits I'm losing.  The government seems to be under the impression that all veterans under 65 are working and covered by their employers insurance.  That's not the case for me and I'm sure many others.
Think I'll end here.  The conference was not all "gloom and doom."  Here's a "tease."  I got to interview the Chief of Naval Operations and Commandant of the Marine Corps.  I asked each what they thought of the support they were getting from the intelligence community post 9/11. More tomorrow.