The Long Road Back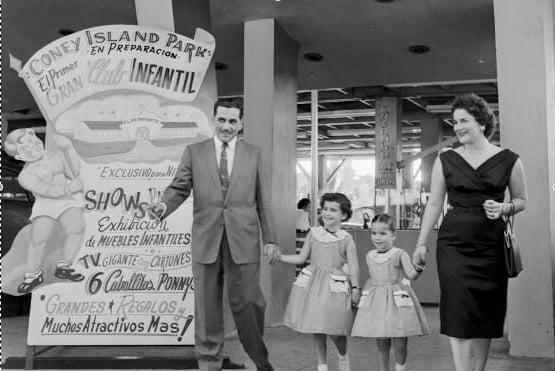 My mother was born in Havana on December 11, 1953, into a solidly middle-class Cuban family. After years of self-driven study and hard work, my grandfather Celestino had been able to launch a successful car import business that allowed him and my grandmother to raise and support a family. They lived on the second story of a duplex right next to the car lot. There were three girls, and my mother was the middle child. Their home was modest but comfortable, as were their lives. My grandmother helped with the books for the business. My grandfather was active in the Rotary Club. The above photo shows my mother with her older sister (my aunt) and parents (my grandparents) in their Sunday best at the Coney Island Park in Havana.
By the end of 1959, the family had left for Miami, then New York City, and finally Los Angeles, where they settled and raised the girls. They left with very little, learned English when they arrived, and struggled to rebuild their lives in a new and foreign country. But they managed.
This March — nearly fifty-four years later — will be the first time that one of them has returned, and it will be my mother. I've talked her into making the trip with me, my husband, and my father. As a Cuban-American family, we have the rare ability among U.S. citizens to travel to the island without restriction from the U.S. government. The hassles are many (U.S. credit and debit cards will not be accepted anywhere; charter flights are expensive and inflexible because they corner the tiny market that legally exists; I could go on), but in the end, we are going.
Understandably, my mother is simultaneously thrilled and anxious about the visit. So am I, if I'm perfectly honest about it. In our family, as it would be and is in many others, this is a huge deal.
As we planned our visit, we saw this week that Yoani Sánchez, the well-known Cuban dissident blogger, had received a Cuban passport. After years of denying travel permits to dissidents and other persons of interest on the island, on January 14 a new law went into effect in Cuba. The despised travel permit was eliminated, and the world watched to see how this would affect Cuban citizens. There could be no greater public signal of change than this particular move: within two short weeks, the most globally well-known opponent of the Castro regime was allowed to take advantage of her right to travel — a right that had long been out of reach.
Looking at these two stories, there is no comparison to be made: The differences could not be more stark between the lives my mother and her family have led in the United States and those of Cubans who remained on the island, including Yoani Sánchez. And yet, it strikes me that travel to and from the island is so thoroughly tied up in deep stresses and anxieties of history, and imperfect and counterproductive laws on both sides.
And it strikes me to watch the changes underway — steady, incomplete, but ongoing.
Our family trip will be one small piece.
(Photo: Getty Images)