Thoughts on Zero Dark Thirty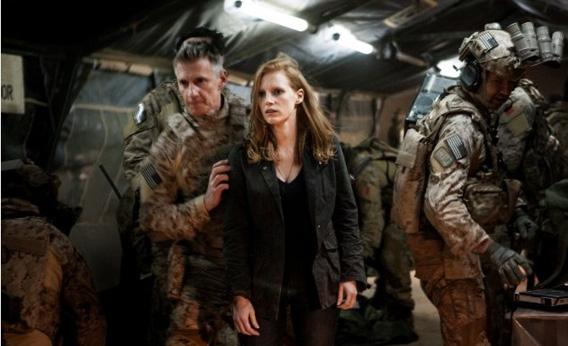 Zero Dark Thirty was among the few of the year's major Oscar-nominated films that I had not seen, so I went earlier this month, somewhat reluctantly. Many far more informed than I (including Senators Dianne Feinstein (D-CA), John McCain (R-AZ) and Carl Levin (D-MI) in a letter to the CIA, as well as Steve Coll in the New York Review of Books) have criticized the film as an inaccurate "defense" of the role of torture as a productive and defensible tool in the hunt for Osama bin Laden and other al-Qaeda leaders. I read Coll's review again having seen the film, and came away in full agreement, but with an additional perspective on the film I hadn't  anticipated.
Part of Coll's objections stem from Director Kathryn Bigelow's unusually strict claim to historical accuracy. The opening tagline reads that the film is "Based on Firsthand Accounts of Actual Events." Coll points to the film's failings as a work of "journalism." This "Firsthand Accounts" tagline played like a plea by Bigelow to convince me, the moviegoer, that for all the famous Hollywood faces and special effects, I was in fact watching a documentary, or even a reenactment – the closest approximation to being flies on the wall for the events. Coll argues that such sweeping claims to accuracy cannot coexist easily with a film structure that, at its center, conflates several real-life CIA analysts into one fictional protagonist (played by Jessica Chastain). We walk into this film knowing not only the narrative's outcome, but also that much of the official history of the period it covers will be classified for years to come. Film is no more capable of perfect objectivity than works of journalism or history; they all carry their creator's perspective. Ultimately, the broad claims to "journalistic" accuracy undercut Bigelow's skill as a director; she sets her film in a realistic base that is absorbing and convincing from the outset.
And that leads to concerns that the film will be accepted as a documentary record of the successful hunt for Osama bin Laden. Critics like Coll are most concerned by the film's depiction of torture as an effective counterterrorism tool, to be utilized so long as it is tolerated politically. I entered the film convinced by Coll's arguments, and the film's straightforward depictions of so-called "enhanced" interrogation techniques make it more difficult to defend their use. And I left the film unsure that its narrative "defended" them in the way that its critics allege. The story contains more demonstrations of morals skewed in pursuit of greater goal than are depicted in the torture sequences. Some are wholesale moral distortions (as when terrorist operatives assassinate a group of American military and intelligence officers); others are at the margins (as whenU.S. intelligence agents engage in bureaucratic infighting geared more toward enhancing individual reputations than to pursing their common endgame.) Cumulatively, however, they depict the moral cost of war.
The film's conclusion is obviously well-known, but I'll offer a slight spoiler alert in discussing its final image: the fictitious CIA analyst, alone in the cargo hold of the military aircraft taking her home, tears up quietly. To me, that final image comprised the film's mood and final message — not one of imperial triumph, vengeance, and moral superiority, but of loss, human frailty and uncertainty. This is the additional impression I had not expected, and is part of the value of a film that aims to document the waging of a war and its attendant moral costs.