Powering Up NAFTA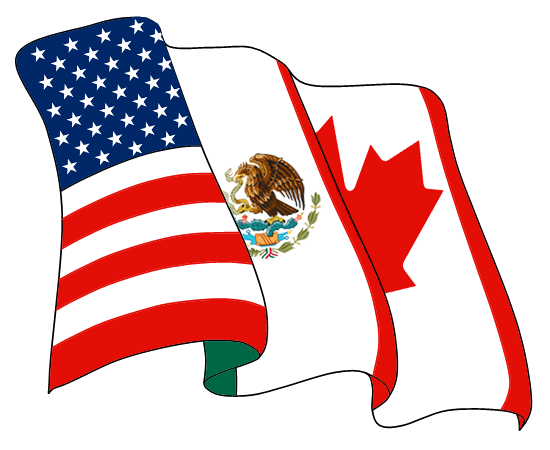 Latin America is often seen as in the lower echelon of State Department priorities, and many experts think this is appropriate, given the world's current hotspots. However, Latin Americans are our closest neighbors, much of our immigrant population, and our partners in solving major domestic issues. Christopher Sabatini, Editor-in-Chief of Americas Quarterly, wants the Obama Administration to be imaginative, if not exhaustive, with its Latin American foreign policy.[1] One of his suggestions, which is near and dear to me, is expanding the North American Free Trade Agreement (NAFTA) to cover trade in energy goods.
The NAFTA section on Energy and Petrochemicals is quite short, which makes it easy on bloggers, but nonexistent in actual policy. Mexico, which has always had a protectionist bent toward its state oil company Pemex, "reserves to itself" basically all energy exploration, refining, and distribution of crude oil and natural gas. The US has similar de-facto restrictions in the area of natural gas exports; only recently have licenses been granted (the Cheniere facility in Louisiana is one example). Today, Pemex needs foreign investment to reverse falling production, and help the Mexican government cut fuel subsidies, which exceed $25 billion annually.[2] As for the U.S., it needs logistical access to new gas markets.[3]
So how would a revitalized NAFTA treat energy? I propose allowing any company based in the region a license to transport fuel over any part of the NAFTA zone. If Pemex can implement better exploration and drilling practices, and produce a glut of oil, then Pemex can sell to distributors who can re-sell the oil anywhere in Mexico or up North. This gives integrated U.S. oil majors, such as Chevron or ExxonMobil, an incentive to invest in Pemex's upstream business.
One obvious drawback – a growing Pemex would have to compete with increasing production from Canada. Due to discoveries in Alberta's oil sands, Canada has the third-highest proven reserves in the world (Source: EIA). However, the point is not to create inter-NAFTA competition, but to make NAFTA a unified production bloc and an easily accessibly exporter of oil and gas. As I will detail, there are plenty of customers out there – other nations, North America's chemical manufacturers or governments (New York City will use natural gas to fuel the Staten Island Ferry due to low gas prices). In the words of MIT Professor John Deutch, "North America's massive resources are going to shift market power away from OPEC and Russia and to consuming nations."[4] Professor Deutch understandably puts the ball into the U.S.' court, given American reluctance to permit natural gas exports, and the ban on construction of the Keystone XL Pipeline, which would transport oil from Alberta, Canada, to refineries in Houston. It is best for the NAFTA nations to have a borderless energy system that ensures abundance for both local supply and for exporting companies. This will aid the Mexican Government in attracting investment to Pemex – Mexican oil can be sold locally, or shipped by Exxon to Asia. The reform will also accomplish a major goal within the strategic thinking of Professor Deutch, who also served as Undersecretary of Energy and Deputy Secretary of Defense – to stabilize the energy supply of U.S. allies.
By becoming a reliable resource for energy-needy democratic nations in Asia and Europe, the NAFTA countries can increase both commercial profits and political clout. Japan, a key ally and the world's largest importer of natural gas, has heavily lobbied the Obama Administration to sell gas across the Pacific. I hope the environmental lobby doesn't have enough of a chokehold on the Democratic Party to stop this (America's petrochemical industry is also frustratingly against exports). Another close-by ally, South Korea, is also hugely dependent on energy imports, and is not connected to any international pipelines. Cheniere Energy Partners LP, of which Professor Deutsch is a Director, became the first U.S. facility licensed to export gas, and has lined up customers in South Korea, as well as India, Britain, and Spain. If any energy company – Mexican, Canadian, or American – misses out on customers in the Far East, this company can still turn to Europe, particularly in light of renewed U.S.-EU free trade negotiations. Liam Denning of The Wall Street Journal points out that Europe would love to substitute North American gas for coal to lower harmful greenhouse emissions.[5] And how about a supply alternative to Russia? This is where energy can become a foreign policy tool for NAFTA – all the recipient states are democracies, and the current providers – Russia, Venezuela, Iran, and OPEC states – are not.
Another extension of NAFTA Energy Policy, and another initiative important to Sabatini, is the engagement of Brazil. Conservative estimates suggest that in the Atlantic's pre-salt rock, Brazil has oil reserves equivalent to 7 years of U.S. consumption. China will be a very willing customer, but Brazil also has free trade aspirations with Mexico, and needs help with its infrastructure – industrial output fell 2.7% in 2012. Brazil has traditionally squared off with NAFTA countries for diplomatic influence in Latin America, but to truly become a global power it needs their support. In exchange for a permanent seat on a reformed U.N. Security Council, Brazil could offer energy transportation and distribution rights to NAFTA companies. NAFTA+Brazil could become an abundant source of cheap fuel for democracies abroad, Canadian school buildings, American pharmaceutical companies, Mexico's aviation industry, or that new job-creating thing that will pop up next.
---