Cuba's Little Bird Flies Free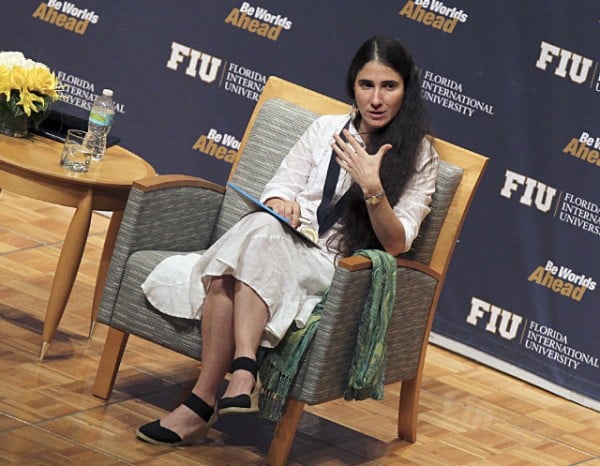 Freedom is fundamentally the possibility of standing on a street corner and shouting "There is no freedom here!" — Yoani Sanchez
Cuban dissident Yoani Sanchez is fond of comparing Cubans to little birds in a cage – captives who are given free education, food, and water but who are still not free. Thanks to a new law that ended Cuba's long-standing exit visa requirement, Cuba's noisiest and most rebellious bird was able to temporarily fly free from her cage to sing in over a dozen countries – and sing she did.
Yoani achieved international fame and has won multiple international awards for her uncensored portrayal of daily life in present day Cuba and for her advocacy for a radically freer nation.  Her critical portrayal of life in Cuba under the Castro brothers won her fans the world over, not only due to her courage to shine a light on the reality of daily life, but because of her determination to challenge the government's strangle hold on the Cuban people.
Preaching a message of Cuban solidarity and the inevitability of a democratic Cuba, Yoani charmed the Florida International University (FIU) audience last week with inspiring personal accounts that demonstrate that something great is about to happen in the western hemisphere's last communist holdout.
I didn't doubt that the international award winning dissident-blogger would work some magic on the FIU crowd that included Cuban-American political elites like Florida Congressman Diaz-Balart (R) and his brother, former Congressman Lincoln Díaz-Balart. After all, Yoani had much recent practice honing her message and delivery style during her long tour, however, I was surprised by her sharp intellect and eloquence which captivated the South Florida crowd for over an hour.
Thoughtful and collected, the consistently witty Yoani displayed a commanding understanding of the Cuban socio-political landscape and the actions she deemed necessary to bring about peaceful democratic change on her island-cage. Frequently dipping into her deep reservoir of  colorful anecdotes, she aptly painted a mosaic of  the Cuban socio-political reality emphasizing the major challenges to peaceful change, but always illuminating the opportunities to be capitalized on. She called on all Cubans on the island, and throughout the diaspora, to "become one community again" explaining that only through solidarity can change occur. Illuminating this point, she shared the following analogy at a previous event,
"It's as if the Cuba inside the island and outside were approaching and watching one another. We look at each other and think it is someone else, but when we get close we see it is our own reflection on the other side. We are the same."
When asked by an audience member what was the hardest part of her existence as the most well-known political dissident on the island she explained, "In the media I am called a mercenary, even a terrorist – my children are exposed to these portrayals of me frequently on T.V. and they feel the heat of being my children in our neighborhood and in school." Yet, despite threats to her personal safety (Yoani claims she was abducted, and beaten by state security agents in 2009) and the special attention that comes with being a persistently noisy bird,  she continues to spread  her message of a new and "more inclusive Cuba."
With the conclusion of her first foray outside the cage,  Yoani can look back and appreciate that she has started to win over millions of Cuba watchers, and Cuban exiles living around the world. However, her pro-democracy melodies will have to resonate with the local island birds in a big way for them all to want to sing along with her to demand freedom from their common cage.
Keep singing little bird — keep singing!