As NATO Draws Down, Feuding Neighbors' Elections May Heat Up
As NATO troops leave, Afghanistan and two of its northern neighbors will undergo national elections. Should we be worried?
While some observers expect an uptick in Afghan border infiltration after the upcoming NATO drawdown, others feel that instability in neighboring states Tajikistan and Uzbekistan have long been homegrown. These countries are the main routes for north-bound narcotics trafficking and militant group movement in the region, and headed by longtime autocrats who brook no political opposition. The countries additionally host key routes for the Northern Distribution Network (NDN), the road/rail/air arteries through which coalition equipment is being sent home from Afghanistan. With major national elections coming in all three countries as NATO troops leave, political uncertainty could add to regional instability.
Uzbekistan is on center stage with its population of some 28 million, an active Islamic civil society, and now tepid engagement with U.S. defense contacts entertaining equipment transfers and security training. President Islam Karimov has ruled for over 20 years and established a security network that prohibits dissent. Regional experts accuse U.S. bilateral managers of toning down human rights concerns in return for a security foothold in the country.
Tajikistan, with its rugged terrain and questionable state control of some provinces, is less stable politically and less capable administratively. Some analysts have even referred to it as a failed state for its legendary corruption and inability to govern and care for its citizens. Russia has been a key player in its security sector, deploying border guards there since the end of Tajikistan's civil war in the 1990s, along with the 201st Motorized Rifle Division based near the capital, Dushanbe.
The two states between themselves share a complex history and have recently been exchanging accusations. Parts of southern, present-day Uzbekistan have historically been populated by ethnic Tajiks. The two governments are locked in a war of words over the construction of a dam upriver in Tajikistan, which the Uzbeks decry will deprive farms of needed water, but would also reduce dependence on Uzbek energy. At least one rail link in Uzbekistan connecting to Tajikistan has been taken out of operation in apparent gamesmanship and protest to the Tajik government, which depends on such rail and road links for commerce.
Against this background in each of the three states, presidential and parliamentary elections are approaching over the next two years. While almost everyone expects Afghanistan to have a new president after April 2014, the outlook in the other two states is less clear. While elections are indispensable for representative government, Presidents Karimov and Rakhmon have habitually used them to justify holds on power. Past presidential elections have given each winning margins of fantasy, with vote shares of 90 percent or more. Uzbekistan and Tajikistan will likely perpetuate one-party domination in the face of marginalized or feeble oppositions, yet outcomes are less certain than in previous election years.
Karimov is in his mid-70s and, though the state press was mum, reportedly suffered a heart attack in March, yet appeared with President Putin in Moscow a week ago. Due to age and complete absence of power-sharing, analysts consider Karimov long overdue for succession; now health concerns are accelerating speculation. Pro-Karimov parties exist but all cling to the Karimov administration's line.
Tajik President Emomali Rakhmon, at 60 years old a relative youth, exerts much less political control than Karimov in Uzbekistan. Visible wounds remain from the country's bitter civil war during 1992-97, while rural militants have periodic dust-ups with state law enforcement. Amid the run-up to a presidential election in November, just last week an Islamic Renaissance Party (IRP) leader was horribly beaten, the second beating of an oppositionist in three years. Additionally, an ethnic Uzbek leader has now been missing over a month after supporting a Rakhmon rival. Such developments indicate Rakhmon is vulnerable in November.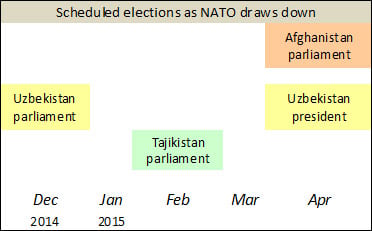 Militant activity in Afghanistan may change little from the end of December 2014, when NATO forces exit; however, the psychological effect will be huge. Amid this security uncertainty will come Uzbekistan's parliamentary elections in December 2014, Tajikistan's parliamentary elections in February 2015, and then Uzbekistan's presidential election in April 2015. If Karimov's health is still in question or he has not nominated a successor, opposition groups continue pressing for a voice in Tajikistan, and militants take advantage of a security vacuum in northern Afghanistan, late 2014 – early 2015 could be an especially volatile period.