Savar, Bangladesh as One Photograph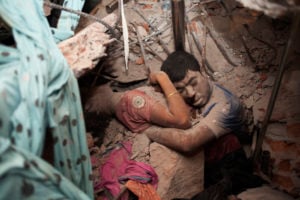 The photograph above of a man and a woman found dead at the collapsed ruins of Rana Plaza, the eight-story building in Savar, Bangladesh was shot by Dhaka-based photographer and workers' rights activist Taslima Akhter. The photograph stands, by itself, for both the tragedy that took the lives of nearly 400 garments workers and for the heroism that'll always go under-reported about the many ways many lost their lives trying to protects their friends, brothers and sisters from the concrete crush that overwhelmed them all the morning of April 24th.
I have no doubt the man cradling the woman in the photograph died of suffocation after struggling hard to keep himself and his protected charge alive. He's a young man, you can see; she's a young woman. His beard is neatly trimmed; her blouse sports a neatly embroidered white flower.  Her gold bracelet suggests she was married. Perhaps the man and the woman were married to each other, loved each other. Perhaps they were friends. No doubt they were co-workers at one of the several factories that churned out inexpensive clothes for international high street retailers. No doubt they embraced each other in direct opposition to the clouded piles of enveloping detritus that took both their lives.
I have no doubt no news report will shed more light on Savar than the illumination this one photograph delivers.
I have no real need to see more photographs of the initial and unfurled, unconcealing horror in Savar. This photograph, in both its present state and its exploded high-resolution form, will do for the duration. It comes to me, it comes to you courtesy of Ms. Akhter herself. You can find her heart-rending work on the Savar building collapse, here, published only yesterday at the excellent group blog Alal o Dolal and on her website.

Photo: © Taslima Akhter