Exit Surkov: The end of postmodern Putinism?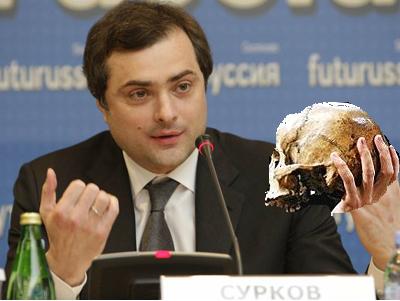 Speculation swirls around today's sudden resignation of Vladislav Surkov, the Kremlin's chief ideologue who had thought up "sovereign democracy" and invented the Nashi youth groups. He name-dropped Lacan and Derrida and even allegedly wrote a novel called Almost Zero. And now he might have become just that.
Did he jump, or was he pushed? What role was played by the government's corruption probe into Skolkovo, the innovation hub with which he was associated? And what does all this mean for the future of prime minister Medvedev, in whose camp he supposedly belonged? These are all interesting questions, the answers to which may (or may not) emerge in the coming days and weeks. Certainly, there will be a plethora of theories to discuss at the pub.
But what might Surkov's departure tell us about the direction of Putin's latest presidential term?
In what remains the most astute rumination on the man, Peter Pomerantsev described Surkov's "mixture of charm, aggression and bribery" as the key traits that allowed him to shape "not only contemporary Russia but a new type of power politics, a breed of authoritarianism far subtler than the 20th-century strains."
Surkov's own slippery subtlety became the template for building a society that was both liberal and repressive, that allowed people to become wealthy beyond anyone's wildest dreams but where the sanctity of private property, as Khodorkovsky discovered too late, remained ultimately contingent on a tsar's political whim.
The crux of Surkov's system was a kind of passive repression, which used techniques of divide and conquer, disorientation, political confusion, arms-reach intimidation and material bribery to leave people too dazed, dazzled and distracted to successfully mobilize.
Surkov went so far as to praise members of the opposition.  Even the populist, pro-regime Komsomolskaya Pravda acknowledged today that Surkov is anything but a "silovik" type hard man.
He "disliked primitive decision-making and preferred not to bluntly push," write Alexanders Grishin and Gamov in their appraisal of his resignation, "but rather to achieve his aims through more complex sequences of moves."
This strikes me as the fundamental way in which he has become obsolete: Putin seems to have decided that he has no more need for an ideology. His recent flagrant show trials of Pussy Riot and now Alexey Navalny demonstrate an unprecedented disregard even for the trappings of legitimacy with which to cloak pure power.
That's not to discount the possibility of his eventual return. After all, his political death has been announced prematurely before.
It's no coincidence that the same day as he stepped down, the Christian Science Monitor reported that more than 30 NGOs have now been ordered to declare themselves "foreign agents," with more than 500 others being investigated across the country.
Besides such iron-fist policies, Surkov's trademark tactics of infiltration, cooptation and sophisticated sabotage suddenly appear not just anachronistic, but positively quaint.