Cuba Focuses on Cuba (and U.S. on U.S.)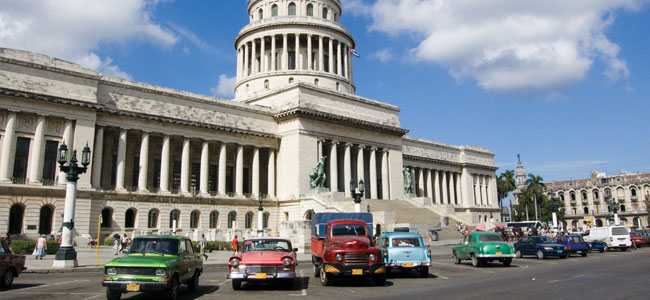 Pamela K. Starr of the Pacific Council looks toward the future of Cuba and of the relationship between Washington and Havana in a new report, just released yesterday.
I'll say it again: Cuba is on a trajectory to becoming something very different — politically and economically — from what it has been for decades. Walking the streets of Havana, one might feel like the country is frozen in time, with crumbling buildings and old American cars touring the roads, but in fact Cuba is undergoing significant change.
As Starr's Pacific Council trip report notes, Cuba aims "to integrate just enough market incentives into a socialist economy to enhance productivity, jump-start growth, and create good jobs without sacrificing the essence of Cuba's socialist revolution" — meaning free social services, equality of opportunities, and a cooperative ethos. The state is undertaking new exercises in private enterprise and reducing the bureaucratic bloat of the centrally-managed economy slowly but surely.
Meanwhile, in the near term, it appears that U.S.-Cuba relations will indeed remain frozen in time. Neither government has the right incentives to take proactive, deliberate action to change bilateral policy. It is not about Miami, as the Pacific Council report correctly points out: It is the consequence of two sides mired in mistrust and motivated more by domestic matters than any desire for the risks of breaking inertia.
For Cuba, this amounts to focusing on its own internal economic transition. Government interlocutors on a recent visit to Havana insisted that "Cuba will change at the speed that is internally feasible, regardless of what the U.S. does." So single-minded were they about the importance and urgency of the reform project (and, perhaps, so pragmatic were they about the reality of the embargo and long-standing U.S. policy) that they argued, "Cuba has to pretend the United States doesn't exist."
For the United States, inertia is the name of the game. Cuban-American demographics are changing and the time has passed when Miami Cubans were powerful enough to virtually dictate U.S. policy on Cuba. But for U.S. policy makers, there is no pressing reason to actively change current policy when the island falls so very low on the foreign policy priority list. Why take even a small political risk on Cuba in that context?
With or without the United States, Cuba is changing. It is apparent on a weekly basis as new changes move forward, including this week's announcement that public Internet access will be expanded on the island. But in the near term, we can expect more of the same from U.S.-Cuba relations.
(Photo credit: discovery-tours.com)