Turkey Protests Rock Erdogan's Government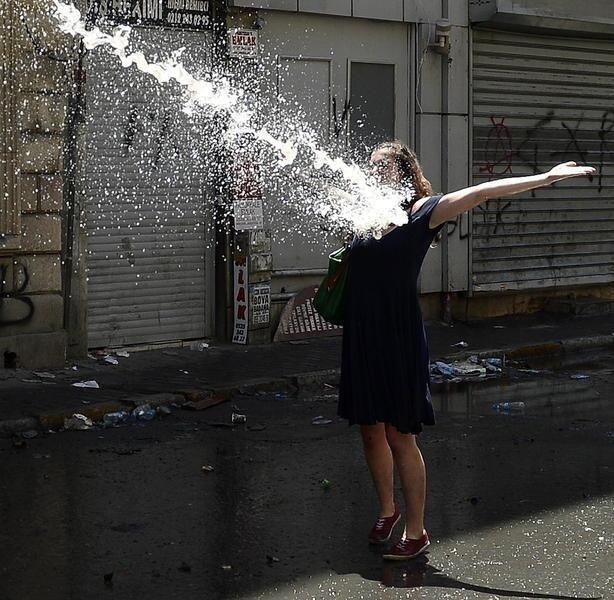 Dear Readers,
You've probably heard of or seen the massive protests in Turkey. Started out as a small protest in a public park called Gezi Parki located in Taksim district, the protests have reportedly spread to at least 15 Turkish cities. Ankara and Izmir saw massive crowds gathering at dawn on June 1st. I won't be writing my analysis of the protests as it is still unfolding; but, for those who want to follow the developments via twitter and social media, the following information may be helpful:
Hashtags (in order of trending status)
#SesVerTürkiyeBuÜlkeSahipsizDeğil
#occupygezi
#direngeziparki
#occupytaksim
#occupyistanbul
#occupyturkey
#DirenAnkara
 Two Must-See Videos:
http://occupygezipics.tumblr.com/
Live coverage is now available on most Turkish TV Networks:
CNNTurk http://video.cnnturk.com/canli-yayin
NTV http://www.ntvmsnbc.com/ (Click CANLI YAYIN on top)
DHA News Agency http://www.dha.com.tr/canli-yayin-2/
Also via International networks:
http://blogs.aljazeera.com/liveblog/topic/turkey-protests-20176
5 Key People to Follow:
Amnesty Turkey (Turkish) @aforgutu
Amnesty International Turkey Office
Amnesty Turkey has done a great job since the protests hit the streets. Their main office is in the middle of Istiklal Avenue, a few hundred meters away from the Gezi Park and Taksim Square. They kept their office open 24 hours and provided food, shelter and legal advice to protesters. They post photos of reportedly showing police brutality and misconduct. Their reporting is in line with Amnesty standards. Their account is a good source of confirmed information.
Ivan Watson @IvanCNN
CNN Correspondent, Istanbul
You probably already know Ivan Watson, CNN Correspondent based in Istanbul. Watson has reported extensively since Day I. He knows the city and Turkey well. Unlike many other Western analysts who live in Turkey, he knows different political currents and the movements out in the streets, and reports accordingly.
Devrim Nevin @devrim_evin (Turkish)
Actor
Perhaps one of the most influential figures out in the streets. Devrim helped organize hundreds since Day I. Last year, he stared in the Turkish blockbuster Fetih 1453 (Conquest 1453), an epic movie telling a very distorted story of conquest of Istanbul by Ottoman Turks in 1453. Playing Sultan Mehmed the Conqueror, Devrim quickly became the hero of pro-AKP conservative youth. Devrim means "Revolution" (which fits perfectly with what's going on out there) and he chose to join the protests, declining an invitation by the Istanbul Municipality to attend the 560th Year Ceremony of Istanbul's Conquest (I know, sounds absurd). He has reported minute by minute from the streets.
Dr. Akın Ünver @akinunver (English, Turkish)
Political Scientist from Kadir Has University, Istanbul.
Also a contributor here in FPA Blogs, Dr. Ünver lives a few blocks away from Taksim square. He has reported extensively in English, covering details. A Turkish political scientist that anyone who is interested in Turkish affairs should follow.
Okan Bayülgen @okanbayulgen
Actor
Bayülgen, a celebrity and a TV host, has been out in the streets since Day I. He canceled his weekly show to join the ranks in the streets and called on his followers to do the same. He has been actively reporting from the streets, giving updates, sharing photos and tips to activists from the frontlines.
In the meantime, watch this:
https://www.youtube.com/watch?feature=player_embedded&v=f-lcDDZtY64