We Steal Secrets: The Story of WikiLeaks (2013)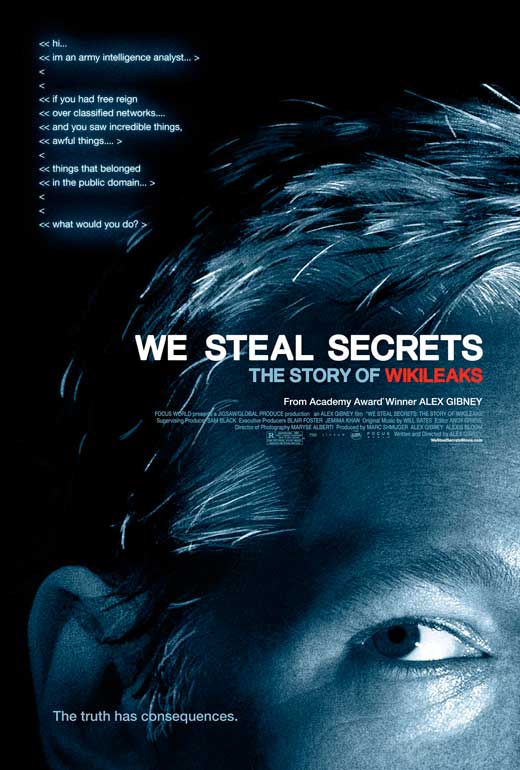 While Julian Assange is the person with the rock star persona, Bradley Manning is the true center of this documentary.
It was Manning who leaked information to WikiLeaks and who now faces trial for doing so.
Army Pfc. Manning is portrayed in the film as a confused and somewhat naïve officer, a person who has questions about his own sexuality. The way this movie shows Manning is through text messages he sent to Adrian Lamo, the person who turned him in.
While Assange faces no criminal charges for his posting Manning's information on WikiLeaks, he has holed up in the Ecuadorian embassy in London to avoid deportation to Sweden where he faces charges of rape.
In 2010, WikiLeaks became well known worldwide when it began to publish U.S. military and diplomatic documents with help from partners in the news media.
WikiLeaks.org began in Iceland in 2006. It was controlled by Assange. Its mission was to publish secret information, mostly regarding military operations.
It has been a lightning rod of debate ever since.
There are those who see Assange and Manning as heroes who are striving to create a truly transparent world. Others think of them as traitors who should be convicted on the grounds they have put many people in danger.
Director Alex Gibney (Taxi to the Dark Side, Enron: The Smartest Guys in the Room) does a fine job of showing the human face to the story. Some say he glamorizes Assange and company while others say he demonizes them.
And Assange is an interesting character, a man with no roots who may or may not have fathered four children.
Manning, who was privy to some very disturbing information, comes across as confused. He never fits in wherever he goes and strikes up a friendship of sorts with Lamo online.
We Steal Secrets grabs you from the beginning. A leaked video shows footage of a U.S. gunship firing on and killing people the soldiers think are armed enemies. It turns out they were civilians, including reporters. The way the soldiers kid and talk to each other about the incident is disturbing.
The real question that the film does not address is this: how much damage has actually been done because of the WikiLeaks scandal? There is no discussion of exactly what has happened as a result of the leaks.
There is a lot of talk about national security and maintaining the cover for covert operatives, but there is not one instance shown that the leaks actually did any harm.
Maybe that's for the sequel?
We Steal Secrets: The Story of WikiLeaks is now showing.
Murphy can be reached at: [email protected]