BRAC in the News: Bangladesh Viewed Correctly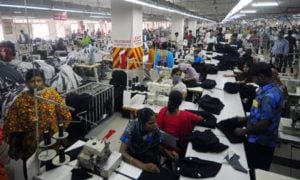 The PBS Newshour ran a story about the troubled garment industry in Bangladesh last night. However, unlike the mono-narrative run by the majority of news outlets the story laid out wasn't about how things have gone irremediably wrong in Bangladesh. Instead, the story was about BRAC (formerly the Bangladesh Rural Advancement Committee) the world's largest — and I'd argue, most important — NGO.
The piece highlights the garment industry, the poverty that moves that industry along, the structural international economy that allows stakeholders to exploit workers and the work done by BRAC and its founder Fazle Hasan Abed, the little-known figure who more than any other individual has slowly pushed and pulled Bangladesh and Bangladeshis out of the maw of crushing poverty.
(Please find video and the transcript for that piece, here. It is a piece of the best kind of journalism: it pokes and wiggles at the problems that we all know about and points to some tentative solutions that we all really need to work toward.)
Bangladesh has many problems, far too many to countenance by any single petition. However, Bangladesh is also at the frontier for devising novel experiments that have succeeded in combatting many of those problems. And BRAC is the spearhead of that frontier. Say, poverty: Abed devised micro-finance mechanisms that the better known Dr. Muhammed Yunus and his Grameen Bank later popularized. Consider, education: BRAC's education program funds schools and universities across Bangladesh. Climate change: BRAC is tinkering with solutions for rising waters and climate change, too.
The PBS story lays out the case for hope in Bangladesh. For that reason alone I'm highlighting that piece of journalism. It's too easy to condemn Bangladeshis and Bangladesh to rote misery; for then we, ensconced in our rather more comfortable ways of life, needn't look forward, ahead to the investment we'd do well to make. It's much more difficult to seriously examine the narrative of Bangladesh's pragmatic moves to solve its own problems. For then, maybe, we'd look at the ways Bangladesh's responsible entrepreneurial activity is changing the world and finding few coherent reasons to look away, we might actually take some time and energy and move things around and help Bangladesh take the steps it needs to get out of its own rut.
Photo credit: AFP/Getty Images