Who is Hun Sen?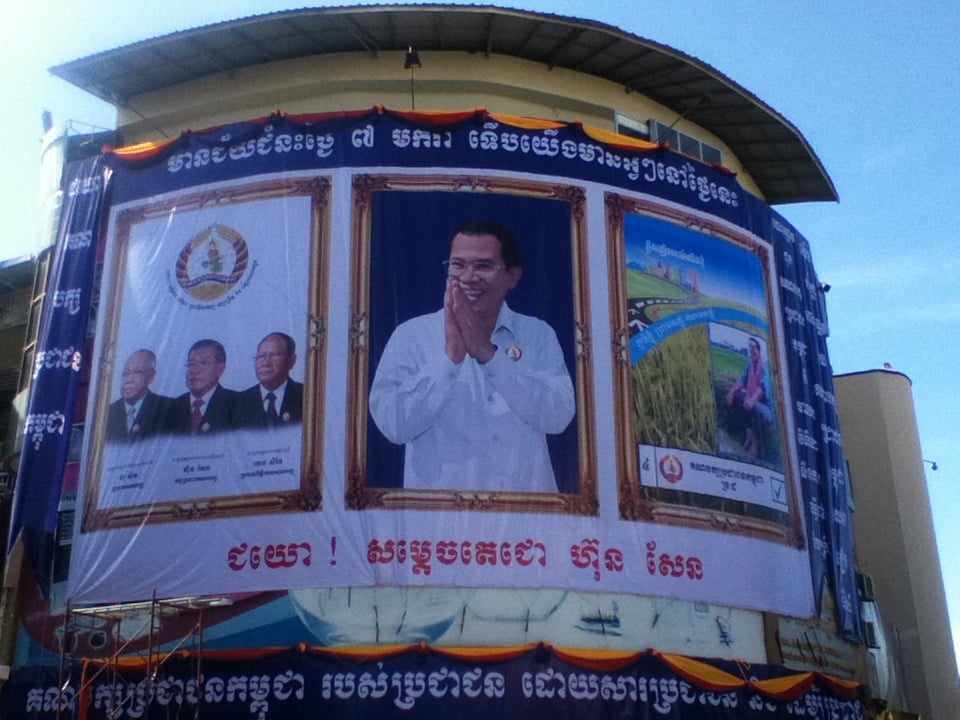 Perhaps Goethe put it best when he wrote that "the romance of politics is best used to numb and to quell the fears of the uninformed." Maybe Mr. Hun Sen, Prime Minister of Cambodia, is a romanticist in light of his recent comments warning of the "instability of war" if his ruling Cambodian People's Party (CPP) loses the national election at this month's end. Such demagoguery is par for the course in Third World, previously war-ravaged nation-states with sub-par educational institutions.
This space recently covered the basics of the upcoming vote, but something which was not discussed was Hun Sen's origins. Where did this man, who has governed Cambodia for nearly three decades, come from?
The year was 1977 and Cambodia, then known as Democratic Kampuchea, was in the middle of a nightmare few people on Earth could possible imagine. The ultra-Maoist Khmer Rouge were in year two of their four year plan to turn the country into an agrarian, socialist utopia. In reality, it was nothing short of a ruthless and murderous reign of terror. Historical estimates put the death toll between 1.5 million – 2 million, or about 1/6th of the population of the entire country.
Hun Sen, a Khmer Rouge soldier at the time, had been seriously wounded in the battle to capture Phnom Penh in April 1975: a bullet piercing his forehead cost him his left eye. His father, accused of being a Royalist supporter, had been arrested and tortured by Khmer Rouge cadres. Although originally signing up to fight with the communist revolutionaries after witnessing continued American bombardment of his hometown of Memot — an often forgotten or overlooked spillover of the Vietnam War — Hun Sen began distancing himself from Pol Pot and the Khmer Rouge leadership and eventually defected to Vietnam.
A year later, after repeated provocations from the Khmer Rouge, the Vietnamese invaded Cambodia and sent Pol Pot and his supporters running to the Thai border. The Vietnamese assumed responsibility for Cambodia's affairs during the subsequent occupation, and their task was a daunting one. After several poor rice harvests – particularly in the first year of Vietnamese occupation which was an especially chaotic time – the country was starving and there were few if any qualified doctors left in the country. Many Cambodians who had any sort of educational training had been killed by the Khmer Rouge who considered schools bourgeois. In addition, any infrastructure the country had had was left in a state of disrepair.
There were myriad political factions and actors jostling for control at this time. Many of the survivors of the Khmer Rouge madness were left with mental and emotional scars. Moreover, however bad the previous four years had been, life under occupation was not something many Cambodians were keen on either, especially when the occupiers were hardline believers in Marxist-Leninist ideology. To add insult to injury, the Khmer Rouge – supported by the United States and China – kept Cambodia's seat at the United Nations. The two great powers had suffered humiliating military defeats to the Vietnamese and were quite zealous in their attempt to subvert their antagonists' adventure in Cambodia.
The occupiers needed someone to administrate and govern the mess that was Cambodia. Hun Sen was young, articulate, charismatic and, most importantly, could be trusted by the Vietnamese. He was an obvious choice to lead the newly named People's Republic of Kampuchea. In 1985, at only 33 years-old, he was named Prime Minister. He was the youngest head-of-state in the world.
In the succeeding 28 years, Hun Sen has faced many threats to both his political position of power and his life. In 1993, he lost Cambodia's first election, which had been brokered by the United Nations. Hun Sen refused to accept the results, however. What followed was a power-sharing government with Prince Norodom Ranariddh which ended in a bloody mess in 1997 when troops loyal to Hun Sen forced the Prince out.
Since then, Hun Sen has consolidated his power to an impressive extent. While his record on human rights is dubious to say the least, he enjoys plenty of support throughout the country, as adduced by the litany of political rallies held every day for the past two weeks in the capital and throughout the rest of the country. He is firmly in control of most of the state's institutions, including the media, the police, and the military. The ruling CPP is widely expected to win this year's general election and maintain a healthy majority in the country's National Assembly.
Today, Cambodia is rife with corruption and it lacks the necessary transparency which democracies need to be legitimate. However, while it still lags behind neighboring countries, its economy has seen noteworthy growth under Hun Sen's watch since the turn of the century. 30% of the country lives below the World Bank's defined poverty line, but there is a slowly developing middle class as well as an elite upper class comprised mostly of high-ranking military personnel, business owners, and those involved in financial services.
His time in charge has been tumultuous but constant; there have been crackdowns and there have been amnesties; there's been war and there's been peace. So maybe we should leave it to Voltaire to judiciously explain Hun Sen's tenure: "Governments need shepherds and butchers."
That might be a little intense, but this is Cambodia after all.
 Photo: Tim LaRocco ©