The Island President (2011)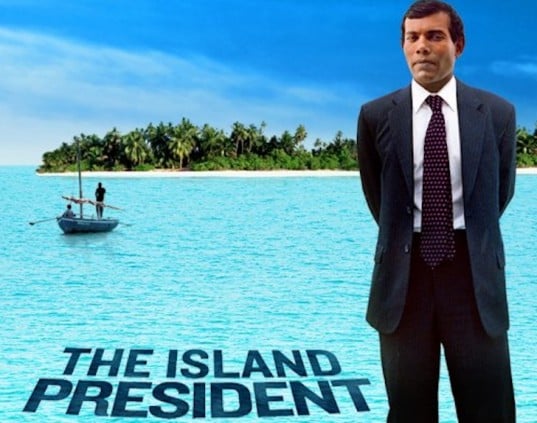 While whether climate change is real is being debated around the world, there is one country that is experiencing its effects firsthand: the Maldives.
This documentary follows then-President Mohamed Nasheed as he attempts to get the rest of the world on board with reducing carbon emissions, one cause of global warming that is causing sea levels to rise and swallow the Maldives.
One thing that is interesting about Maldivian history is how Nasheed came to power in 2008, just at the right time when the alarm was sounding in his nation: sometime in the near future the country will be flooded and uninhabitable.
As many as 200 of the Maldives' 1,200 islands are inhabited. It is also a playground for the world's wealthy.
Nasheed defeated dictator Maumoon Abdul Gayoom, who had been in power for 30 years.
Nasheed, who had been arrested and tortured while spearheading the opposition movement, rose to power at age 41.
Educated in Sri Lanka and England, he proves himself to be not only a great thinker and passionate advocate, but also a shrewd politician.
The last half of the movie focuses on Nasheed's efforts at the 2009 Copenhagen summit to get other nations to sign off on reducing carbon emissions.
It shows the backroom wheeling and dealing that goes on during such meetings of nations. In a scene that looks like it comes from Hollywood, Nasheed makes a stirring speech and helps to get China, India, and the United States to agree to reduce carbon emissions.
In February 2012, after a coup d'etat by security forces loyal to Gayoom, Nasheed resigned the presidency.
The Island President is available to rent.
Murphy can be reached at: [email protected]