The Developing World's Runaway Energy Train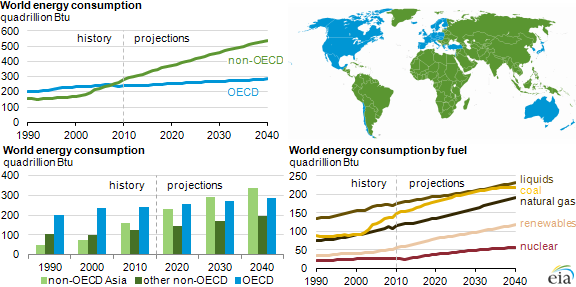 As the developing world continues its economic expansion, it is predicted to leave the developed world in its dust in regards to increase in energy consumption over the next 25 plus years or so. Dominant forces of China and India will drive the trend, but other developing nations will continue to become major consumers to fuel their economic growth engines. Overall, according to the U.S. Energy Information Administration (EIA) in its 2013 International Energy Outlook, world energy use will grow by an amazing 56 percent between 2010 and 2040. In sum, energy use in non-OECD countries will increase by 90 percent  compared with 17 percent in OECD countries.
China's economic boom is assumed not go bust and it will continuously need large supplies of reliable energy from a host of sources. From 1990 to 2010, China's economy grew by an average of 10.4 percent per year and in the government's current five year plan, it has calculated for continued rapid growth. By 2040, the EIA predicts that China will consume 220 quadrillion BTUs, more than doubling the 107 quadrillion BTUs by the U.S. (one quadrillion BTU is equivalent to one trillion cubic feet of natural gas (Tcf) or 172 million barrels of crude oil). To provide a bit more perspective on China's rapid energy growth, it passed the U.S. for top energy consumer only in 2010 when it reached 100 quadrillion BTUs. Of course, the energy consumption per capita will still be swayed in the U.S. direction for the time being.
For a global perspective, total world energy use rises from 524 quadrillion BTUs in 2010 to 820 quadrillion BTU in 2040, of which more than 500 quadrillion BTUs will be consumed in the Non-OECD.
The U.S. is its own runaway shale train
As China plans to meet its energy thirst, the United States has positioned itself to prosper from the growing energy markets as its energy boom continues to thrive. Domestic production of oil and gas has been burgeoning.
This boom has not started out of thin air. Much of the new increase is due to the expansion of hydraulic fracturing – or as many people now commonly call it, fracking – accompanied by expanded shale oil and shale gas discoveries and other unconventional development.
It is not breaking news that fracking is extremely controversial. There are protests daily in the U.S. and other regions of the world as the fracking process becomes more widespread. However, production of shale gas is expected to increase from a 2007 total of 1.4 Tcf to 4.8 Tcf in 2020. The EIA now estimates the U.S. has an incredible 665 Tcf of technically recoverable shale gas, and this estimate has been revised up a few times after periodic reviews. It is worth noting that technically recoverable does not account for the monetary costs (economically recoverable).
For more perspective, in 2000 shale gas provided only 1 percent of U.S. natural gas production, by 2010 it provided more than 20 percent and by 2035 the EIA predicts it will tally 46 percent.
The U.S. is so awash with the vast potential of cheap gas, more than 20 companies have applied for permits with the Department of Energy to export the gas (Liquefied Natural Gas – LNG) onto the global market. Thus far, two projects have been approved.
During Congressional testimony, Energy Secretary Ernest Moniz stated, "We will expeditiously work through the remaining applications, reviewing each one on a case-by-case basis to ensure that all approvals are in the public interest." The question to examine though is: will domestic gas prices increase with more exports? Natural gas prices in the U.S. range in the $4 per million BTU vicinity. Platts believes shale gas through fracking can make up the difference and there should not be any large price upswing.
The fracking process for oil is spreading as well. Look no further than North Dakota, with over 8,000 wells, for an example. The state recently passed Alaska as the number 2 producer of oil in the U.S. thanks to the Bakken formation. Now the U.S. Geological Survey doubled previous estimates of how much oil is in reserve there, up to 7.4 billion barrels, which would make it the largest oil field in the country.
Not just in the U.S.
Shale deposits are not unique to the U.S. to say the least. Many other nations have large shale deposits and are exploring developing those finds as well. Deposits are found in as geographically diverse areas as Argentina, Algeria, the United Kingdom, Eastern Europe, South Africa, China and Mexico. However, as the technology is sophisticated and expensive, large-scale development is years away. It is worth noting that the EIA estimates that China sits atop a whopping 1,115 Tcf of shale reserves.
Maybe the most ardent opponent is French President Francois Holland who said in 2011, "As long as I am president, there will be no exploration for shale gas."
One thing is for sure, though. Asian and European nations want cheaper gas and to diversify their options – such as providing Eastern Europe an avenue to become less dependent on Russia.
New rationalization
Rather stunningly – except to those who follow energy closely – the International Energy Agency has projected that the U.S. will overtake Saudi Arabia and Russia to become the world's largest global oil producer by 2020 and could be almost self-sufficient in energy by 2035.
These effects are and will continue to have large geopolitical impacts. Some segments within Saudi Arabia – a country that is basically synonymous with oil – have taken notice. A member of the royal family and renowned businessman, Prince Alwaleed bin Talal, mentioned that his country is becoming susceptible to the U.S. shale revolution. The Kingdom has talked about diversifying its economy for quite some time, as it is reliant on oil for 92 percent of the state budget. But when windfall sums of money are continuously deposited into government coffers via the national oil and gas company (Saudi Aramco), it is easier said than done. According to data from OPEC, the Kingdom earned a staggering $336 billion from oil exports in 2012. (OPEC, overall in 2012, set record earnings of $1.26 trillion, despite U.S. demand being at a 15 year low). The Saudi Oil Minister, Ali Naimi, has responded by welcoming the U.S. production labeling it a stabilizing factor for global oil prices.
The importance of renewable energy has become evident to the oil-rich Middle Eastern countries. As their domestic populations grow, internal oil demand is increasing. To keep export revenue flowing, renewable energy investment in the Middle East and North Africa has increased 40 percent in 2012 to $2.9 billion, according to the International Renewable Energy Agency. And more than 100 renewable energy projects are in different stages of development. As this is still a meager amount comparative to the situation, Saudi Arabia has set an ambitious goal to generate 41,000 megawatts (MW) from solar energy and 13,000 MW of other renewables by 2032. It will be starting basically from a blank slate, as the current solar capacity is only 16 megawatts.
What about climate and the environment?
While energy independence and security is important for a host of economic, political and social reasons, it is important to analyze what the associated costs are. Yes, natural gas emits half the carbon as coal, but that is not to say natural gas is emission free. Also the fracking process – aside from the chemicals used in the process of fracturing the formations – releases methane, a potent greenhouse gas, requires large sums of water, and the well sites require heavy trucking creating decreased local air quality. Secretary Moniz tried to dispel people's fears when he stated, "my look at the evidence to date suggests this in no way eliminates the significant advantage of gas over coal for CO2 emissions." He continued the U.S. is on track to meet its greenhouse gas reduction target of 17 percent below 2005 levels by 2020 and "about half of that progress (the U.S.) has made is from the natural gas boom, in this case the market driven substitution for coal."Energy efficiency, increased renewables and increased mileage standards are other factors.
In the U.S., as a result of cheaper natural gas from shale and the retirement of coal plants, electricity net generation from coal-fired power plants declined by an estimated 25 percent between 2007 and 2012. Over this same period of time, electricity net generation from natural gas-fired power plants increased by approximately 35 percent.
Despite the domestic emission reduction, the global energy sector accounts for around two-thirds of greenhouse-gas emissions, as more than 80 percent of global energy consumption is based on fossil fuels. According to the International Energy Agency, global energy-related CO2 emissions increased by 1.4 percent to reach a historic high in 2012 – driven by the developing world. Non-OECD countries now account for 60 percent of global emissions, up from 45 percent in 2000. The EIA predicts an increase from 31.2 billion metric tons in 2010 to 45.5 billion metric tons in 2040. Non-OECD carbon dioxide emissions will represent 69 percent of the world total.
Thus, the world is clearly not on track to meet the target agreed by governments to limit the long-term rise in the average global temperature to 2 degrees Celsius. It appears the average temperature increase is more likely to be between 3.6 °C and 5.3 °C (compared with pre-industrial levels). Fossil fuels will continue to supply nearly 80 percent of world energy consumption through the 2040 predictions.
With that said, the greatest increase in rate of consumption to 2040 are renewables (excluding biomass) and nuclear, but at a slow a pace of 2.5 percent annually respectively. Natural gas is expected to increase nearly 2 percent. Coal is still king even as its market share drops from 40 percent in 2010 to 36 percent in 2040.
The great unknowns
Of course, all of these predictions can be for naught since there is no way to predict additional externalities. Events like Fukushima, the Arab Spring, another economic collapse, new technology, the potential rise of African energy sector, or fill in the blank cannot be foreseen. New unknowns can send market shocks and install new panic.
The underlying theme though is the world is growing rapidly and energy is needed to fuel it. The geopolitical ramifications are widespread and vital to monitor.
Where and how the energy actually will be produced and distributed over the years will be the fascinating part.