John Kerry reels them in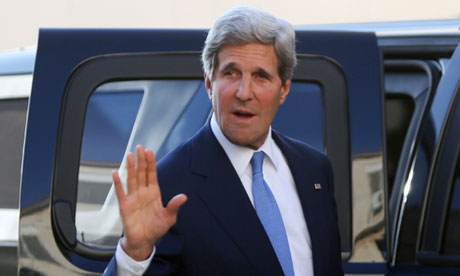 Secretary of State John Kerry has the Israelis and Palestinians talking again. In the context of all that is happening in the Middle East, that qualifies as a positive.
Kerry does not give up. That has been well documented before. While many see the Israeli-Palestinian issue as a morass, Kerry believes the United States does not have the luxury of staying on the sidelines.
So six months after he took office – and three years after talks broke off — Kerry has gotten both sides to sit down and make a commitment to give the talks at least nine months, enough time for a baby to be born. But is it enough time for true prospects for any settlement to even consummate?
The talks are expected to go to a second round by the middle of August.
There is some stunned praise for Kerry's efforts, almost immediately followed by the skepticism bred from decades of diplomatic failure.
As the Guardian noted, "The fact that the US secretary of state, John Kerry, has got this far has confounded skeptics, who predicted that his intensive diplomatic mission to revive the peace process would fizzle out. But skepticism still abounds, and Kerry himself has acknowledged many hurdles on the long road ahead."
http://www.theguardian.com/world/2013/jul/29/middle-east-peace-talks-netanyahu-abbas
Analysts differ on whether Kerry's initial success means anything.
"This is an important beginning, but we should have no illusions here," Aaron David Miller, who served as an adviser to Republican and Democratic secretaries of state on Arab-Israeli negotiations from 1978 to 2003, told reporters. Miller underscored today's reality: The whole process is dependent on the U.S. maintaining a very active role, any agreement is far off and "without John Kerry, there would be no peace process, full stop."
Jonathan Schanzer, vice president for research at the Foundation for the Defense of Democracies and a research fellow at the Washington Institute for Near East Policy said, "I did not believe Kerry would get this far. If he's gotten this far, what's to say he can't push it further? If he's gotten this far, we shouldn't discount the possibility of further progress."
In making the revival of the Middle East talks his top priority, Kerry is not only challenging the status quo in the region but also taking on the conventional wisdom in much of the U.S. foreign policy establishment.
"While the Israelis and Palestinians may have sent their negotiators to Washington to placate Mr. Kerry, neither side appears remotely prepared to make the hard calls needed to cement a lasting peace," the New York Times opined.
http://www.nytimes.com/2013/07/30/world/middleeast/kerry-appoints-veteran-diplomat-to-manage-mideast-talks.html?_r=0
In addition to his doggedness, patience, experience and philosophical compass, Kerry can look to the hope that legacy concerns of the players will help.
Israeli Prime Minister Benjamin Netanyahu is in his third – and probably final – term as prime minister; he might be motivated by the desire to go down in history as the man who achieved an agreement that eluded his predecessors.
Although Netanyahu is deeply reluctant to cede territory, he recently said that one of his goals in the talks was "preventing the creation of a bi-national state between the Jordan River and the Mediterranean Sea." That, as has repeatedly pointed out, would lead either to the end of Israel as a "Jewish state" or to an apartheid-like regime in which Palestinians were denied equal rights.
He is also facing intense pressure from the U.S., which has invested heavily in the attempt to restart talks, and the European Union, which is showing impatience with Israel's continued settlement enterprise and a new willingness to act against it. The recent EU directive against financial support for Israeli institutions with links to settlements had a big impact on both sides' willingness to engage with Kerry's mission.
Palestinian President Mahmoud Abbas has different pressures. The option of giving up the aspiration for an independent state is matched by the equally undesirable prospect of a return to violence. And international endorsement of a theoretical state is not, as Abbas knows well, the same as a reality on the ground.
Abbas, who has devoted most of his life to negotiations – and has thus far failed – is also conscious of the legacy issue. At 78, he does not have time on his side.
For Kerry, legacy is not as important – which makes it easier for his to pursue the best path.
As David Ignatius wrote, "Kerry's solitary, stubborn pursuit of this deal is in character. After losing the 2004 presidential race, he has the advantage of having failed at something in the most public way possible – which can be liberating. He also has been involved in U.S. foreign policy so long that he understands that the Israeli-Palestinian issue remains the tent pole in Middle East diplomacy, whatever pundits say."
http://www.dailystar.com.lb/Opinion/Columnist/2013/Jul-25/224945-place-your-bets-on-a-new-round-of-middle-east-talks.ashx#ixzz2b6aNvdII
As a Vietnam veteran, Kerry knows it is a long way to find that faint light at the end of the tunnel and his path reflects that. He has been there before. And while naysayers have mocked Kerry as being Captain Ahab chasing the whale, for the moment, Captain Kerry has reeled them in.
Photo credit:  Photograph: Fadi Arouri/AFP/Getty Images