Taking it to the Streets, Again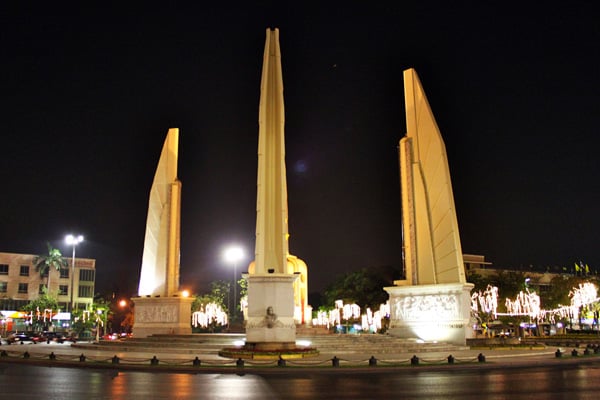 BANGKOK — Pictured above is Thailand's "Democracy Monument," an ironic name for a memorial in a country which has had ten coup d'états since it abolished the absolute monarchy in 1932. Indeed, it was only three years ago when blood and brains were spilled at this very sight which became the center of massive anti-government street protests spanning more than two months and which resulted in 90 deaths.
Much has been written about the pro-Thaksin Shinawatra Red Shirts and Thailand's poor majority.  Juxtaposed are the middle class and elitist Yellow Shirt opposition. These two actors have been the main characters in the class clash which has enveloped Thailand over the past several years.
To briefly review: Thaksin, a populist but exceedingly wealthy telecoms mogul, was democratically elected to lead the country as the Prime Minister in 2001 by appealing to the poor, rural majority with schemes such as free healthcare and subsidies to farmers. These policies were wildly popular and Thaksin was reelected in 2005 scoring the biggest victory in Thailand's democratic history.
Every thing at this point seemed to point to Thailand being on the up and up: foreign direct investment was high, the military was placated and uninvolved in the political process, incomes were increasing, and global watchdog organizations gave Thailand a seal of approval for its impressive democratic transition.
That all came to a crashing halt in 2006 when the military ousted Thaksin in a bloodless coup while the Prime Minister was at the United Nations in New York.  The motives were political; many of Thaksin's critics have accused him of corruption, concealing assets, and graft.
There is simply not enough space here to go into the pros and cons of Thaksin's regime but for an excellent breakdown I would recommend Joshua Kurlantzick's brilliant piece for the Council on Foreign Relations written a few month before Yingluck's victory.
Two members of Thaksin's party were tabbed to the premiership in the following year and both were subsequently given their marching orders after Yellow Shirt protesters laid down on the runways at Bangkok's  Suvarnabhumi International Airport. That was when Abhisit Vejjajiva, leader of the opposition Democrat Party, was appointed premier by the Constitutional Court despite never winning an election. What followed in the years that followed were massive street protests by Thaksin supports, culminating in the crackdown of 2010 and Thaksin's sister Yingluck's electoral victory in 2011.
This is a subject in the news once again recently as talk of a proposed amnesty bill, being promoted by the ruling Pheu Thai party and its leader Yingluck Shinawatra, gains traction in the country's House of Representatives. The bill calls for immunity for many of the belligerents to the violence in 2010 including Red Shirt organizers and military personnel. It has been roundly criticized by the United Nations Commission for Human Rights (UNCHR) as well as members of the opposition Democrat Party because it is seen as providing an avenue to allow Thaksin back into the country from his self-imposed exile in Dubai to avoid a prison sentence handed down to him in absentia by opposition appointed judges.
In response, thousands of anti-Thaksin protesters took to the street once again in demonstrations that remained mostly calm and peaceful outside of the parliament building in Bangkok.
And so it goes in Thailand these days. If you don't get what you want, just organize street protests and you stand a good chance of shifting the political narrative. Of course, you must then be prepared for similar protests from supporters of the opposition. And around and around it goes.
There are always rumors and rumblings of an impending coup here. A bitterly divided electorate, a Muslim insurgency in the south of the country, and a beloved but aging monarch have proven to be very difficult for Yingluck to handle in her first two years in office. Throw her brother and all his drama into the mix and conditions could be ripe once again for the military to step in.
Photo: Tim LaRocco ©