Argentina's "Dead Cow" Bounce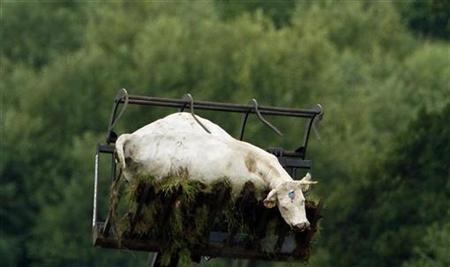 Argentina's economy is on pace for five percent growth in 2013, and the country's stock market is trading near all-time highs. What happened to the economic basket case that is inching toward sovereign default? It's still there, but as I argue in a recent piece for Nearshore Americas, a number of factors have converged to inspire confidence.
President Cristina Fernandez nationalized the oil company YPF last year, celebrating the company's seizure as a move toward "energy sovereignty." Investor concern over future company grabs was tempered by the cold reality that Argentina lacks the expertise and equipment to frack for shale. So, eventually Fernandez would have to eat her words, especially if she hoped to extract a significant amount of gas from the Vaca Muerte or "Dead Cow" field, estimated to be the world's third-largest shale gas field.  Meanwhile Argentina's gas imports are increasing swiftly,
ruling out the option of squatting on the site as the value of the underlying gas increases.
Still it proved a bit of a surprise when YPF announced a partnership with Chevron on July 15. Under the terms of the agreement, Chevron will invest $1.5 billion to extract gas at Vaca Muerte, and in return Argentina will allow the U.S. company to export 20 percent of the oil and gas it recovers tax free.  Since then, the Merval has rallied, in stark contrast to Brazil's languishing stock market.
Another fillip to the Argentine economy is the result of preliminary elections held on August 11. The president's Front for Victory won a quarter of the races, more than any other party, but Argentina's opposition parties picked up enough seats in Buenos Aires and several far-flung locales to occlude the chance of Fernandez's supporters gaining a two-thirds majority in October's legislative election. Absent that margin, there is no chance of a constitutional amendment to allow Fernandez to run for a third term in 2015. Argentine bonds rallied on the news.
Although Chevron is moving in to Argentina, and Fernandez's days of rule by decree may be at an end, the country will remain an inhospitable place to do business. There's no sign that inflation will slow anytime soon, a U.S. court could rule that Argentina must repay its holdout creditors, which would throw the country back into default, and Capital Economics expects the country will dip into recession in 2014.
One Wall Street quip holds that "even a dead cat will bounce if dropped from high up." A similar process appears to be playing out on a national scale in Argentina.