Missing the Real Story about Miss America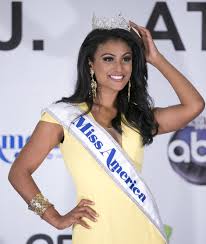 I have a commentary piece in today's San Jose Mercury News that argues:
Much of the focus since Nina Davuluri's crowning as this year's Miss America has been on the racist attacks on social media directed at this impressive woman who is the pageant's first winner of Indian heritage. But the real story here is the increasing stature of Indians in U.S. society and how that has changed the way all Americans think about India.
The piece is based on a more detailed post from earlier this year about how large-scale Indian migration has altered American perceptions about the country. According to a recent Gallup survey, more than two-thirds of the U.S. public has a positive impression of India, a score that even edges out Israel's traditionally high favorability rating. Compare that to a 1983 opinion poll in which Americans ranked India at the bottom of a list of 22 countries on the basis of perceived importance to U.S. vital interests.
Two updates are worth noting since my post first appeared. The first is a new publication by the Migration Policy Institute that finds:
As a group, immigrants from India are better educated, more likely to have strong English language skills and arrive on employment-based visas, and are less likely to live below the federal poverty line than the overall foreign-born population. They are also more concentrated in the working ages than immigrants overall….
The second update is the just-released data from the Census Bureau showing that much of the nation's population growth is fueled by newcomers from Asia rather than Hispanic immigrants. Indian immigrants (over 110,000 in 2012)account for a full third of last year's increase in the nation's foreign-born Asia population.
This commentary is cross-posted on Chanakya's Notebook. I invite you to connect with me via Facebook and Twitter.