Whither Bulgaria?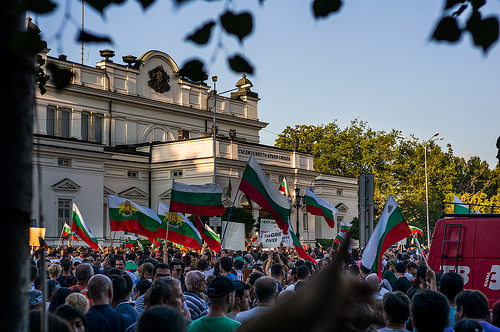 For nearly four months now Bulgaria's major cities have witnessed the country's largest protests in over 16 years. Calling for greater transparency, less corruption, a robust campaign against organized crime, and the resignation of the entire government, protestors have gathered by the thousands, taking to the streets daily to voice their outrage with a dysfunctional political system that has shown little improvement since Communism.
The protestors' grievances were initially focused on the nomination of Delyan Peevski as head of the country's powerful national security agency. The 33-year-old media mogul, who had been fired from a previous government post during a past administration and prosecuted on corruption and extortion charges (of which he was eventually found not guilty), was quickly removed from consideration by Plamen Oresharski, the prime minister, as the protestors' ranks swelled.  Mr. Oresharski was also forced to dismiss his new deputy interior minister shortly after his appointment for alleged links to organized crime syndicates; similarly, he withdrew the nomination of Kalin Tiholov for cabinet minister, due to Mr. Tiholov's involvement in a construction scandal.
For the protestors, these appointments symbolize all that is wrong with Bulgarian politics. The media outlets owned by Mr. Peevski, which include six of the 12 largest-circulated newspapers in the country and digital television channels, tend to limit their criticism according to who is in power, shifting their loyalty from one day to the next. And his conglomerate, known as the New Bulgarian Media Group, has a murky relationship with the powerful Corporate Commercial Bank, an entity that holds nearly half of the money of strategic state-owned companies and is believed to finance Mr. Peevski's business interests.  Moreover, other forms of unsavory political maneuvering utilized in past governments have continued, evidenced by the durability of partisan appointments to head-up independent bodies such as the National Archives, and including senior officials with connections to organized crime in the new administration.
The discontent felt by the protestors, however, transcends mere political appointments, and has more to do with the daily frustrations many Bulgarians feel toward their entire political class, an entity which oftentimes seems more interested in increasing its control over the state's institutions and in appointing corrupt officials to senior positions, than it does in addressing the very real and substantial grievances affecting the people it governs.
The individuals who have taken to the streets, as well as those who support them, are dissatisfied with the political elite more generally and its unwillingness to fight organized crime and corruption, to reform the judiciary, and to change the electoral law so as to allow for smaller political parties to gain seats in parliament. Withered down by useless bureaucracy, public and private sector mismanagement, poverty and high unemployment, many talented Bulgarians are uninterested in entering politics and sometimes resort to extremes to illustrate the impossibility of their situation.  For example, at least six people have self-immolated since the beginning of the year. The readiness to take one's own life, in many instances as a sign of protest against the current political situation, underscores the desperate situation many Bulgarians face on a daily basis. More than 22 percent of the population lives below the poverty line, and the average monthly wage, of just above $500, provides little financial security. These are issues that cannot be solved through opaque government appointments and the private sector's dubious exertion of control over state institutions.
But will the protestors be able to make any difference? Already they have seen their ranks reduced since the summer break, with some rallies laying claim to only hundreds of people. And Mr. Peevski's media outlets have begun to disparage the President, Rosen Plevneliev, who has openly sided with the protestors and demanded new elections. What is more, it is not clear that the protestors have the wide support their demonstrations would indicate. A Gallup poll completed in late August showed that 42 percent of Bulgarians did not approve of the protests; with 41 percent of participants saying they are opposed to their continuation. Indeed, the government remains in place, and a figure capable of organizing the protestors and harnessing their anger to effectuate real change has not yet emerged. Furthermore, according to the Organisation for Economic Co-operation and Development (OECD), the elections that brought Mr. Oresharski to power were, in fact, free and fair. And while the appointment of corrupt officials may inflame the protestors, highly competent technocrats unaffiliated with any political party, such as Zinaida Zlatanova, formerly the European Commission's representative in Bulgaria, have been appointed to ministerial posts.
Although it is encouraging to see political activism take hold in a country where apathy toward politics has long been dominant, it remains unclear what the protestors will be able to achieve moving forward without pressure from outside bodies. After four decades of Communism, changing the oligarchic status quo will prove difficult if the protestors are not provided with more support from the European Union. A recent joint statement by the German and French ambassadors, highlighting the incompatibility of Bulgaria's style of government with EU membership and stressing the need for the country to focus more energy toward the nomination process of uncorrupt officials, was a move in the right direction. However, it is likely that the Bulgarian government will not pay much heed to mere opinions — suspending Bulgaria's EU voting rights pending real reform would do much more to send a message about how seriously Bulgaria's failure to develop into a mature democratic state is taken in Brussels.
Otherwise the protestors may continue to take to the streets, running the risk that their peaceful marches could turn violent, converting a section of downtown Sofia into another Taksim square.