On BNP's Response to Hasina's Gambit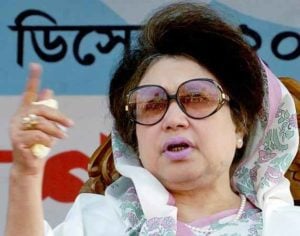 The BNP's chairperson, Begum Khaleda Zia has responded to Prime Minister Sheikh Hasina's populist political gambit.
Her response is to form a 10-person caretaker government comprised of five members of Awami League and BNP. The catch: that each one of the five members of each party hail from the two seemingly successful caretaker governments, 1996 and 2001.
Three things about this move: It's a winning move for the BNP that's also politically simple. It allows the BNP to seemingly renounce overt politicking in favor of the neutral caretaker government stewardship. The move also has the benefit of aligning the election results with an ostensibly neutral body that in the past has been made up by members of the military and so, more than say an AL pre-electoral regime, might well favor the BNP. Finally Begum Zia's response move isolates the current makeup of the AL from the proposed caretaker government and thereby marginally defangs the AL's ability to power play its way to the January elections.
It's all a game of odds hereon out and the BNP stands in better terms with a caretaker government than without.
The Awami League for its part has rest with the knowledge that at least the BNP has moved toward a political solution, that though in its favor looks like the second move to the AL's magnanimous neutrality-seeking first volley.  And the idea of another caretaker government certainly seems neutral, even though its entire extra-constitutional and entirely politically super-charged.
The ball is again in the AL's court. Let's say how it parries.
Photo credit: Wikicommons