U.S.-India Relations: The Overshadowed Summit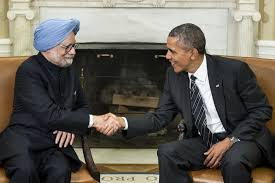 The U.S.-India relationship is enveloped these days by grand rhetoric.  But for a reality check on the state of bilateral affairs, look no further than the summit meeting between President Obama and Indian Prime Minister Manmohan Singh two weeks ago.  The get-together was designed to inject new energy into a partnership that just a few years ago looked so promising but which is now roundly seen as going flat.  Yet even before Mr. Singh journeyed to Washington, the trip promised to be a ho-hum visit at best.
Noticeably gone was the excitement and pomp of Singh's state visit four years ago, when President Obama put on an extravagant state dinner on the White House South Lawn honoring him.  It was the hottest ticket in town, attracting party crashers to boot, and even the rainy weather did not dim an event theWashington Post likened to a Hollywood production.  Back then, both leaders were fresh off impressive electoral victories and, with expectations raised by the recently-codified civilian nuclear agreement, they spoke augustly about a "future that beckons all of us."
Their latest meeting, however, was in sharp contrast.  Obama and Singh, both battered at home, could have commiserated each other in their political misfortunes.  Singh, derided in New Delhi as "Dr. Dolittle," has been a lame duck for much of his second term, while Obama is seemingly on a fast pathtoward that status.  With Singh's political career in its twilight, this was very likely his final parley with Obama and The Telegraph newspaper in Calcuttaremarked that the meeting "had all the hallmarks of a farewell call by Singh."  And unlike the splendor four years earlier, their meeting this time was a low-key Oval Office affair, followed by a small private lunch.
And even that was upstaged by events elsewhere.  In Washington, attention was being pulled in several other directions: on the budget drama being played out on Capitol Hill; on Mr. Obama's historic phone chat with new Iranian president Hasan Rouhani; and on the UN Security Council's resolution regarding Syria's chemical disarmament.  Indeed, Obama even opened his joint press appearance with Singh by hailing the action on Syria.
For their part, Indian minds were focused away from Washington and on New York, where Singh had a tête-à-tête scheduled with Nawaz Sharif, Pakistan's new president, on the sidelines of the UN General Assembly's annual jamboree.  And that was before the stunning bombshell launched by Rahul Gandhi snatched whatever thunder remained in Washington.  As the taciturn scion of the political dynasty that has governed India for most of its modern history and someone often tipped as the country's future leader, Gandhi is under extraordinary media scrutiny.  Just hours before Singh was to meet with Obama, Gandhi hijacked a Congress Party press conference to vocally denounce Singh's controversial efforts to shield parliamentarians convicted of criminal offenses.  It was an astonishing performance, all the more so since he chose to frag his own party's prime minister while Singh was traveling abroad.  As Time magazine noted, "the timing and fervor of Gandhi's comments were widely interpreted [in India] as an open challenge to the country's ministers, and to Singh in particular."  The press conference Singh held aboard his flight back from the United States dealt mainly with this contretemps.
With all the distractions, it is no wonder that the Obama-Singh confab received little coverage in the Indian media and even sparser notice in the American.  And that was just as well since there was not much to write home about.  The meeting produced two documents.  The first is a longish, boilerplate-filled joint statement, which spoke of the desire for stronger economic linkages and reaffirmed "their commitment to concluding a high-standard bilateral investment treaty."  It also hailed an agreement allowing Westinghouse to do preliminary licensing and site development work for a nuclear power plant in Gujarat.
They also took the unusual step of putting out a brief joint declaration on defense cooperation stating that the two countries "share common security interests and place each other at the same level as their closest partners" and that they agreed to work together on developing advanced weapons systems.
All good stuff, no doubt, but closing the gap between rhetoric and action has been a persistent challenge in bilateral affairs in recent years, largely because Mr. Singh's government long ago ran out of political gas to push things forward.  And it is likely that these two communiqués will fall into this chasm as well.
Consider the call for an investment treaty, which would help promote capital flows into India by regulating how New Delhi treats foreign investment.  The idea has been on the bilateral agenda for a while (for background see hereand here), but has only gained traction in the last few months.
India desperately needs to attract greater infusions of foreign capital, particularly in its anemic manufacturing sector, and an investment agreement would also be an effective riposte to mounting U.S. complaints about discriminatory trade practices and the violation of intellectual property rights (see here, here and here).  But it is highly questionable whether Mr. Singh's government can marshal the requisite political will, especially given its resistance (here and here) to Washington's desire to include an international dispute settlement mechanism that is standard fare in such treaties.  Nor is New Delhi's aversion to making tough policy calls limited to bilateral economic relations, as the India-European Union negotiations on a free trade deal have also been hanging fire for years now.
Another indication of New Delhi's lack of fortitude is contained in the curious language of the joint statement's declaration "that both sides agreed to consider establishing a Joint Committee on Investment in Manufacturing" (emphasis added).  In view of the Singh government's promise to make India into a manufacturing powerhouse, the equivocation is striking.  And Walmart's announcement after the summit that it is shelving long-standing plans to expand into the Indian retail sector due to the country's restrictive investment policies, only adds to growing perceptions that New Delhi is not ready for business.
The agreement involving Westinghouse is intended as an olive branch to the American side upset over a tough Indian nuclear liability law that runs counter to international norms and which effectively blocks the involvement of U.S. companies in India's expanding nuclear energy sector – one of the very things that the ballyhooed 2008 nuclear cooperation agreement was supposed to bring about.  But it is at most a temporary palliative since it falls far short of resolving U.S. concerns and entails no firm promises on the Indian side.
Prime Minister Singh is visiting Moscow next week and he is expected (hereand here) to sign a number of energy and investment agreements with the Russian government.  The stark contrast between his two summit meetings occurring just three weeks apart will further underscore the sense that U.S.-India economic relations are in a holding pattern.
A similar tale of lethargy is evident in the bilateral defense partnership.  The Obama administration signaled its willingness to move ahead with collaborating on advanced weaponry more than a year ago. Visiting New Delhi in June 2012, then U.S. Defense Secretary Leon E. Panetta proposed the formation of a long-term strategic partnership that would feature greater Indian access to the latest U.S. military technology and a defense trade relationship that went beyond a focus on one-off transactions to include joint research and co-production efforts.  Since then, Deputy Defense Secretary Ashton Carter has energetically led the charge, even to the point of telling U.S. defense firms to contact him personally if they encountered problems in exporting arms to India.
Two weeks before the Obama-Singh summit, Mr. Carter was in New Delhi announcing that Washington would …
incentivize with priority funding U.S. researchers who seek out and find Indian partners in key areas of science and technology collaboration. That's something we've only ever done before with the United Kingdom and Australia. Now India joins that company.
He also unveiled an offer to co-develop and co-produce the next generation of the Javelin anti-tank missile.
The U.S. defense trade with India has grown steadily in recent years and more Indian purchases of U.S. military equipment are in the pipeline.  But New Delhi has been reluctant to pick up Washington's offer of closer collaboration on defense technology.  As the publication Defense News reported, Carter's latest visit to New Delhi …
highlighted the limits of the US-India defense relationship. The proposal to jointly develop the new Javelin, for example, follows on earlier US offers to build production sites in India for the existing Javelin, the MH-60 helicopter, a naval gun, and a minelaying system. New Delhi is still thinking about it.
Indian ambivalence stems in part from a lingering sense that Washington is not a reliable military partner due to its past record of technology embargoes as well as current security relationship with Pakistan.  But much of it also has to do with the widespread dysfunction that grips India's defense establishment.  For a country of such vast potential, India has an astonishingly ramshackle defense industrial base – "a nearly unbroken story of ambitious overreach and spectacular failures" is how one recent appraisal characterizes it.  As a result, the country remains highly dependent upon foreign suppliers of military technology.  And yet instead of fast-tracking the purchase of foreign systems, the defense procurement system is so plodding that vital capability gaps have emerged in all three services.
A pertinent example concerns New Delhi's plans to address a dire shortage of modern fighter aircraft.  In early 2011, the Indian air force rejected Boeing's and Lockheed Martin's bids in its $11-billion medium multi-role combat aircraft competition, the country's largest-ever defense deal.  Dassault Aviation's Rafale fighter eventually emerged as the winner, yet negotiations with the French company have now dragged on for some 18 months.  And the long-term project to co-develop a so-called fifth-generation fighter with Russia – after a U.S. offer to participate in developing the advanced technology F-35 fighter aircraft was rejected– is also in a rut.
The Obama-Singh declaration on defense cooperation rather optimistically states that:
The two sides look forward to the identification of specific opportunities for cooperative and collaborative projects in advanced defense technologies and systems, within the next year.  Such opportunities will be pursued by both sides in accordance with their national policies and procedures, in a manner that would reflect the full potential of the relationship.
But if India does not move quickly to fundamentally overhaul its defense set-up, its own desultory policies and procedures will ensure that this goal remains wishful thinking.
At a minimum, the beckoning future many envision for bilateral relations will have to wait until after next year's parliamentary elections when an Indian government under new leadership might be able to rejuvenate policymaking in New Delhi.
This commentary is cross-posted on Chanakya's Notebook.  I invite you to connect with me via Facebook and Twitter.