Where's a leader when you need one? In Morocco.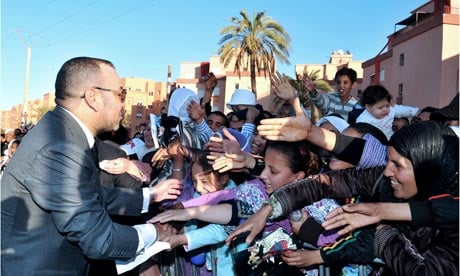 Check out this very insightful piece from Ahmed Charai on Huffington Post, "A Regal Response to an Undue Provocation."
Ahmed makes a very good point that what makes Morocco stand out in a region of instability is King Mohammed VI's visionary leadership. (It goes to show what I have always believed that good leadership, an open democratic society and well-informed and involved citizens do more for the long-term prosperity of a nation than oil could ever do.) It's a shame that the millions of citizens in the Maghreb are being held back from their full potential because Algeria's leadership refuses to open up, step out of the past and be a part of the 21st century.
A few years ago in a speech to the nation, King Mohammed VI very aptly described the Western Sahara conflict as an unnecessary burden for Morocco, Algeria and the international community whose time and energy are being "wasted on the complexities of a dispute from a long-gone era." That's the mark of a true leader, one who not only makes the tough decisions today, but focuses on the future, not the past. The King has shown this forward-thinking approach not only for the WS conflict, but on women's rights, social development, justice reform and protecting human rights at home and abroad. The international community, particularly the U.S., should wholeheartedly support leadership like this in a region where instability threatens prosperity, safety and development for all.