A Picture of a Car Set Aflame: Reactionary Violence in Bangladesh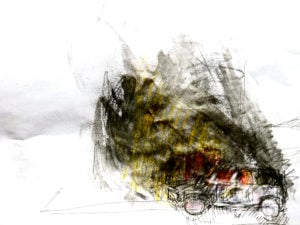 The right in Bangladesh in again ascendant in violence. Recent reports suggest that student groups are reacting strongly to the government's arrest and remand of leaders of the opposition coalition.  This, after a morbid spasmodic run of violence that abated not too long ago.
As the days and nights wind up and down to the national election, one wonders what kind of Bangladesh the country's political leaders and their street-wise cronies will leave behind for the people they claim to serve.
(This drawing is the second in a series that attempts to picture the social and political upheaval in Bangladesh at the heels of the upcoming national elections. The first picture in the series is available here.)