Obama: Can the "Lonely Guy" Be an Effective Foreign Policy Leader?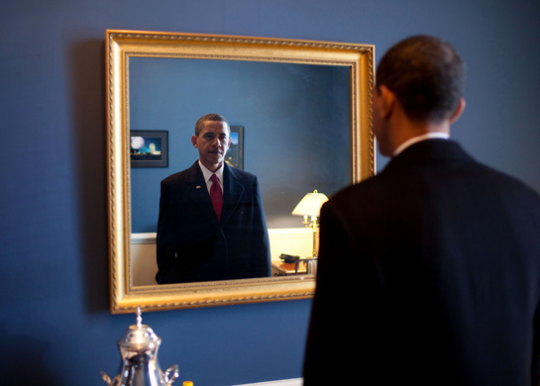 In earlier posts (here, here,here and here), I've argued that the Obama administration's national security process is plagued by extreme insularity, centralization and politicization.  Ultimately, however, these institutional problems are a reflection of the person sitting in the Oval Office.
The deepening Obamacare fiasco has raised plenty of questions about President Obama's leadership qualities.  But two reports this week highlight continuing concerns about his skills as a national security manager.  The first is by Rosa Brooks, a former administration staffer who has been vocal about Mr. Obama's leadership failings on the foreign policy front.  In a piece appearing in Politico's new magazine, she calls attention to the growing tensions between President Obama and his top military advisers:
In my interviews, however, many senior military leaders complained of feeling baffled and shut out by a White House National Security Staff that, in their view, combines an insistence on micromanaging minor issues with a near-total inability to articulate coherent strategic goals. 'The NSS wants to run the show, day to day and minute to minute,' laments a former military official, 'so they have no time—they're almost incapable of strategic thinking.'
Brooks also quotes another retired senior general, who says: "I don't understand the process by which the White House is making strategic or foreign-policy decisions.…There's an appearance of consultation, but you know you won't be listened to."
The second report is in the Daily Beast regarding a serious rift between Susan E. Rice, the president's new national security advisor, and Secretary of State John F. Kerry over how to approach the new military-backed government in Cairo.  The divide has created a policy muddle, with Egyptian officials reportedly
receiving diverging messages from the U.S. government's various parts, causing confusion as they try to decide how to react to recent U.S. actions. For example, the administration has not told the government of Egypt what exactly it must do to get the partial aid suspension lifted, said a source close to the Egyptian government.
The confusion has also contributed to the remarkable breakdown in U.S.-Saudi relations over the past few months.
To be sure, sharp differences over foreign policy are a feature of every administration.  But what is striking is how long Mr. Obama has allowed them to fester.  As the Daily Beast observed, the problem with the administration's Egypt policy is that it is not only hampered "by internal tensions but also by being ad hoc and reactive, without a long-term strategy dictated by President Obama."
The president's inattentiveness to foreign policy problems is not a new development.  As I noted earlier, he turned a blind eye to the sophomoric squabbling that consumed his national security team during the key 2009-10 period when his Afghan troop surge was underway.  One consequence was that promising leads about the Taliban's readiness for a peace settlement – including one involving King Abdullah of Saudi Arabia – languished for months.
Even sympathetic observers are now beginning to take notice of Obama's lackadaisical approach to policymaking.  Six months ago, Joe Klein, Time magazine's political columnist, lamented that "his unwillingness to concentrate — and I mean concentrate obsessively — on making sure that government is managed efficiently will be part of his legacy."  And Dana Milbank at the Washington Post tagged him as "President Passerby [who] needs urgently to become a participant in his presidency."  Last month, an article in this newspaper quoted William A. Galston, a domestic policy adviser to Bill Clinton, as saying:
Compared to the president I served, this president doesn't seem to be as relentlessly curious about the processes of government — whether the legislative process or the implementation process or the administrative and bureaucratic process.
The article added that:
Former Obama administration officials said the president's inattention to detail has been a frequent source of frustration, leading in some cases to reversals of diplomatic initiatives and other efforts that had been underway for months.
Picking up on this point, Todd Purdum, a national editor at Vanity Fair magazine, has dubbed Obama "the lonely guy" – a man of such resolute solitude that he is now unmoored from the management of his own administration.   Contrary to those who see Obama as possessing a surfeit of self-confidence, Purdum reports that
… at least one former senior administration adviser has argued that the trait springs from the opposite source: a basic insecurity on the president's part, one that keeps him from surrounding himself with strong intellectual rivals in either the White House or the Cabinet. Competent they may be, but with Hillary Clinton gone there is no figure of unquestioned stature. He has quietly purged from his inner circle those most likely to stand up to him….
Mr. Obama's counterparts abroad seem to have come to the same conclusion.  Peggy Noonan at the Wall Street Journal notes that "World leaders do not understand what his higher strategic aims are, have doubts about his seriousness and judgment, and read him as unsure and covering up his unsureness with ringing words."  And she quotes a former senior U.S. diplomat as saying: "[Obama] doesn't know what to do so he stays out of it [and] hopes for the best."
From the mishandling of the Syrian crisis to the health care imbroglio, the past few months have cast a harsh light on the drawbacks of a governing style that is big on ideas but has little interest in details.  Several weeks ago, the president conceded to a group of Obamacare supporters: "Let's face it, a lot of us didn't realize the passing the law was the easy part."  The time has come for a similar revelation on foreign policy.
This commentary is cross-posted on Monsters Abroad.  I invite you to connect with me via Facebook and Twitter.