The War Bill and the Doomsday Clock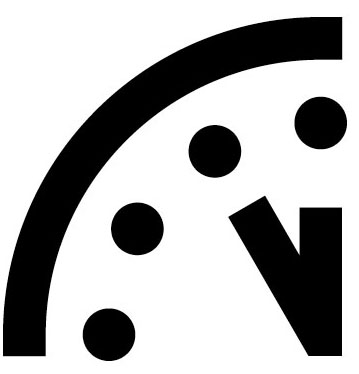 Hugh Gusterson is a professor of anthropology and sociology at George Mason University who's also a columnist for the Bulletin of the Atomic Scientists. He recently wrote that efforts by the Obama Administration to reach a deal with the Rouhani Administration in Iran and bring the Iranian nuclear crisis closer to a closure are met by "regime changers" trying to sabotage such an accord through the Nuclear Weapon Free Iran Act of 2013, co-authored by Sen. Robert Menendez, Democrat of New Jersey, and Sen. Mark Kirk, Republican of Illinois. You can read Professor Gusterson's piece here.
Also, the Bulletin's Science and Security Board, in a letter to the UN Secretary-General Ban Ki-Moon informed the Secretary General that the Doomsday Clock would remain at five minutes to midnight. In the letter the Board implore Secretary-General to encourage world's leaders to act on a variety of global threats. You can read the letter here.