How to track U.S. drone strikes from a mobile device
Persistence proved to be a winning strategy for one app developer this weekend.
Metadata+, data artist Josh Begley's iOS app that presents "real-time updates on national security," was approved and released by Apple. The app, formerly known as Drones+, had been rejected by Apple several times prior to its release. In one rejection letter, Apple noted its "objectionable and crude" content. An earlier rejection deemed the app "not useful," according to Wired.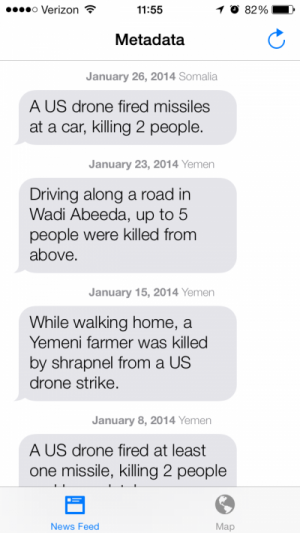 Metadata+ aggregates and publishes information from the U.K.-based non-profit Bureau for Investigative Journalism. BIJ has been compiling data on drone strikes for years. Much of its data comes from international news sources, but it has conducted its own investigations into civilian deaths in the past.
The app uses push-notifications to alert a mobile user when a new strike is reported, and also includes an interactive map marking the location of strikes. It has a very "bare bones" approach — as you can see from the screenshots to the right. So far, the app's push-notification feature has yet to be utilized. (The last drone strike reported by Metadata+ was before the app was released to the public.)
Is it simple? Yes. But the app is free, easy-to-use, and can work well hand-in-hand with other mobile-friendly attempts to better visualize drone strikes. It could make for a pretty cool companion to, say, Dronestagram, an Instagram account that gives a "drones-eye view" of the sites where drone strikes occur. Twitter and Facebook have proven themselves to be powerful tools for live, occasionally on-the-ground updates, even though Internet access in most of the regions where strikes are conducted is extremely limited.
All in all, even if U.S. drone policy fails to become more transparent, new media has made it easier to shed some light on drone strikes. Apps like Metadata+, while minimalist, have the potential to raise awareness and start conversations.
You can download Metadata+ here.