Egypt's political climate as seen through the Muslim Brotherhood trials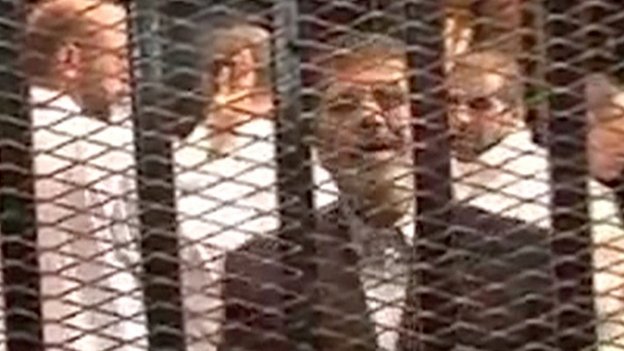 In his new piece for the New Yorker, "Revolution on Trial: The strange world of the Muslim Brotherhood court cases," Peter Hessler brings his readers into the courtroom of the ongoing trial against former Egyptian president, Mohamed Morsi, and his co-defendants. Morsi and a number of other Muslim Brotherhood members are charged in connection with multiple offenses, including a prison break during the 2011 uprising in which they were freed by unknown assailants. The proceedings—held with the heavily fortified Cairo Police Academy—present a microcosm of the current state of Egyptian society. The academy's hulking defenses highlight the continual role of the military in Egyptian politics; the courtroom, void of officialdom, the dismal state of the country's institutions; and the proceedings, chaotic and unruly, the "praetorian" situation in which Egypt now finds itself.
Hessler describes a country thoroughly politicized, which for all its benefits frustrates the average Egyptian due to its polemic and destabilizing results. It is an Egypt, where three years after the revolution a divided middle class jostles for the reins of power, attempting to influence the wider populace, while the goals of 2011 uprising remain unfulfilled; a country in which power corrupts and where political players employ their resources in an attempt to shape its future. An Egypt where the military, solidifying its position as the political arbitrator, has reverted to the tactics of old: kangaroo courts, violent repression and populist appeals. In "Revolution on Trial," Hessler skillfully captures a weak state attempting to transition from authoritarianism to democracy and puts on display the various factors that may act to derail it along the way.
You can read Peter Hessler's "Revolution on Trial" here.