Abbas Wants to Talk Borders as U.S. Led Israeli-Palestinian Negotiations Resume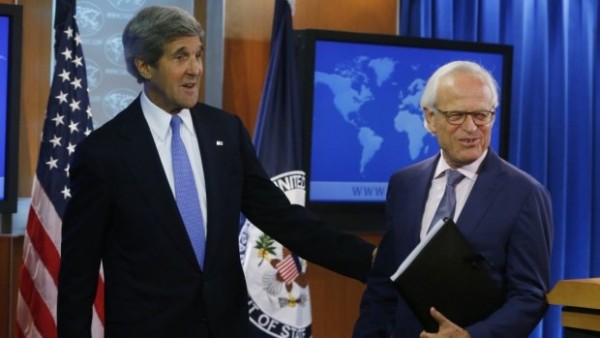 Israeli and Palestinian negotiation teams are expected to meet today with United States Special Envoy Martin Indyk in Jerusalem to arrive at a formula for extending the talks past the April 29 deadline.
The meeting was delayed 24 hours, with media outlets reporting different reasons for the one-day postponement. Israeli officials would neither confirm nor deny reports that the delay was because of the funeral of murdered police officer Baruch Mizrahi. The Palestinians, meanwhile, said the postponement was due to an American request in order to allow the participation of U.S. envoy Martin Indyk.
On Wednesday, Palestinian Authority President Mahmoud Abbas met with several Israeli Members of Knesset in Ramallah. He told the MKs he is willing to extend the negotiations with Israel for another nine months, but would want the first three months to focus on drawing the borders of the Palestinian state. During those three months, Abbas added, he would insist that all settlement activity be halted.
The MKs said Abbas told them that if the diplomatic stalemate continued, he would ask Israel to "take the keys" and take back responsibility for what was going on in the areas where the Palestinian Authority operates. "You don't have to send tanks or use force," he was quoted as saying. "Just send a junior officer, a second lieutenant, and we'll give him the keys."
"We are committed to continuing the talks if Israel releases the prisoners before April 29," confirmed Abbas' spokesman Nabil Abu Rudeinah.
Meanwhile, Israeli officials continued Wednesday to hold the Palestinian Authority "directly responsible" for the incitement that created the "fertile soil" for the type of violence that resulted in Mizrahi's murder.
"The PA has nurtured an environment of hatred and glorification of terrorism, so the PA is directly responsible in creating a situation where these sorts of things can happen," one official said.
On Wednesday, the widow of the slain Israeli policeman made an appeal to Netanyahu not to free any more prisoners. Hadas Mizrahi said, 'There is no reason to release terrorists while more and more families are murdered."
U.S. involvement in the talks will continue, for now, as long as both parties are open to continuing talks. In a press conference, U.S. State Department Spokeswoman Jen Psaki stated, "it's important to note that the negotiations are ongoing, that the parties have indicated they want them to be ongoing, and that they are open to discussing and actively discussing an extension. So that is positive. But we're not going to put the cart before the horse here."
In a New York Times op-ed Tuesday, Thomas Friedman warned, "The truth is Kerry's mission is less an act of strategy and more an act of deep friendship. It is America trying to save Israel from trends that will inevitably undermine it as a Jewish and democratic state. But Kerry is the last of an old guard. Those in the Obama administration who think he is on a suicide mission reflect the new U.S. attitude toward the region. And those in Israel who denounce him as a nuisance reflect the new Israel."