The Pollard Chess Match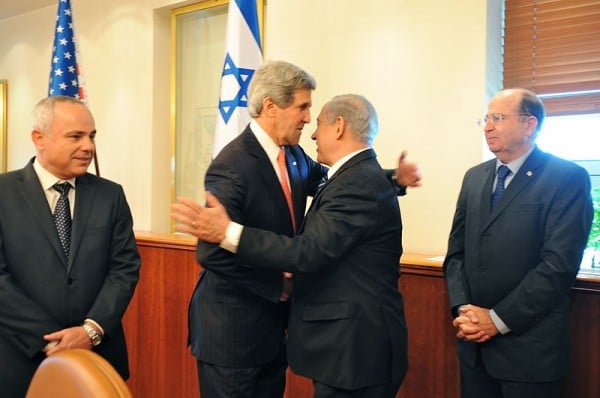 Convicted spy Jonathan Pollard has been a thorn in the sides of U.S. and Israeli administrations for 25 years. Since his conviction of sending classified information to Israel when working for the U.S. Navy, the Israeli public and politicians have repeatedly called for Pollard's release, with their request falling on deaf ears at the White House across both Democratic and Republican administrations.
Yet, like clockwork, the prospects of Pollard's freedom also emerge during discussions on the Israeli-Palestinian peace process.  As the theory goes, the United States would release Pollard as an incentive for Israel to make concessions that would either commence or continue negotiations with Palestinians. Unlike usual, the idea seemed to gain a foothold at the State Department during this cycle of faltering U.S.-brokered negotiations with Israeli and Palestinian leadership, only to crumble along with talks.
However, like any good move in chess, the United States and Israel should come back to the table to negotiate over Pollard, and force the Palestinians' hand in the process.
As an opening move, Israel should agree to the release of prisoners—even those with blood on their hands—or a six-month freeze in settlement construction. Either of these steps are not an easy sell to Israelis. Settlement freezes have not been met by concessions from Palestinians, and instead face strong opposition from Israelis who view new constructions as only a tangential issue that is not the crux of the dispute. This concession would demonstrate to the American people that the Secretary of State John Kerry, who has faced incessant criticism from Republicans for foreign policy failures, garnered preliminary success on a signature issue that has dogged both sides of the aisle.
In response, the United States would release Pollard, a spy who many generally pro-Israel U.S. politicians regard as a traitor who is lucky to have avoided the firing squad. Israelis view Pollard as unfairly detained for more than two decades, as spies with far worse crimes faced more lenient sentences. His release would be major victory for Israeli Prime Minister Benjamin Netanyahu, who has made Pollard's freedom a key priority and would substantially boost his poll numbers in the dynamic and fragile Israeli political system where new elections could be held at almost any time.
Through these steps, the Israeli government and Obama Administration would have their own triumphs to spin for domestic audiences. These win-win moves may bristle some constituents on the political fringe, but most individuals will clearly see the appropriate exchange of pieces as a first step to further the process.
With both Israel taking the first step in the peace process through a major concession, and the U.S. letting go of a major bargaining chip, the onus will unconditionally be on Palestinians to act—either curbing terror, recognizing Israel's right to exist as a Jewish state or conceding that the right of return is simply a non-starter.
That Palestinian action, though, will assuredly not happen. Palestinian President Mahmoud Abbas simply lacks the political courage and clout to take any of those steps. In parallel, the Palestinian people as a nation are also not ready or willing to push their politicians to make those concessions.
Inevitably, the U.S. and Israeli concessions will be met with silence, indisputably reaffirming the long-held Israeli belief that there is no negotiating partner. In a single move, Palestinians could put that notion to rest, but that would be unprecedented in recent years.
Despite that reality, the United States and Israel should make their move, putting the Palestinians in check. When that happens, failure of the Palestinians to respond in kind will leave the peace process in check mate.