UNICHEF: Top Chefs Gather in Support of the World's Children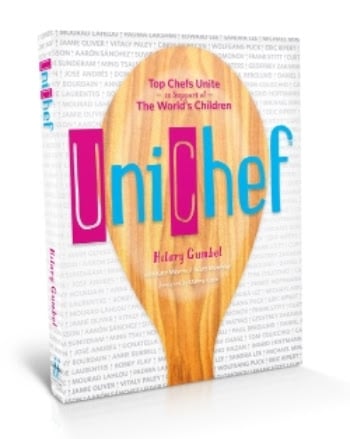 In a unique collaboration, 40 world-class chefs have come together in support of the U.S. Fund for UNICEF and created what is essentially an international culinary travelogue, offering recipes that detail tastes and key culinary choices from different parts of the world.
Assembled by Hilary Gumbel and published by Glitterati on October 15, 2014, the book offers a rich collection of international recipes that is fitting of its title, UNICHEF. Ms. Gumbel has been working as a consultant for the U.S. Fund for UNICEF for the past 10 years and been a volunteer advocating on their behalf.
Each recipe in the book starts with an autobiographical story of its respective chef followed by the recipe's socio-cultural significance and what it means to the local people. UNICHEF aims to expose children and adults to the diverse foods, tastes, and culinary customs of the world around them and raise awareness among food lovers of the significance of children in our lives today, and more importantly, to our future.
Proceeds generated from the sale of the book will be donated in their entirety by Ms. Gumbel to the U.S. Fund for UNICEF, which works in 190 countries to improve the lives of children by providing such services as health care, immunizations, clean water, sanitation, nutrition, education, and emergency relief. The Foreword in UNICHEF is a moving piece by the late and legendary entertainer, Dany Kaye, who was UNICEF's first Goodwill Ambassador to the world's children in 1954.
The rock star chefs in the book include Hugh Acheson, Jamie Oliver, Emeril Lagasse, José Andrés, Anthony Bourdain, Padma Lakshmi, and Donatella Arpaia, to name a few. Purchasing a copy of UNICHEF  would be undoubtedly a worthwhile contribution to making the lives of children better in many parts of the world.