Netanyahu's Reactions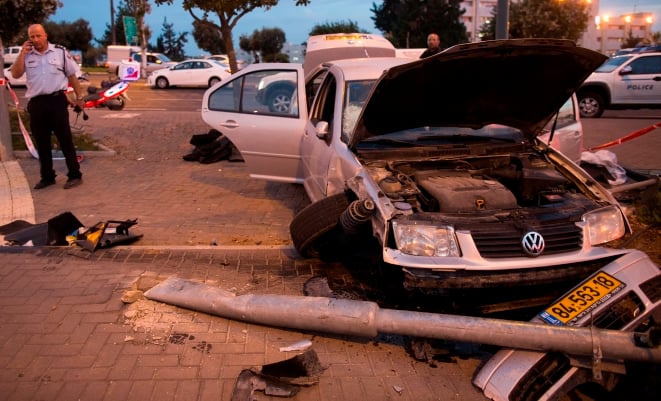 Tensions are currently high in Israel, even by Israeli standards.
Internationally, several Western states have been making pushes towards recognition of a Palestinian state, talk of supporting the Boycott, Divestment, Sanctions (BDS) movement has re-emerged on numerous fronts. Amidst the public fighting between Jerusalem and Washington, a senior White House official was quoted as calling Prime Minister Benyamin Netanyahu a "chickenshit."
Domestically, things are dangerous and politically fraught. In the last few weeks, there have been shootings, stabbings, and instances of rioting. On several occasions Palestinians have turned their cars into weapons, mowing down pedestrians waiting for the light rail.
Meanwhile, a new poll conducted by the Israeli Democracy Institute and Tel Aviv University asked Israelis how they think their government should be responding to these recent attacks. At a two-to-one margin, Israelis say they would like to use this opportunity to renew peace talks as opposed to ceasing diplomatic relations. Of those polled, 57.2 percent want renewed talks while only 28.5 percent would like to see them scaled back.
This finding stands in marked contrast to the response from Netanyahu and his allies to the violence in recent weeks. Here are some responses they have offered, just from the last few days:
Netanyahu announced new security measures to restore order. He plans to fine "the parents of children who throw rocks" and is seeking to "outlaw sources of incitement within Jerusalem."
He told Palestinian citizens of Israel not to protest, but to simply back their bags. "We will fight against the incitement being lead by the Palestinian Authority, we will act decisively against the rioters who are calling for the destruction of the State of Israel. To all those who demonstrate against Israel and in favor of a Palestinian state, I say something simple: I invite you to move there; we won't give you any problem."
He made a statement declaring his intention to revoke the citizenship of any demonstrator who calls for the destruction of Israel.
The Knesset voted in support of annexing certain West Bank settlements, extending Israeli law to these areas that have heretofore been under military law. While this vote will not lead to automatic changes, it certainly signals—to Palestinians and the international community—that the majority of MKs oppose a negotiated two-state solution.
This vote followed an op-ed in the New York Times from Naftali Bennett — a high-ranking MK and a member of Bibi's coalition — entitled, "For Israel, Two-State Is No Solution." In the opinion piece, Bennett lays out his vision for the region, and concludes with the proposal to apply Israeli law to the settlement blocs within Area C, essentially annexing them into Israel.
Netanyahu has no real challenger from the left, but plenty from the right. Early this week, Danny Danon announced his intentions to run against Bibi in the Likud primaries, essentially claiming that Bibi is too dovish. He specifically claims that the Prime Minister has "lost the way." Bibi also has to worry about challenges from Lieberman and Bennett, both former allies who seem to think they could better handle Iran, the Palestinians, and the U.S.
While the Israeli public says they want peace, they have chosen representatives with starkly different objectives. To anyone following American politics of late, I'll leave you with a simple question: sound familiar?