The Curious Case of the Gulf Woman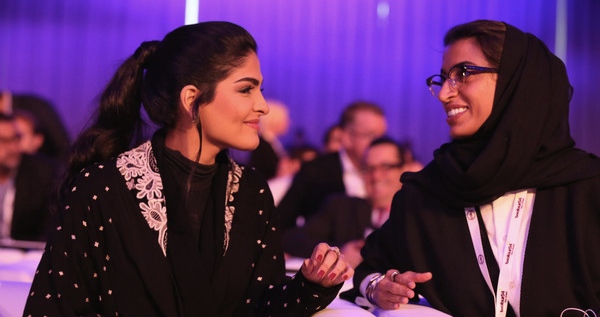 The Gulf is at an unprecedented time in history where new demographic opportunities are eclipsing the region. It's a time where consumers are becoming producers of news and ideas, and people are more likely to answer "completing education" to the age-old question, "What is your ambition in life?" It's undoubtedly the most creative, energetic, patriotic and productive generation this area experienced.  They're a people bursting with determination with promising success, in John Kerry's words "a social equivalent of a bottle full of carbonated water just being shook and then opened." Today, though, it's still hard to avoid the natural clash between old and new, exemplified by the 58 percent of Gulf citizens who say the hardest part of employment is actually finding a job. Governments need to develop policies to accommodate this growing revolutionary demographic responsible for leading the region into the future, with that, is a tall order for women's inclusion. The region's challenge on the status of women derives from a mixture of political history and society's contemporary interaction with globalization.
Today, however, the Gulf region is experiencing a changing definition of identity. Identity is no longer singularly defined. Globalization has put the cultural values that had once defined the Gulf states in motion, driven by a revolutionary rise of individualism led by the rising generation's support for the right to pursue happiness, goals and expression. For the Gulf, globalization is both a challenge and an opportunity — it propels the region into the market, although its held back by pre-existing legal and social barriers. With battling forces, it's only natural that the Gulf's development would be gradual and experience an abundance of challenges. Indeed, the Gulf States have accomplished a lot, but in this changing world, it is no longer sufficient for long-term sustainability.
According to the U.N. Arab Human Development Report, "Because the dynamics of transformation in contemporary Arab societies are different from those in Arab societies at the time when the schools of jurisprudence were established, earlier endeavors are no longer appropriate to either the nature or pace of current social transformations."
Governments are no longer the only actors in play in the Gulf region — influential individuals and groups with clout contribute to domestic policy. It would be an analytical suicide to compare the monarchy system to that of a democracy. Once acknowledging the reality that other forces are present in the system, the status of a particular sector in society will be better comprehensible.
The lack of women's integration is not from malicious intentions; rather, the status of women comes from regime security. Director of the Washington-based Institute for Gulf Affairs Ali Al-Ahmed said, "variations in the status of women are linked to the policy goals of each of the ruling Gulf monarchies. The variation of women's status is an expression of who a given government is trying to please from the political/social fabric." In today's globalized world, the status of women in the Gulf is less religious and cultural rooted and instead the result of fears and security measures stemming from the past 50 years, which molded different groups, and stakeholders with varying experiences to form conflicting views. These fears, old generation's lived realities, competing strategies, and traditions have all led to a seemingly lethargic domestic policy, and unfortunately women have been at the expense of this.
Reem Al Harmi, a Qatari columnist for Al-Raya, shares that there's a duality to the challenges when it comes to women in the Gulf:
"We can categorize them into two main levels, first, a personal and family level, and secondly, a governmental and institutional one. Furthermore, the first challenge may come from the immediate family and relatives, where they become an obstacle in the face of women's progress. The second level of challenge could be either the government or institutions such as religious institutions. These two challenges can even clash with one another. When for instance the family of a woman approves a certain choice for her, but then the government does not or vise versa."
In order to ameliorate this, stronger government policies supporting women are necessary to eliminate the obstacle of the government. Studies have shown that a strong political economy has a significant influence on the productivity of women in societies. The Gulf is currently suffering from an Arab youth bulge in the region, a tight job market and slow job creation; these, combined with the increase in women's education, means one group will suffer most — literate women.
For the literate women, plugging them in has a leveraging effect. "Economically empowered women are more likely to invest a portion of their household income on education for their children," states the "Differences and Similarities Across the Arab Generations Report" by Strategy&. "As those children grow up, they will pursue careers of their own, creating further social and economic gains for the country. This is one way in which an awareness of generational effects can help policymakers craft policies that lay the groundwork for long-term growth."
Empowering women and prioritizing their inclusion will dramatically shift economic development away from natural resources and into the region's vision for a sustainable front founded on human capital. For the UAE, which is similar to its neighboring Gulf states, raising female employment to male levels would advance their overall GDP by 12 percent, due to a productive national workforce that would grow twofold in size. The gap between economically inactive and economically active populations is the widest in the Gulf region of the Middle East, so inevitably, we find that if women — who compose half of the population — are given more opportunities and platforms to create, the whole economy will grow and innovate off their successes.
Because the Gulf States are the most resilient to instability in the Middle East, they are the optimal actors to change women's inclusion for the better, and transfer it to the broader Middle East region.
According to a 2014 report by Bayt, a Middle East employment organization, the majority of women in the GCC work within the Education or Healthcare industries. Whereas, their growing interests are in business and government, among others.
"Change has to come from the leadership in the government. The government has the power to grant the same educational opportunities and same job opportunities; it would be then the first step towards the development and progress of women in the region. Also, degenderizing jobs and even university majoring areas is essential, meaning, opening up and expanding both the job market and the educational institutions equally to both men and women," says Al Harmi.
When Arab women were given space to develop and pursue their abilities on regional and international levels, they produced exceptional results. The remarkable part is they did this through government limitations and social structural barriers. Take, for instance, Dr. Rawya Al Busaidi, Oman's Minister of Education. Within a decade, she was able to positively reshape the Sultanate's education system, increase the amount of universities, stimulate curiosity, provide more scholarships, and promote the importance of studying abroad to broaden horizons.
"In Qatar, H.H. Sheikha Moza Al-Misned, the former Qatar first lady and force behind Qatar Foundation, has helped with the country's progress, when it comes to education, family and different sectors. She was also included in Forbes 100 most powerful women," shares Al Harmi. A bold statement and symbolic trend among prominent families across the Gulf is the growing support for women to take-up leadership roles in order to inspire the generations to come.
Women are not only transforming their own roles in society, but they are also actively leading their nation into some of the greatest development feats. Sheikha Lubna Al Qasimi is UAE's Minister of International Cooperation and Development and among the world's most powerful philanthropists and businesswomen; she propelled the UAE'S rapid growth and had a key role in distributing billions to international projects on improving quality of life. In Saudi Arabia, Dr. Yasmin Altwaijri is among Saudi's top senior scientists leading one of the most extensive studies measuring obesity, diabetes, mental health issues and decreasing the sense of taboo from seeking treatment. She is reshaping the health sector in the region, which has a paramount effect on society's perception. Dr. Hessa Al Jaber is Qatar's Minister of Information and Communications Technology; she is the force behind the creation of Qatar Assistive Technology Center, a successful organization dedicated to connecting people with disabilities to the world of technology and equipping them with tools to participate in international markets. She holds the fifth spot on Forbes list of Most Powerful Women in Government in the Middle East for 2014.
As governments are revising their policies, Women are climbing the ladder to leadership, and possibly crossing the well-known glass ceiling. Al Harmi shares a role that the international community can play to push women empowerment forward, that is "to focus on giving recommendations to the governments in helping them build strong institutions that would ensure women's development and progress." As the Gulf States are situated in a vulnerable neighborhood, the government needs to be receptive to the rising generation's requests, they are the majority and they will lead. Alienation of participation and unequal sectors of society will only lead to turmoil. Today, we see the Middle East experiencing a bitter taste of the repercussions of domestic alienation.
The international discourse of women has had a significant impact on women in the Arab region, from credible UN conferences, international forums to scholarship exchanged through cyberspace. All of the above have positively helped women and their families to become empowered. International efforts play a key role, however ultimately the greatest steps are in the hands of the governments in the Gulf.
To expect the Gulf countries to be up at the same par as developing nations since centuries past would be naïve. During America's foundation as a nation, women were denied rights in which men enjoyed. Women had no property rights, claim to money, and endured a society that pressured women to focus on maternal issues. As for most countries in the Gulf, already we see promising policies, as women have property rights and independence over their bank accounts, these two policies alone took the United States a century to reach. The question of women is not an Arab predicament, nor is it an Islamic one; the struggle of a woman to exist equally is a universal problem.
One should not undermine the capabilities of the Gulf woman, nor hold a narrow perception that women are not empowered. The region is in a delicate time, inundated in rising threats and various stakeholders lobbying for conflicting policies. Unfortunately, at the moment there's a significant amount of people who view the empowerment of women as a Western value. Additionally, it does not help when international actors attack the Gulf region in a crass manner, as then reform would be interpreted as an intrusive demand of the West. Adversely, this has led a segment of society – and within it stakeholders in the political fabric – to impede efforts for positive women's inclusion. Remaining diplomatic and constructive is fundamental for the progress of women and the rising generation propping them up.
In my most recent piece, Investing in a Gulf Free of Oil Dependence, I argued that there is a great need politically and economically, for international actors to invest in the GCC away from natural resources. In order for this to be a success, the Gulf should take proper measures of inclusion for literate women, a demographic that is suffering from tight job markets and genderized occupations. If half of the population of the Gulf can be equally incorporated into the economy, it would create a greater reassurance to foreign investors as well as ultimately, lead to the happiness, prosperity and growth of their country.
As governments cobble out policies to accommodate this rising generation's needs, women can express themselves through literary creativity, artistic creativity, various art forms, sciences, businesses and start-ups, and increasingly athletics. Triumphant and strong, women have proved they are an indispensable department to all facets of development in their country.