Will Modi's Visit to the Border Threaten Chinese Investment in India?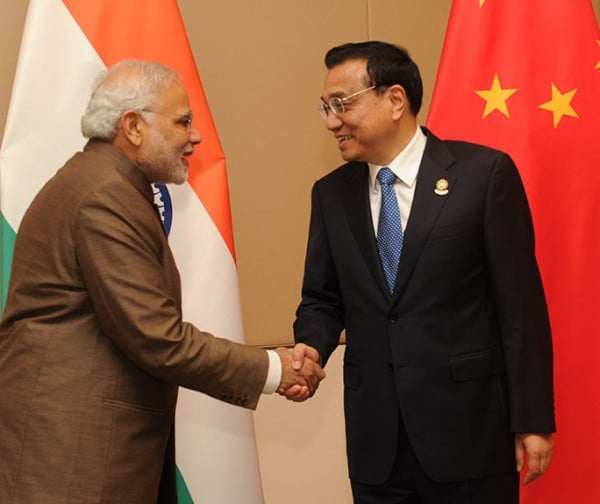 Last Friday, Beijing reacted strongly to Indian Prime Minister Narendra Modi's visit to India's disputed border area with China, to mark the 28th anniversary of the establishment of Arunachal Pradesh as an Indian state. Chinese Foreign Ministry Spokesperson Hua Chunying expressed Beijing's "diametrical opposition" to the trip, arguing the visit did not help in resolving the border dispute.  Modi's visit was also held in conjunction with the inauguration of a power station and train connecting to New Delhi, and pledges of billions in infrastructure investment, including promises of bringing agricultural development and internet connectivity to a mountainous region that has long been neglected by the central government.
"The act of the Indian side is not conducive to properly resolving and controlling disputes between the two sides, nor in conformity with the general situation of growth of bilateral relations," Hua said in the recent statement.
The following day, Vice Foreign Minister Liu Zhenmin lodged a "stern representation" after calling in the Indian ambassador Ashok Kantha, saying Modi's visit "undermined China's territorial sovereignty, rights and interests." Xinhua, the Chinese state news agency, followed protocol, referring to Modi's visit to the so-called "Arunachal Pradesh," a state that Indian authorities illegally and unilaterally declared in 1987:
The so-called "Arunachal Pradesh" was established largely on the three areas of China's Tibet — Monyul, Loyul and Lower Tsayul currently under Indian illegal occupation. These three areas, located between the illegal "Mcmahon Line" and the traditional customary boundary between China and India, have always been Chinese territory.
In 1914, the colonialists secretly contrived the illegal "Mcmahon Line" in an attempt to incorporate into India the above-mentioned three areas of Chinese territory. None of the successive Chinese governments have ever recognized this line.
In February 1987, Indian authorities declared the founding of the so-called "Arunachal Pradesh."
The area is particularly sensitive, having been overrun by Chinese invading forces in 1962, after India placed several outposts north of the McMahon Line. Indian forces were ultimately defeated by Chinese troops in a short, but bloody skirmish. Soldiers from both sides now regularly cross over the disputed border.
Modi's visit to Arunachal Pradesh appears to have exacerbated heightened tensions between the two countries, which were tested recently during Barack Obama's three-day visit in January.  The two countries pledged cooperation on a 430-word "joint strategic vision for Asia-Pacific and Indian Ocean region", which calls for "safeguarding maritime security and ensuring freedom of navigation…especially in the South China Sea," in a marked rebuke to China's growing dominance of the disputed waters.  Beijing promptly rebuked India for the statement, saying only "parties directly concerned" should issue statements on sovereignty issues in the South China Sea.
India will not want to provoke China further and threaten promises of infrastructure development from Beijing. Recent media reports indicate China is ready to finance up to 30 percent of India's infrastructure needs in the next five years, according to a five-year proposal submitted to the Indian government by a Chinese working group during the first week of February.   The plan specifically calls for Chinese funding of approximately $300 billion toward planned Indian investment of $1 trillion in road, rail, telecom and power infrastructure.  Previous proposals from China had been rejected, as the Indian government expressed its wariness over Chinese control of critical infrastructure such as telecom and power.
Other governments have also been wary of Chinese investment, including the U.S. and Canada.  In February 2012, Ralls, a company affiliated with the Chinese Sany Group, purchased the Butter Creek wind farm project in Oregon.  The Committee on Foreign Investment in the United States (CFIUS) effectively put an end to the deal, arguing that the wind farm is located near a US Navy bombing range.  Previous attempts by Chinese telecom equipment providers Huawei and ZTE to break into the U.S. market in 2012 were branded as security threats by the Intelligence Committee of the U.S. House of Representatives, citing the potential for "back doors" installed on their equipment to be used to spy on American interests.  Attempts by Huawei to supply equipment to the telecommunications networks in Australia, Canada and Japan have also been blocked by government regulators.
Yet with a flat rejection of Chinese investment in critical infrastructure sectors within India, the Indian government would once again stall much-need investment.  Rather, India should adopt the approach of the British government, by creating an independent testing center to inspect all infrastructure equipment for potential threats. The funding for the testing center could also be funded by Beijing, and only equipment which has been thoroughly inspected for "back doors" and other potential threats would be allowed.
Hopefully, the recent fury in Beijing over Modi's visit to the disputed border area and Chinese anxiety over India's closer relations with the U.S. will subside in the coming months, and Indian and Chinese officials will get down to the business of funding and developing India's desperate infrastructure needs.  Chinese investment in India will not be threatened, as Chinese companies focus on profit and Beijing seeks greater political influence.  Indian authorities would do well to welcome more Chinese investment in infrastructure with open arms, but take the necessary precautions to ensure national security interests are protected as well.