By Any Other Name: The Words We Use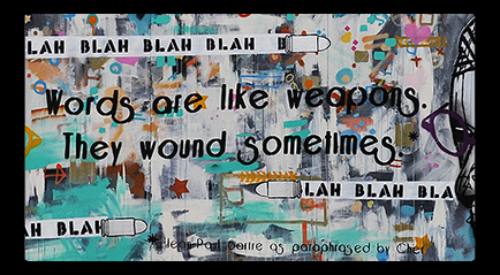 The words we use have an impact on the world around us. For people who have been trafficked and exploited for sexual purposes, such an apparently minor thing as language can tangle their lives and seriously affect their future.
In a thought-provoking piece published on openDemocracy, Jennifer Musto highlights the hardship imposed on youth in the U.S. caught up in the legal system as a result of their sexual exploitation for commercial purposes.
A bizarre reality exists where "youth deemed 'at risk' of domestic sex trafficking may be arrested, charged or placed in detention in order to be protected by law enforcement." She further highlights the very real impact that "calling kids victims in name but continuing to treat them like juvenile offenders" has.
But what's in a name? On a seemingly superficial level, the media — not to mention society in general — blurs the situation every time the words "child prostitute" are used. But digging deeper, it becomes clear that the term "child prostitute" is a highly inappropriate descriptor for youth forced to take part in sexual acts. ECPAT, a global network of civil society organizations dedicated to ending the commercial sexual exploitation of children, has a powerful and pointed explanation as to why:
… children cannot be expected to make an informed choice to prostitute themselves; the act of prostituting a child is in fact carried out by another party… These terms do not adequately express a child's experience of force, exploitation, and physical and psychological harm inflicted through their engagement in prostitution…when it comes to children, to refer to "sex work" is wholly misleading; again, it downplays the criminal exploitation committed against a child forced into prostitution and suggests that a child "worker" has somehow chosen to follow a "profession."
Detangling the language exposes a paradox, where (in the U.S., at least), legislation demands the correct use of terminology in cases of child commercial sexual exploitation: Such minors are not "child prostitutes" in the eyes of the law. Yet they are treated as such, and provided, in many cases, with a criminal record.
Using the correct terminology signifies that children are the survivors or victims of a heinous, brutal crime. 'Child prostitutes,' on the other hand, are young criminals. (IOFA)
A recent example from the UK demonstrates how an institutionalized mindset of criminality rather than exploitation infuses and jeopardizes survivors' outcomes: A report investigating underage grooming in the north of England found that, "Social workers talked about the victims making 'lifestyle choices.'" But choice was not something the victims had, whether they knew it or not.
Words have an impact greater than their component letters. How survivors of child commercial sexual exploitation are named, referred to and labelled has repercussions on the rest of their lives.
—
image courtesy id-iom/Flickr