From oil to nuclear energy: a Lausanne Accord between Iran and the P5+1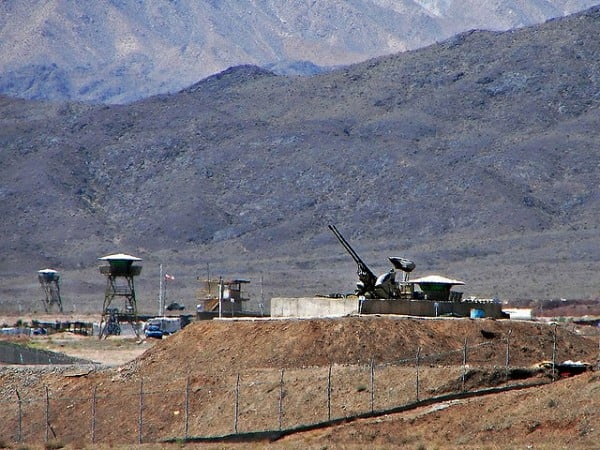 U.S. Secretary of State John Kerry and his Iranian counterpart Mohammad Javad Zarif will meet again on March 15 in Lausanne for the final stretch of international negotiations on the Iranian nuclear program. Mr. Kerry, who has just returned from Europe to meet Mr. Zarif last week in Montreux, will be in Egypt on Thursday before heading back to Switzerland on Sunday, three weeks away from the deadline to complete a political agreement between the major powers and Iran on nuclear power.
For Iran, the sanctions are expensive and cost an estimated 5 to 8 billion dollars a month. The country remains paradoxically poorly understood and is the subject of amplified assumptions with the current nuclear talks. This particular sensitivity of the discussion is due to several parameters.
The first is due to Iran's considerable wealth in raw materials and geographic position. As the world's third largest oil exporter, with the second largest natural gas reserves, Iran is the safest way to export hydrocarbons from the Caspian Sea to western markets. For several years, the country has increasingly sought energy resources in emerging markets in Asia, which has provided Tehran with considerable economic and political opportunities. Iranian President Hassan Rohani said on Wednesday that Iran will increase gas imports from Turkmenistan, on the occasion of a visit to the former Soviet Republic in Central Asia. 'We agreed on an increase of Turkmen gas imports to Iran', said Mr. Rohani, who did not give figures. The Iranian president stressed the potential for energy cooperation between Iran and Turkmenistan, one of the most closed countries in the world, run with an iron fist by President Berdymukhamedov.
Western powers for their part, have been particularly attentive to the drop in oil prices, upon which their economies are structurally dependent. Since oil price is set at the margin, it has implications as to how we predict the future oil market and state cooperation. The current risk is that producers invest in more production capacity than the market needs. A recent paper, "Islamic Finance and the Energy Sector," argues energy projects and development contain certain important features, such as large fixed costs, volatile output prices, long duration of the project, and in some cases, the threat of nationalization.
The first oil fields in the Middle East were discovered in Iran in 1908, and Iran's production remains strong thanks to large reserves, giving it strong influence in the region. Today, oil revenues account for over 80 percent of the country's foreign exchange earnings, half the state budget, and nearly 90 percent of its exports. The gas data are equally enviable: As the 8th largest producer in the world, Iran possesses one of the world's largest gas reserves and will remain prominent as liquefied natural gas (LNG) use become more common.
It is evident that at a time where all major economies seek energy at all costs, Iran's reserves will become increasingly important. However, its oil industry is somewhat obsolete and there is no present ability to increase production due to crippling sanctions. The Iran and Libya Sanctions Act, established by the United States during the first term of the Clinton administration, was a considerable break to what Iran has to offer. Some countries are reluctant to invest in Iran because of the effect sanctions have on domestic and international markets. Only few companies have taken the risk. The Total Company has invested heavily in South Pars, one of the largest gas fields in the world, which is the interface of the gas field in Qatar.
With this substantial hydrocarbon wealth, Iran could also become a major producer and key player in Central Asia. The Northern Caspian Sea holds indeed considerable reserves. A small oil and gas pipeline already supplies China, and exports can also run through Russia, with a derivation through the west and through Azerbaijan, Georgia and Turkey. However, a second shorter — and therefore less expensive — way could go through south Iran. This route would allow an output of hydrocarbons from Central Asia, and would give Iran a more important economic and political role. Still, today Iran claims for the equal distribution to the five residents opposed to its neighboring Kazakhstan, Russian, Azerbaijani and Turkmen, who claim a proportional share in the length of the coast.
Iran's long shoreline on the Persian Gulf and the Arabian Sea, as well as its control over the Strait of Hormuz, put Iran in a strong geostrategic position. It can block the evacuation of hydrocarbons through the Strait of Hormuz, which could cause a sudden and considerable rise in oil price. Iranians aspire to be treated as equals by the West; that's the whole meaning of the speech, "The Dialogue among Civilizations," which former President Khatami gave at the United Nations. It does not want to bend to Western hegemony and refuses to depend on other states and neighbors. Rather, it wants to go its own way by standing close and strong to its history, tradition and culture.
In addition to oil production, the nuclear issue is another way Iran has sought to affirm its  independence. Iran is surrounded by 15 neighbors: Turkmenistan, who has declared neutrality; other neighboring Caspian countries, such as Azerbaijan, Armenia, Russia and Kazakhstan, Afghanistan and Iraq; Turkey; and the six Gulf monarchies. If Westerners have a tendency to look to the West and the situation in the Near and Middle East, the issues in eastern Iran are crucial. The original Indo-Pakistani conflict entered a new phase both countries acquired nuclear capabilities. China's nuclear capability is strong and goes beyond the opaque North Korea, who still conducts some research, albeit slowly. Mohamed ElBaradei, the head of IAEA from 1997 to 2009, pointed out that by the year 2020, the earth will have at least thirty or forty powerful nuclear countries.
Despite the fact that the Iranian nuclear capabilities are not technically developed enough to represent a threat to international security, the fact remains that it has pushed the Arab world to pursue civilian nuclear capabilities. Israel, while not officially declared a nuclear power, has nearly 200 nuclear warheads. Additionally, according a recent article in The Economist, it has three Dolphin class submarines that can fire nuclear capable cruise missiles with a range of around 1500km, making it one of only five nations to have a land-sea-air triad delivery system. What worries the international community is that nuclear proliferation would create more tensions and instabilities, and that is why the UN Security Council has voted on resolutions condemning and punishing Iran through crippling sanctions. The safeguarding of nuclear material is vital; the risk of theft by terrorist organizations is a huge threat to the peace and stability of the region, not to mention the world. A country must protect against radioactive materials leak possibilities. Some civil nuclear pooling of efforts in the region could help erase these risks.
If Iran's nuclear research is not accepted by the international community in particular for a state signatory of the nuclear non-proliferation treaty, it seems difficult to deny access to the civilian nuclear technology. And if any agreements emerge in the next couple of weeks between the P5 + 1, it might be to create a nuclear joint venture. This solution seems like a good way to transfer and cooperate with nuclear technology to countries that excels in research and capabilities but under strict control.
If there is one state that can serve as a model for getting out of the current crisis it's Kazakhstan. At the time of its independence in 1991, President Nursultan Nazarbayev made a decision to give up nuclear weapons. By peaceful conviction and awareness of his country's responsibility in maintaining safety, he opted for a nuclear-free state. In 2006 Nazarbayev outlined the Kazakh experience in an op-ed entitled "My advice to Iran." He stressed that once the USSR fell, he led his country away from being a nuclear power through multilateral negotiations that would lead to security guarantees from the nuclear powers and the U.N. He also emphasized that the state's nuclear-free status helped it in the struggle for worldwide nuclear disarmament, stability and security. Finally, he felt that it should allow for transparency and better international control of nuclear activities. As a pacifist model in a nuclear discussion, Kazakhstan may have some useful advice in matters of energy to Iran. As well addressed by Dr James D. Boys, author of Clinton's Grand Strategy: 'With the deadline soon approaching, the right side of history will finally be addressed' and let's hope concluded with a Lausanne Accord between the P5+1 and Iran.