Obama's Foreign Policy "Bully Pulpit"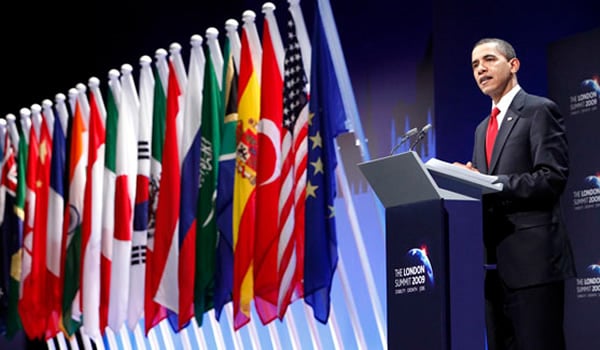 President Barack Obama has shown a recent willingness to engage forcefully on tough issues in a manner some found lacking earlier in his presidency. With re-election behind him, he discovered the value of the bully pulpit. His recent discussion of prison reform may be the initial steps of the long walk other social issues — like marriage equality — had to take before they were addressed fully. Presidents cannot resolve issues like these alone — no president can move gun control through an obstructive Congress, for example — but they can set down markers for action on an issue so that successors can approach it with the ball moved a little further down the field. In short, while it's not an endgame, the bully pulpit adds value.
Since Obama uses the bully pulpit domestically, can he take it abroad? In a sense, he has. His trip to Africa last month aimed to clarify U.S. policy towards the continent's major nations. His openness toward Cuba showed a willingness to take action to "unfreeze" American policy toward the country that was mired in Cold War thinking. Even in the waning months of his presidency, there is still more that he could accomplish abroad. In the remaining months before the 2016 presidential campaign kicks into high gear and soaks up all available media, here are three areas where Obama's "foreign policy bully pulpit" could be useful.
NATO. Obama's administration coined the term "leading from behind" in reference to U.S. participation in the ouster of Moammar Gadhafi from power in Libya, and the amount of responsibility it could shoulder for the results. "Leading from behind" positioned U.S. forces as facilitators of collective actions, but not as the spearhead they were for the Iraq War.
Such actions not only honor alliances they diffuse burdens to a U.S. military that is still looked to first as the global policeman. NATO now encompasses Central and Eastern Europe; its members are best positioned to counter Russian influence in the region. NATO's rounds of enlargement and efforts to partner with Russia have not matched the level of strategic reassessment NATO undertook with the 1967 Harmel Report. That document outlined the alliance's guiding principles during the Cold War. Some analysts have called for a repeat of the Harmel process to clarify NATO's post-Cold War principles and mission. Obama's motive to share alliance responsibilities more equally with European powers still applies.
Moreover, well into their second decade of NATO membership, rising Central European economies like Poland have increasing resources and strategic need for a revitalized alliance. Obama could call for a second Harmel process, led in part by NATO's most recent Central and Eastern European members, to determine how the alliance will continue to ensure European security. A a second Harmel process could clarify circumstances under which NATO would take out-of-area action, such as the criteria for an equivalent of the Libya intervention.
Japan. Central to Obama's foreign policy has been a "pivot" toward Asia. China commands a separate level of attention from U.S. policymakers; but the most important U.S. ally in Asia is Japan. It is the world's largest economy behind the U.S. and China. Its financial contribution to the United Nations (close to $294 million in 2015) are second only to the U.S. Prime Minister Shinzo Abe's new security legislation passed Japan's lower house last month and is headed to its upper chamber.
The new security measures have been controversial in Japan and the U.S. for proposing to alter Article 9 of Japan's post-World War II constitution to allow Japan to project military force. But they offer Obama an opportunity to move U.S.-Japan relations forward from its World War II-era posture in the way he pushed the U.S.-Cuba relations out of their Cold War stasis. Japan's economic might, like Germany's was long seen as a potential security threat; it is time that its economic power carry with it responsibilities to global security.
A reformed Article 9 could open options for Japanese contribution to security actions without encouraging unilateral action by Japan. Abe's domestic critics pose the greater challenge, but Obama can make further steps towards getting Japan to shoulder more of Asia's security burdens while incorporating Japan into global security leadership more directly (by endorsing its addition as a UN Security Council Permanent Member, for example.) A full course correction in policy will not be accomplished in the next year, but Obama can move it forward while he has time.
Germany. To paraphrase Henry Kissinger's famous comment, when Obama has to "call Europe," he has to call Germany. Chancellor Angela Merkel has directed Europe's response to the Greek crisis, cementing Germany's position as the guiding voice of the euro.
Germany, like Japan, has been run deliberately as a militarily rudderless economic engine. Any path to a common EU security policy, however, will go through Germany. Likewise, the EU's response to Russian aggression has centered on Germany's energy and economic relations with that country.
In short, if President Obama wants to be on good terms with Europe, he needs to leave office on good terms with Germany. The Obama administration has made efforts to clean up the mess of the NSA's alleged tapping of Merkel's cell phone, but it still stands that the U.S.' standing in Germany has been dinged during Obama's tenure. An effort on his part to cement good relations with Berlin would pay dividends for his successor and America's ongoing ties with the EU.
It is hard to underestimate the power of the media in today's politics. Obama is a master communicator, and his rhetorical gifts have played a key role in moving America forward on some key domestic issues. As he aims to cement his legacy, why not take his talents abroad?