Pinkwashing and the Tel Aviv Pride Parade
In a bold statement, Israeli LGBTQ community leaders have threatened to cancel the highly popular Tel Aviv Pride Parade that is slated for June 3. The source of their anger is the disproportionate amount of spending the government has funneled into tourism surrounding the parade in comparison to sums the government allocates to LGBTQ organizations.
11 million shekels, or about $3 million, had been budgeted by the Tourism Ministry to attract foreign tourists to the parade. Among the plans was a promotional rainbow-painted commercial airliner that would fly in LGBTQ tourists. The English language website for the parade promises a queer utopia of "HOT GUYS, Magnificent gay beach, Neverending 24 hour nightlife, Shop till you drop, The food just tastes GOOD."
That tourism budget is over ten times the amount of funding Israeli LGBTQ organizations receive on an annual basis. Imri Kalman and Chen Arieli, co-chairs of the Israel LGBT Taskforce, have demanded that either the tourism budget is diverted to things such as community development and education for LGBTQ youth, or the parade will be canceled. In response, the Ministry suspended the budget. The Tel Aviv municipality is in charge of organizing the parade, and city councilors have stated they will act in accordance with the community's wishes.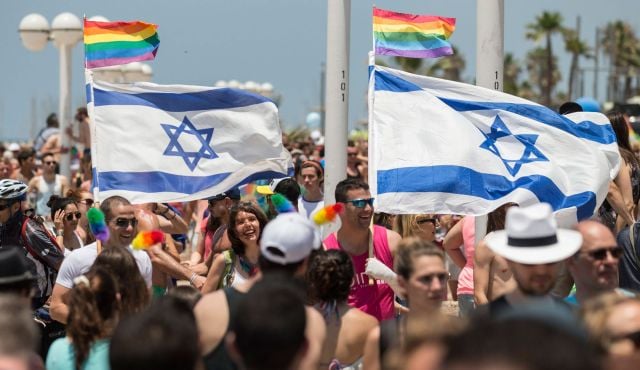 Participants wave Israeli's flags during the 2014 annual gay pride parade in Tel Aviv. (AFP)
Pinkwashing is the term used when a government uses its pro-LGBTQ record to whitewash its other human rights abuses. It can also be applied to when corporations use LGBTQ rights or issues as a platform to sell a product. The phrase "pinkwashing" actually stems from breast cancer awareness; it was coined by Breast Cancer Action in relation to products sold sporting the ubiquitous pink breast cancer awareness ribbon. These include things such as pink KFC buckets or pink packaged cosmetics that contain harmful chemicals. Capitalizing on the feel-good nature of the purchase, these products are actually contributing to the root cause of breast cancer.
From breast cancer to LGBTQ rights, "pinkwashing" has become a buzzword in the past few years to describe a host of human rights issues, such as the increase in LGBTQ rights in tandem with the crackdown on illegal immigrants in the United States. Using pinkwashing to describe the situation in Israel has been a topic of much debate. While some argue that Israel advertising its queer-friendly environment is paradoxical when it systematically oppresses Palestinians in the West Bank and Gaza, others argue that labeling Israel's actions as pinkwashing diminishes the real victories the Israeli LGBTQ community has earned.
Despite the arguments, it is hard to see the rainbow colored jet as anything other than one giant pinkwashed slap in the face when the battle for equal rights in Israel is still unfinished. Same sex marriage is still illegal, conversion therapy is still legal, and hatred and bias still permeate society. It has been a frustrating and tragic past year for the LGBTQ community in Israel. In August 2015, 16 year old Shira Banki was stabbed to death at the Jerusalem Pride Parade by an ultra-orthodox man who had just been released from prison, after serving 10 years for a similar attack at Jerusalem Pride in 2005.
Israeli ultra-orthodox Yishai Shlissel (C), accused of stabbing six people at Pride Parade.
Fortunately, Banki's death is more of an anomaly than an example of a recurrent phenomenon. It is undeniable that the Israel's treatment of LGBTQ people is far more advanced than its neighbors in terms of societal acceptance and enfranchisement. But when the government takes this and turns it into a brand ripe for exploitation overseas, it is reasonable to view it as favoring the tourism industry over the human rights of its citizens.
Last year Pride was attended by an estimated 180,000, with 30,000 of those attendees being tourists. It seems unlikely that such a large event will be completely cancelled. Kalman noted "If anyone has any doubts, the gay community has no intention of sitting at home on June 3." The 18th annual Tel Aviv Pride Parade is perhaps beckoning back to its roots from the first Pride in 1998, which was founded as a political event. Like many Pride parades around the world, it is now a giant party featuring performers and general revelry. Whether this year's Pride will be a mass party or turn into a mass protest, it has become a new topic within the pinkwashing debate.