Amid Setbacks, ISIS Embraces Traditional Terrorism Paradigm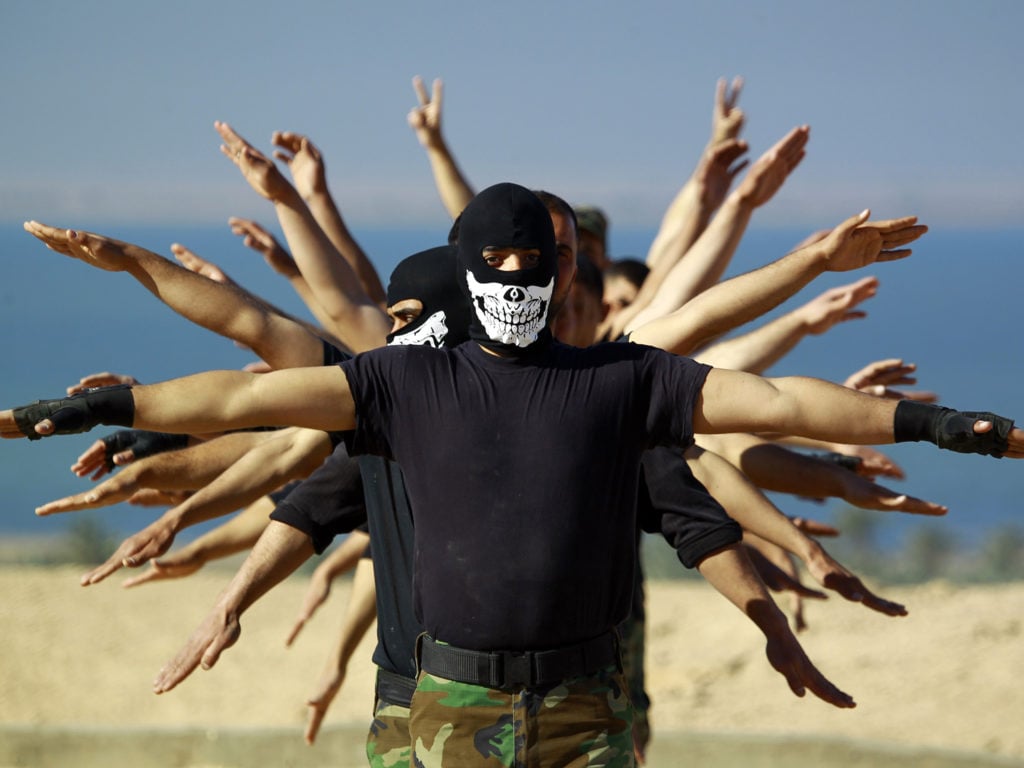 For the Islamic State (ISIS), old habits die hard. Improvised explosive devices, suicide vests, and car bombs—techniques and tactics that were the mainstay of the group's forefathers, al-Qaeda in Iraq (AQI)—have once again become the order of the day.
The self-proclaimed caliphate, eager to shift the narrative away from territorial loses in Syria and Iraq, is beginning to fall back on a more traditional terrorism paradigm. The bombings being carried out across the region are a harbinger of things to come, and the machinations of ISIS' global terrorist network are bearing fruit, as the group prepares for the day after Raqqa falls.
This shift in tactics, U.S. officials believe, signals ISIS may be abandoning the blitzkrieg-style territorial expansion that once garnered the group widespread notoriety; and, in its place, are focusing on building a terrorist network capable of orchestrating the sensational attacks that strike so much fear into the hearts and minds of Western governments.
On Monday, the latest example of ISIS' tactical shift, erupted in a series of coordinated bombings in Syria and Yemen. The tactical and strategic sophistication of this operation, a combination of suicide and car bomb attacks, demonstrates a significant commitment of assets and resources, a high degree of command and control coordination, and a robust logistical infrastructure that stretches across multiple countries.
In Syria, ISIS orchestrated seven near simultaneous suicide and car bomb attacks targeting civilians in the coastal cities of Tartus and Jebleh. This region is considered an Assad regime stronghold—well-fortified and heavily guarded—with checkpoints and outposts along major roads and highways. The northwest coast also serves as a major staging ground for a large contingent of Russian military assets—Tartus is home to a Russian naval facility, and Jableh in Latakia province is near a Russian-operated air base.
ISIS' ability to circumvent such robust security measures is a troubling sign for the Assad regime; especially when considering that up until these attacks, ISIS was not believed to be operating in the coastal provinces of Syria. The ability to build and sustain a terrorist network capable of orchestrating such a sophisticated operation, in the heart of Assad's stronghold, is a feat that should not be easily dismissed.
The extraordinary nature of these attacks prompted some analysts to question whether ISIS was even responsible. The Assad regime, in a shameless attempt to gain political advantage, even tried blaming the leading rebel faction Ahrar al-Sham for the incident—ISIS publicly claimed responsibility for the attack.
A similar story unfolded in Yemen, where in the port city of Aden, the group deployed twin suicide bombers, targeting a gathering of Army recruits assembling to enlist. The recruits ISIS targeted were located in the Khormaskar district of the port city, which serves as a temporary headquarters for the Saudi-backed Yemeni government that is preparing to recapture Sanaa, Yemen's capital, from Houthi militants.
The Hadi government is grappling with a fragile security situation, and while negotiations are underway in Kuwait to end the 14-month long war with Houthi rebels linked to former President Ali Abdullah Saleh, ISIS and al-Qaeda in the Arabian Peninsula (AQAP) have been competing for territory and influence, as each try to one up the other in an alternating series of terrorist attacks.
A written statement released on social media accounts linked to ISIS, claimed responsibility for the attacks. The account stated that the bombings targeted "the apostate Yemeni army,": similar to Syria, ISIS appears to have chosen its targets to achieve maximum political impact. Yemen, like Syria, is also home to rival AQAP, who ISIS is competing with for access to gradually diminishing terrorist real estate.
The emergence of an ISIS terror network capable of executing these types of attacks should serve as further evidence that the group is committing time and energy into the development and pursuit of tactics more reminiscent of the Sunni insurgency during the height of the Iraq War, than the territorial expansion that solidified the Islamic State's hold on large swaths of Syria and Iraq.
The scope and nature of these attacks indicate ISIS is attempting to capitalize on the political instability across the region, exacerbating sectarian tensions, in the hopes of igniting a broader conflict between Sunni and Shi'a. Nowhere is this insidious agenda more pronounced than in Iraq. Over the last several months, ISIS operatives have conducted massive bombings—with targets ranging from soccer games to open markets—that have killed hundreds of Iraqi Shi'a.
This shift toward a traditional terrorism paradigm benefits ISIS's asymmetrical disadvantage. With the host of regional and international military power being brought to bear against it, ISIS' attempt to retain control over territory that stretches across two countries will become more difficult to sustain over the long term. ISIS flourished, due in large part, to comparatively weak and disorganized local governments, as well as a haphazard international response that became mired in a geopolitical tug-of-war—too busy to recognize the security vacuum emerging from the chaos of the Syrian conflict.
It's difficult to fathom now, but there was a time when Abu Bakr al-Baghdadi's cavalcade of miscreant extremist did not hold sway in Raqqa, Mosul, or Fallujah. The remnants of al-Qaeda (AQ) were scattered and it seemed, at least for a time, that the operational cadres of AQ's terrorist network were broken beyond repair. Now, however, AQ affiliated groups are once again on the rise. Buoyed by victories and substantial gains in Yemen and Syria, groups like Jabhat al-Nusra and AQAP are enjoying a renaissance of popularity.
For the time being, ISIS and AQ appear be at each other's throats, vying for dominance and influence over the global jihadist agenda. But the idea of an alliance or merger between these two groups should not be discounted. Terrorism expert and Georgetown professor, Bruce Hoffman, recently explored just such scenario.
In a Foreign Affairs article, Hoffman writes, "Although admittedly improbable in the near term, such a rapprochement would make a lot of sense for both groups and would no doubt result in a threat that, according to a particularly knowledgeable U.S. intelligence analyst whom I queried about such a possibility, would be an absolute and unprecedented disaster for [the] USG and our allies." Given fluidity of enemies and allies within extremist circles, the possibility that a beleaguered ISIS may find refugee with a group ideologically similar to its own is not impossible.
ISIS recognizes the writing on the wall, and while senior leadership continue to espouse fiery rhetoric, predicting great victories and the destruction its enemies, the group is now on the defensive—looking over the ramparts it can see the enemy at the gate. In Syria, The U.S.-backed Syrian Democratic Forces have begun its operation to retake ISIS' capital, Raqqa, and preparations are well underway to retake Fallujah and Mosul in Iraq.
Of course, uprooting ISIS from its territorial stronghold will not, by any stretch of the imagination, signal the end of its ideological and operational contributions to the Salafi jihadist movement. They may soon find themselves without much territory to call its own, but the conflagration consuming the Middle East and the geopolitical ambitions of regional power brokers, like Iran and Saudi Arabia, guarantee a prolonged period of regional instability.
The Middle East is in the midst of the one of the worst periods of political strife in a century. If ISIS proves capable of adapting to the shifting sands of politics and power in the region, then its violent ambitions and apocalyptic vision will find fertile ground to take root and flourish among its adherents.