Turkish Foreign Policy After the Military Coup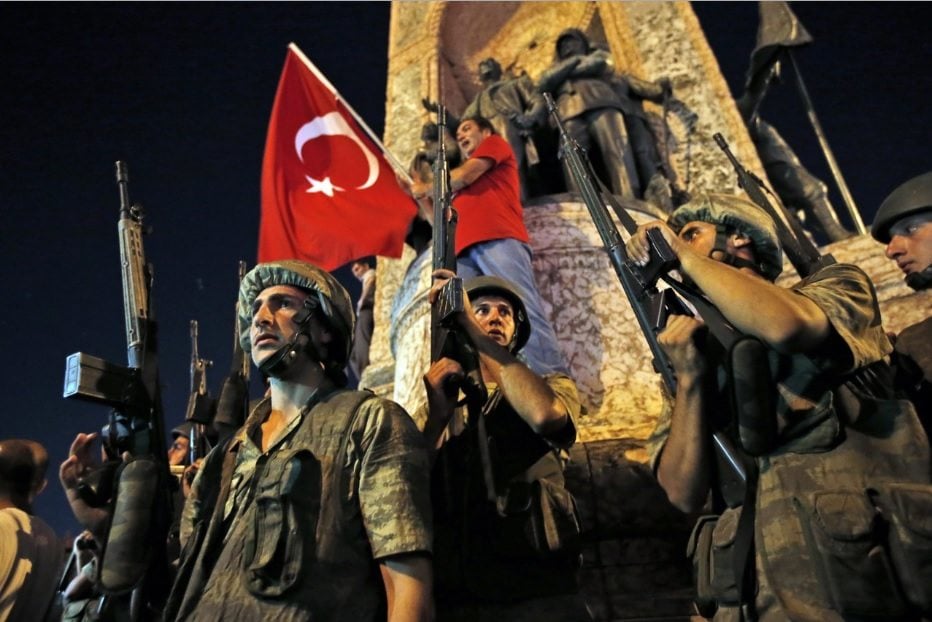 The massive purge that took place in Turkey after the failed military coup led by Kemalists and allegedly members of the Fethullah Gulen sect, in mid-July, prompts questions as to how this will affect the country's foreign policy. Immediate speculation is that Turkey is likely to move further away from the West, but the road is bumpy due to the historical, economical and political relations between the West and Turkey. Turkey is also an important member of NATO.
Most people forget that Turkey's foreign policy was already reset in June before the coup, when the new Turkish Prime Minister Binali Yildirim said Turkey needs to "increase its friends, and decrease its enemies," indicating an outreach to Israel, Russia, Egypt. This is clearly evidenced by Turkish president Recep Tayyip Erdogan holding meetings with the Russian president this week centered on restoring economic relations and finding a solution for Syria.
Turkey has increasingly been isolated in the region, and confronted with the Syrian civil war on its borders, resulting in an inflow of more than 1.7 million Syrian refugees. Its economy was severely hit when relations broke down with Russia, after Turkey shot down a Russian plane in November 2015. Moreover, ties between Turkey and the West have grown worse, not only due to Western criticism of Erdogan's authoritarian policies, but also owing to a perceived lack of commitment by Turkey to fight ISIS.
Furthermore, U.S. and Turkish interests have not aligned in Syria. Washington did not follow the regime-change policy of Ankara. Furthermore, the United States did not back Turkish plans for the establishment of a safe haven zone for Syrian refugees.
Moreover, Turkey was angered by the increased U.S.-coalition support for the Kurdish People's Protection Units (YPG), that have been the most effective force against ISIS, but which are seen by Turkey as a proxy for the Kurdistan Workers Party (PKK). Unlike Syrian rebels, the YPG was able to quickly advance against ISIS, and now is playing an important role in securing the town of Manbij,
The YPG, which is a part of the Syrian Democratic Forces (SDF) are now moving closer to opening a corridor to Efrin from Kobani through the U.S.-backed Manbij operation launched in late May, prompting Turkish fears that the Kurds will be successful in creating a de-facto federal region in northern Syria by using the ISIS presence to their own advantage.
This has given rise to speculation that Turkey reached out to Russia, and also in secret to Assad in Algiers, to discuss options to prevent the Kurds from succeeding in this initiative. "Erdogan will use this negotiations with Russia to pressure the United States and Europe, and to ask Russia to make meditation between Assad and Erdogan about Kurds," Khaled Issa, a Kurdish representative in France said.
Furthermore, the sentiment among supporters of Erdogan, and his ruling Justice and Development Party (AKP) is that United States and the West played a clandestine role in the coup, while Russia immediately condemned the Turkish military's actions. Gulen is based in the United States, and Washington will most likely refuse to extradite him to Turkey. This measure could be used by the AKP to apply more pressure on the West and to stoke popular anti-Western sentiments in Turkey.
Ultimately, it is difficult to see Turkey change its policy on Syria, since Turkish PM Binali Yildirim continues to state that Assad has to go. Furthermore, Turkey remains heavily invested in rebel groups fighting Assad. Despite of this, recently the Turkish Foreign Minister Mevlut Cavusoglu said on Thursday that both Russia and Turkey agree on a secular inclusive administration.
Therefore, it is likely that the new and much talked about relationship between Russia—Assad's strongest international backer—and Turkey will be based on temporary political expediency, mostly focused on deepening and restoring economic ties, while simultaneously counterbalancing a perceived encroachment on internal Turkish matters by the West, which is increasingly critical of Turkey's domestic politics, and suspicious of Turkey's Syrian policy and refusal to contribute more toward the war against ISIS.
Arguably, the Turkish-Russian rapprochement will only go so far. Unlike the West, Turkey sees the Syrian Kurdish YPG as the main threat, not ISIS. That is why Turkey will try to convince Russia to stop its (diplomatic) support for the Kurds in Syria, among other things. But so far this seems to be unsuccessful with Russian Ambassador Vitaly Churkin suggesting that Turkey should accept Kurdish participation in future Syria talks.
At the same time, it is unlikely that Russia will abandon Assad—its only remaining ally in the Arab world. It will be difficult for Turkey to change its policy of regime change in due its support for rebel groups in Syria. If Syrian Kurds were more successful, Turkey would feel more pressured to make radical policy changes. Therefore Turkish outreach to Israel, Egypt, and Russia can be seen more as an effort to repair economic ties than a real policy shift.
Wladimir van Wilgenburg is an analyst for the Jamestown Foundation and freelance journalist currently based in Syria. Follow him on Twitter.