Living in Interesting Times in Central Asia
Although it hasn't been definitively established, late nineteenth and early twentieth century British politician and statesman Joseph Chamberlain has recently been credited with coining the phrase, "may you live in interesting times." It has long been known as the "Chinese curse" despite the fact that no such Chinese saying is known to exist. However, whether meant as a curse or a simple observation, for three former Soviet republics situated just to the west of the Middle Kingdom, the phrase has become quite appropriate over the past few weeks.
Uzbekistan's leader is still dead
The country with perhaps the most tenuous hold on stability is Uzbekistan. After a Francisco Franco-esque deathwatch, Uzbekistan's president Islam Karimov is dead. Although apparently rumored to have shuffled off his mortal coil for several years, Karimov fell into a coma and expired in the evening of September 2 after having been admitted to hospital in an unconscious state almost a week earlier.
As Karimov had no plan for succession in place, Uzbekistan's quest for future leadership is shaping up to quite Shakespearean in tone. Appointed as the top communist in the then Soviet republic in 1989, Karimov became president of the newly-independent state upon the USSR's demise in 1991. From then on he kept hold of power via rigging elections and eradicating dissent, which reportedly included boiling dissidents alive. All the while several clans from the country's seven regions have been attempting to maneuver their way into power. Now that Karimov is no longer in the picture, the struggle is almost certain to kick into high gear.
The three main contenders in Uzbekistan's Game of Thrones are Prime Minister Shavkat Mirziyoyev, National Security Service (SNB) head Rustam Inoyatov, and Deputy PM Rustam Azimov. Inoyatov is the muscle that has helped keep Karimov in power to this point, as his SNB has made liberal use of illegal incarceration, torture, rape, and burning of real property. However, Inoyatov is notoriously reclusive—exactly one confirmed photograph of him in the past decade is known to exist. Mirziyoyev is the longest tenured of the trio, having been in office for thirteen years. His reputation for harshness is well known, but is considered to have more brawn than brains. Azimov is considered to be the less hard-line choice, however there are rumors to the effect that he has been arrested and is therefore out of the picture entirely.
The succession crisis is being played out before the backdrop of a mass exodus of its citizenry. Thanks to Karimov's decades of brutal religious repression, a particularly virulent brand of Islamic extremism has festered up to the surface. According to reports, hundreds of Uzbeks are believed to be fighting for ISIS in Syria, and an Uzbek citizen is one of several suspects in the attack on an Istanbul airport earlier this summer.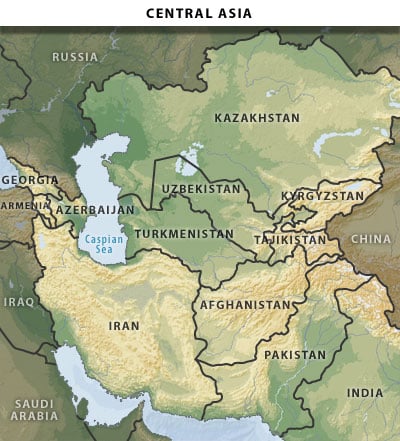 Kyrgyzstan's Uighurs wreak havoc 
To the east, Kyrgyzstan has found itself at the center of an international incident. A suicide bomber drove a minivan into the Chinese embassy Kyrgyzstan's capital Bishkek last Tuesday, killing himself and wounding three Kyrgyz nationals on staff at the embassy. Although no group has yet come forward and claimed responsibility for the incident at the time of this writing, state security services are preliminarily fingering Uighur separatists from the adjacent Chinese province of Xinjiang.
The Uighur minority in China has had a longstanding dispute with Beijing over its heavy-handed treatment of their number in Xinjiang. Although one can trace the initial dispute as far back as 60 BCE, the most immediate cause of unrest in the region dates back to 1955, when Xinjiang became an autonomous region of China. Uighurs (and the other ethnic minorities in the region) have long bristled under the rule of Han Chinese, whom they view as interlopers, and Beijing has responded by resoundingly harsh crackdowns of dissent. The conflict intensified after Mao had a falling-out with Khrushchev in 1962, and the Soviets began backing Uighur uprisings.
Kyrgyzstan has a small Uighur population (around 1.1%), but the country has encountered problems with Uighur militants crossing illegally from Xinjiang. The issue came to a head two years ago, when eleven Uighurs alleged to be members of a militant group were killed by border guards.
The bigger problem faced by the country may be that of radical Islam. Hizb ut-Tahrir, an Islamic extremist group with ties to al-Qaeda, is believed to be active in the country despite it being banned a decade ago. And, along with Uzbekistan, a suspect in the late attack at the Istanbul airport is a Kyrgyzstan native, one of possibly hundreds who have joined the fight alongside ISIS in Syria.
Kazakhstan's overtures
Kyrgyzstan's big brother to the north is probably the most stable of the three Central Asian countries figuring in the news recently. In Kazakhstan, President Nursultan Nazarbayev's government is certainly facing its challenges: earlier this year his government cracked down on widespread demonstrations against plans to privatize large tracts of farmland, and, a scant few weeks later, Islamic militants executed a terrorist attack in a city in the northwest.
Though many experts expect Kazakhstan as the next domino to fall into the chaotic abyss into which Kyrgyzstan and Uzbekistan are teetering, it seems that the worst could be over for Kazakhstan. Astana hosted delegates from over four-dozen countries in a conference aimed at ending nuclear weapons. Kazakhstan seems a strange place for such a conference, until one realizes that its Semipalatinsk region was the Soviet Union's version of a nuclear weapons firing range.
Between 1949 and 1989, the region was the site of over four hundred separate nuclear weapons tests. An area the size of Germany is contaminated by nuclear fallout, and over 200,000 people living in the region suffered varying degrees of harm to their health. In addition, as one of only four countries to give up its nuclear weapons, Kazakhstan has a degree of credibility on the issue that few other countries have.
Looking ahead there is more reason to expect Kazakhstan to maintain its relative stability. Astana will host next year the Expo 2017, which will turn around "Future Energy" and is expected to attract over five million visits from some 100 countries.
Though Kazakhstan is unlikely to be mistaken for a bastion of freedom any time soon, it is safe to say that, at least at the current juncture, it is charting its own course on the often-roiling waters of Central Asia. And, at least for now, reports of the region's complete foundering are greatly exaggerated.