Eastern Europe's Duplicitous Tango with Moscow and Brussels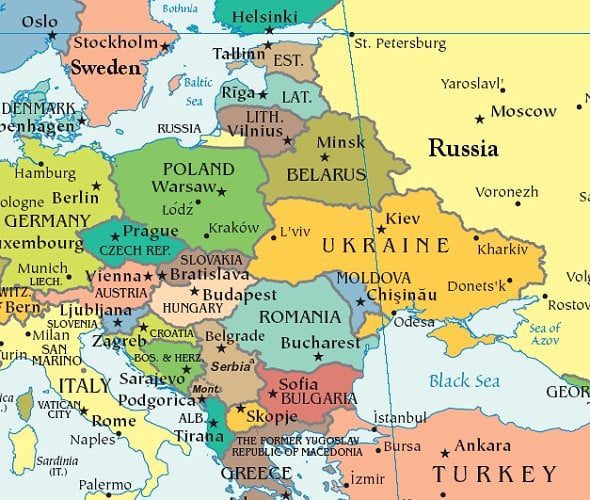 In much the same way that many Western countries look set to abandon decades-old liberal consensus by electing populist parties or xenophobic leaders à la Trump in a raft of upcoming elections, Eastern European nations appear to be pivoting away from Brussels. Earlier this week, the media trumpeted that both Moldova and Bulgaria voted pro-Russian populist presidents into power, just weeks after Moscow's shadow loomed large over Montenegro's own elections. But is that really the case?
According to the narrative, in Bulgaria, center-right Prime Minister Boyko Borisov resigned this week after pro-Russian socialist candidate Rumen Radev romped to victory. Things played out in a similar vein in the second round of Moldova's presidential election, which saw another Russia-friendly socialist, Igor Dodon, take the majority of the popular vote.
Both candidates ostensibly ran on a pro-Kremlin ticket, promising to seek closer ties with Moscow at the expense of the EU. These results came after Milo Djukanovic's Montenegrin Democratic Party of Socialists (DPS) was last month left severely weakened after a mixed coalition of pro-Russian and pro-Serbian parties destroyed his majority, prompting Djukanovic to stand down after more than 25 years in power.
Moldova's Dodon campaigned on an anti-EU platform, intent on scrapping Chisinau's Association Agreement with the EU, just four months after it came into force. After the win, Dodon promised to push for early parliamentary elections next year to force out the current government, which is in favor of closer EU integration. Radev too promised to prevent Bulgaria from becoming a dumping ground for refugees. He vowed to push for an end to international sanctions against Russia.
Both candidates framed their campaigns around a rejection of NATO, and both expressed their delight at the election of Donald Trump in the US, suggesting that the businessman's win could help bring about a rapprochement with Moscow.
While these events appear to confirm Russia's growing influence along Europe's periphery, evidence suggests that this so-called pro-Moscow stance adopted by candidates in Moldova and Bulgaria is not what it seems. Despite heavy use of the EU versus Russia antinomy in both countries' presidential races, the elections in both Moldova and Bulgaria were largely focused on national politics, not international affairs.
In Moldova, a state run by powerful oligarchs, political candidates serve their interests, not geopolitical preferences. As was the case during Montenegro's October election, the Russia-EU debate was used in both Bulgaria and Moldova to distract voters tired of the widespread institutionalized corruption that has plagued their governments for years.
The fact remains that both Radev and Dodon tiptoed a fine line by never explicitly settling on one option and remaining sufficiently ambiguous in order to play the debate for political gain. Radev, for instance, opined at times that there was "no alternative" to the EU and NATO but that this didn't preclude good relations with Moscow. And soon after his election, Dodon said he won't scrap the country's Association Agreement, insisting he only wants better ties to Russia.
The reasoning behind these about-faces is simple: Bulgaria is the EU's poorest country in per capita output, and Moldova has long been ranked as the poorest country in Europe. Both state are aware that turning their back on the EU means the end for financial injections from Brussels. After all, Moldova received €561 million from 2007-2013 and will be receiving even more in 2014-2017. And back in September, Bulgaria was awarded €108 million in emergency funding to stem the influx of migrants.
It thus appears that their anti-EU stance amounts to little more than a cynical ploy designed to coax the EU into delivering more financial aid, while at the same time winning the approval of voters who would like to see closer relations with Russia.
In Montenegro, Djukanovic pursed a similar strategy to stay in power, positioning himself as the only candidate in the country's recent election that could deliver closer EU integration and full NATO membership, all the while avoiding discussion of his checkered record of alleged corruption and shady dealings. As well as being a useful propaganda tool, playing the anti-Russia card might help Djukanovic extract financial or procedural advantages from EU institutions. Djukanovic has even been accused of staging a clumsy coup during the country's elections – which his administration chose to blame on "pro-Russian nationalists"—as a way to swing international opinion in his favor.
This is just another of example of Eastern European leaders being more than wise to the fact that using Moscow and the EU as boons in their political strategies is useful politically and financially alike. Far from having strong ideological persuasions one way or the other, Eastern Europe's leaders are more than happy to exploit the cultural divide inside their countries for short-term political gain.
While headlines paint a picture that suggests half of Eastern Europe is embracing Moscow while the other half prepares to defend itself in the face of Russian aggression, the reality is different. Instead of moving their countries either closer to the EU or Russia, the region's leaders will likely continue to do what suits them best—walk the fine line between Europe and Russia without burning bridges, allowing them to ultimately benefit from relations with both powers.