The Alarming Dependency of Downstream Mekong River Countries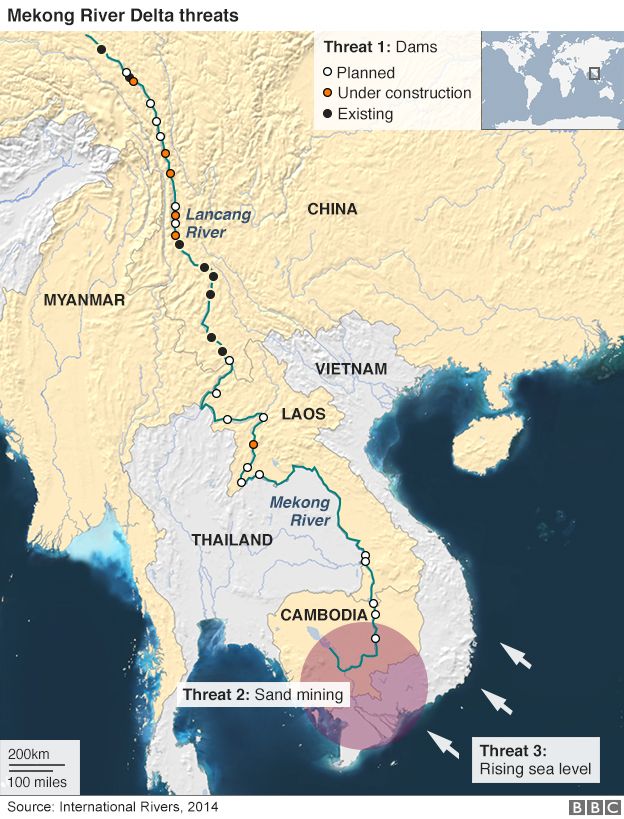 On November 14, the Mekong River Commission (MRC) praised China's "emergency water release" earlier this year with helping alleviate a severe drought in the Mekong River Basin. In a statement by Pham Tuan Phan, the chief executive officer of MRC, Phan said the water release from China's Jinghong Reservoir in China's southwest province of Yunnan "shows the positive impact of China's cooperation on the drought management."
The statement follows the release of an MRC report published in late October, produced with the cooperation with China's Ministry of Water Resources. The MRC was established in 1995 as an intergovernmental organisation to work with the governments of Cambodia, Lao PDR, Thailand and Viet Nam "to jointly manage the shared water resources and the sustainable development of the Mekong River."
However, some experts are calling the praise by the MRC unjustified. The Cambodian Ministry of Water Resources stated, at the time of the water release, that it was unlikely to have much of an impact. Ian Thomas, a former technical adviser at the MRC, called last week's report was "a stinking pile of codswallop", believing it did little to address the critically low water levels in Cambodia's Tonle Sap, saying "Cambodia is the real loser", although conceding it did help remove salt from the delta in Vietnam.
Experts have also downplayed the perception that China's water release was altruistic, with Thomas saying it was necessary for the dam to properly function, and Brian Beyler of the Stimson Center calling the move "perfectly crafted public relations", adding it "was not unique and undeserved of praise". Beyler also criticized the water release as a one-off, arguing consistent releases would do more to alleviate drought and allow for "farmers and downstream governments to prepare and make prudent decisions".
In downstream Vietnam, authorities are particularly concerned over agriculture in the Mekong Delta and its reliance on upstream water supplies. The latest El Nino weather patterns caused the rainy season to begin late and finish early in 2015, with average rainfall across the river basin down by between 20 to 50% and salt water intrusion increasing some 6-9 miles inland. Some experts claimed as much as 50% of the 2.2 million hectares (5.4 million acres) of arable land in the delta had been hit by salinization due to the drought.
The situation became so grave last March, that Hanoi was forced to send a formal request to Beijing requesting for the release of more water from one one of China's hydropower stations. Fortunately for Hanoi, Beijing granted their request, but to be in a position of dependency cannot be comforting for the Vietnamese, especially if the next request comes during a period of conflict over South China Sea (East Sea) claims.