On Turkey, NATO and Needing New Allies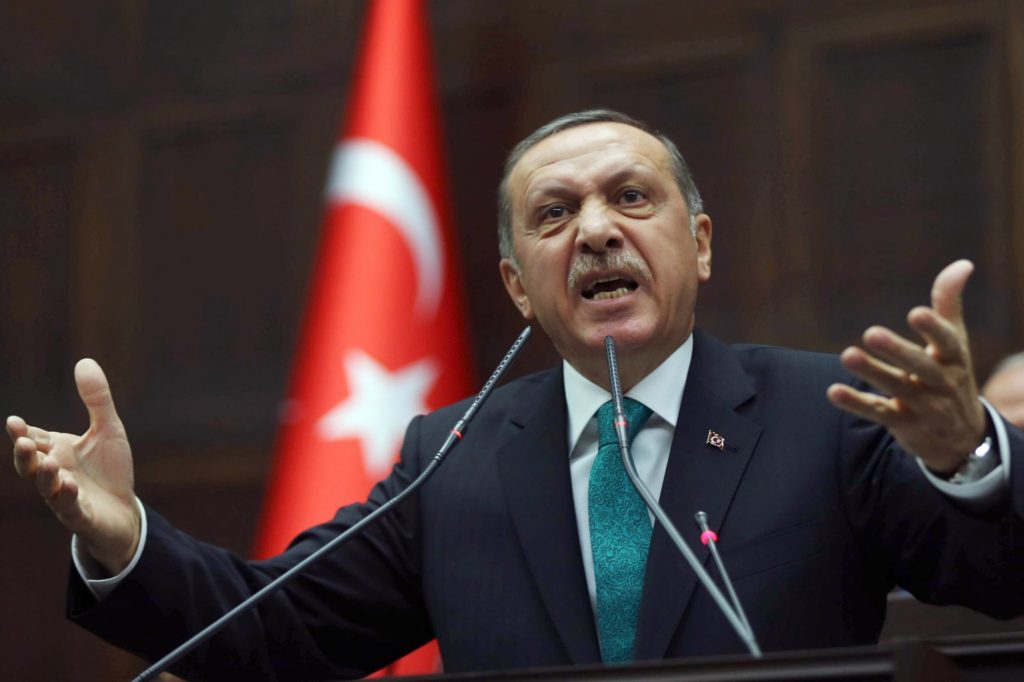 As the third largest country in NATO, and the only Muslim-majority member of the alliance, Turkey used to occupy a key role in the organization.
But that was before President Recep Tayyip Erdogan's single-minded pursuit of power by any means became unquenchable. Like many other autocrats before him, Erdogan understands that playing world powers against each other in a continuous geopolitical game of chicken is the most efficient way of securing his stay in power.
Over the past couple of years, Turkey has transformed into a completely different country. While Ankara was never a shining beacon of democracy—other than being held up by every Western leader as a poster child of the successful merging of Islam with the precepts of liberal democracies—its autocratic shift is nothing short of extraordinary. Turkey is not just a discordant note jarring the West's political symphony, it has left the theater altogether.
But with the West in desperate need of regional counterweights to cope with the Middle East's unending instability, for how long can Erdogan's game last?
The refugee crisis and the July coup attempt were the turning points in Turkey's thinning alliance with the West. Last year, in return for a commitment to improve its sea and land border controls to deal with the influx of refugees, the EU promised incentives relating to visa-free travel for Turkish citizens and a speeding up of accession talks. While the Turkish measures had a positive effect on dealing with the issue, the political reforms demanded by Brussels stalled, incensing European leaders and pushing the European Parliament to pass a motion demanding the freezing of accession talks.
The July 2016 coup and ensuing purges of army personnel, journalists, judges, professors and dissidents drove the final nail in the coffin. Many observers are now openly questioning whether the country's autocratic government still meets NATO's requirements for democracy and rule of law or whether Turkey will quit NATO.
Astonishingly, Erdogan stuck to his playbook and upped the ante: instead of mending fences with the West, he started making overtures towards the Shanghai Cooperation Organization (SCO). Established in 1996, the SCO is a political, military and economic group comprising Russia, China, Kazakhstan, Kyrgyzstan and Tajikistan. With observer status granted to Iran, Mongolia, Belarus and Afghanistan, and both India and Pakistan set to join in 2017, this is a powerful and influential group that is seen as a vehicle to project Russian and Chinese security interests.
But that did not stop Erdogan from hinting that he would be interested in joining the organization. In November 2016, he told reporters: "[Turkey] shouldn't say, 'I'm for the EU no matter what.' … For example, why shouldn't Turkey be part of the Shanghai Five [SCO]?"
Just a year earlier, Russia and Turkey were teetering on the brink of war. The shooting of a Russian jet by Turkish forces had led to a range of retaliation measures by Vladimir Putin—from sanctions to an increased deployment of troops in the region. However, the troubles in Syria have seen a new entente develop between the two powers. The fall of Aleppo saw Turkey and Russia negotiate the evacuation of rebel groups, side-lining the U.S. and NATO in the process and creating a "Turkey-friendly" region in northern Syria.
It is no surprise that both China and Russia now support Turkey's potential SCO membership. Not only would Ankara turn out to be a powerful ally in a strategically vital region of the world, but stronger ties with Turkey would also mean huge economic benefits for Moscow.
Turkey is an important energy hub between Eurasia and Europe, and was elected to chair the SCO's Energy Club in 2016 despite not being a full member of the alliance. A deputy SCO representative for Turkey hinted at the growing relationship by stating "This is how Russians view Ankara's membership in the SCO." With Russia thus holding a particularly positive view of Ankara, Russian experts are justifiably betting on Turkey to continue its shift towards the East.
So what does all this mean for the future of NATO and the region? If Erdogan continues to play his games, NATO stands to lose its second largest military power as well as one of its key airbases. Consequently, as uncertainty about Turkey's reliability as an ally in the region intensifies, NATO powers are beginning to establish new regional alliances that could serve the same purpose without having to deal with Erdogan's erratic behavior.
The UK has already opened a new military base in Bahrain, in a marked reversal of its long-held policy of not permanently deploying forces east of Suez. Prime Minister Theresa May told the leaders of Saudi Arabia, Kuwait, the United Arab Emirates, Qatar, Bahrain and Oman that she is looking to make a "more enduring commitment to the security of the Gulf" and pledging to invest more than £3 billion in the region.
And while continued political instability in Turkey has prompted the country's economy to take a nosedive, pushing the government to peddle conspiracy theories that place the onus on Gulenists and other foreign enemies, the Gulf's economies are rallying as oil prices inch back up. Saudi Arabia has shown to be quite receptive to new international partnerships since the government published its Vision 2030 in April 2016. Aimed at reforming the country's economy by reducing dependency on oil, the Kingdom has been eager to attract foreign investments and lift the private sector. One the main topics of conversation when May came to the Gulf was how Britain could get in on the changes, and with a "hard Brexit" looming, Saudi's reform initiative, Britain's attempt to reach out for new markets coincide at a time when strong partnerships in a volatile region are more important than ever. As Turkey retreats into xenophobia, the West's other key regional partnerships look to be restored.
If the arc of history bends towards justice, in Turkey it is now coming full circle. After almost a century of marching in lockstep with the secular ideas of Ataturk and the Kemalists, Erdogan is taking a hammer to the entire edifice. And with the West financially and morally weakened, it seems that nothing could prevent this from happening. It is time to find new allies in the region.