NATO-Russia Relations in a Post-Truth World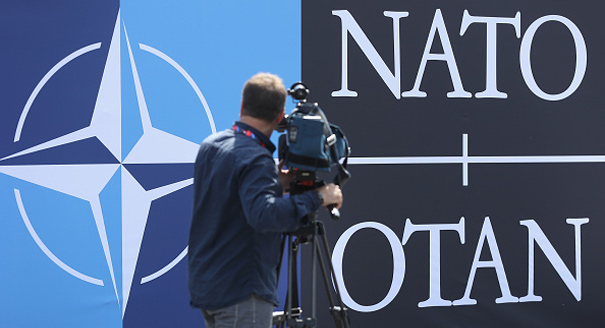 The so-called post-truth era was a fundamental element in shaping international relations in 2016. There is no doubt that Russia actively helped spread a malicious post-truth worm to put the world out of kilter. Through its actions, Moscow targeted multiple institutions, organizations, and countries.
Russia also made an extraordinary effort to undermine the coherence, unity, and indivisibility of NATO. Moscow accused the alliance of being unable to adapt to an emerging new world order. In fact, Russian actions were aimed at holding NATO-Russia relations hostage in a post-truth world. Unexpectedly, at the beginning of 2017, the Russian Foreign Ministry spoke out in favor of a reset with NATO. Yet the Kremlin's maneuvers in previous months suggest this may be just another post-truth ruse.
In July 2016, despite Russia's ongoing aggression against Ukraine and bombing of Syria, NATO decided at its summit in Warsaw to put a genuine offer of dialogue with Russia on the table. NATO's approach would be geared toward "periodic, focused and meaningful dialogue . . . on the basis of reciprocity." The alliance's goals were clear: to discuss the Russia-Ukraine conflict; to avoid misunderstanding, miscalculation, and unintended escalation; and to increase transparency and predictability. Most importantly, as stated in the summit communiqué, this dialogue was aimed at "a Russia willing to engage."
A NATO-Russia Council meeting was convened on July 13, 2016, just four days after the summit. The alliance presented a briefing on the outcomes of the summit, a move that—based on the principles outlined by NATO—Russia should have reciprocated. To increase transparency in mutual relations, NATO would welcome a briefing on developments such as Russia's decision to create three new military divisions in its Western Military District. At the same time, allies continued to suggest concrete options to enhance predictability and transparency in the Euro-Atlantic area.
After six months, it is clear that Russia, by contrast, has chosen a path of confrontation. The NATO-Russia Council meeting on December 19, 2016, proved that the West is still waiting for a Russia willing to engage. The Russian Foreign Policy Concept approved on November 30, 2016, shows how Moscow's priorities pivoted from the economy to security and defense. And Russia's actions in the last half year demonstrate that Moscow continues to treat the West like a rival in a zero-sum game.
Russia has interfered in the domestic affairs of Western states by combining cyberattacks with information and intelligence operations. In an unprecedented way, Russia intentionally subverted the 2016 U.S. presidential election, as was ultimately confirmed by the FBI, the CIA, and the director of national intelligence.
Moscow has further destabilized eastern Ukraine, including through ongoing direct involvement in the conflict by providing military, organizational, and financial support to militants. Russia neither complied with the Minsk agreements aimed at ending the conflict nor showed willingness to de-escalate the tense situation on the ground. On the contrary, in November 2016 alone, the Organization for Security and Cooperation in Europe (OSCE) Special Monitoring Mission to Ukraine recorded the highest number of explosions caused by mortars, tanks, artillery, and rocket systems since the beginning of the conflict.
Elsewhere in Europe, Russia has heightened its military activities near NATO borders, including large-scale drills involving up to 120,000 military personnel and civilians and snap exercises. Russia continued to provoke dangerous military incidents and violated allied airspace. It deployed offensive missile systems—including the nuclear-capable Iskander system—and warships to the Baltic Sea and Black Sea regions. These deployments enhanced Moscow's existing anti-access and area denial (A2/AD) capabilities.
Russia has also strengthened its aggressive nuclear-related signals, including through statements and bomber flights. Moscow has used this nuclear muscle flexing and saber rattling as a tool of psychological influence.
In October 2016, Russia allegedly participated in a plot to kill the prime minister and install a new government in Montenegro, soon to be a member of NATO.
Meanwhile in Syria, Russia's approach to the conflict has included both massive bombing campaigns and the impediment of a political process. Also in October 2016, Moscow for the fifth time vetoed a UN resolution aimed at stopping the bombing of Aleppo.
The year 2017 might be a watershed moment for the liberal global order. NATO, a crucial transatlantic anchor, has a vital role to play in restoring a truth-based world. NATO-Russia relations will be instrumental to reaching that goal. In 2017, NATO and its allies need an action plan based on three pillars.
First, the alliance must fully implement the decisions made at the Warsaw summit on deterrence and defense. NATO needs a strategic six pack of measures to strengthen its long-term adaptation to a new military reality at its borders. This toolbox should embrace defense expenditure; capabilities to counter A2/AD systems; an ambitious policy of exercises; robust intelligence, surveillance, and reconnaissance capabilities; a revised NATO command structure; and a fully integrated approach to strategic communications.
Second, NATO should deepen dialogue with Russia on issues that require immediate attention. Among them are the snap exercises that Moscow uses as a tool of intimidation but that might also serve as camouflage for military action. Russian snap exercises are a dangerous escalatory instrument that could further destabilize the Euro-Atlantic region. A meaningful discussion on that issue might bring back the necessary elements that could help dismantle the post-truth world: predictability and transparency.
Finally, allies need to continue to constructively engage with Russia in the OSCE framework. At the OSCE Ministerial Council meeting in Hamburg in December 2016, all members, including Russia, agreed to launch a structured dialogue on the challenges and risks to security in the OSCE area. This initial positive signal from Moscow requires special attention, as the declaration might boost the organization's role as a platform for a dialogue on security issues. Such a structured dialogue should be reinforced by the modernization of existing instruments.
Together, these three steps would show NATO's ability to enhance deterrence and conduct dialogue as it waits for a Russia willing to engage. Strategic patience has always been NATO's strong suit.
Dominik P. Jankowski is head of the OSCE and Eastern Security Unit at the Polish Ministry of Foreign Affairs. The views and opinions expressed here are the author's and do not necessarily reflect the official positions of the institution he represents.
This article was originally published by Carnegie Europe.