Governing in Silence as Nigeria's President Falls Sick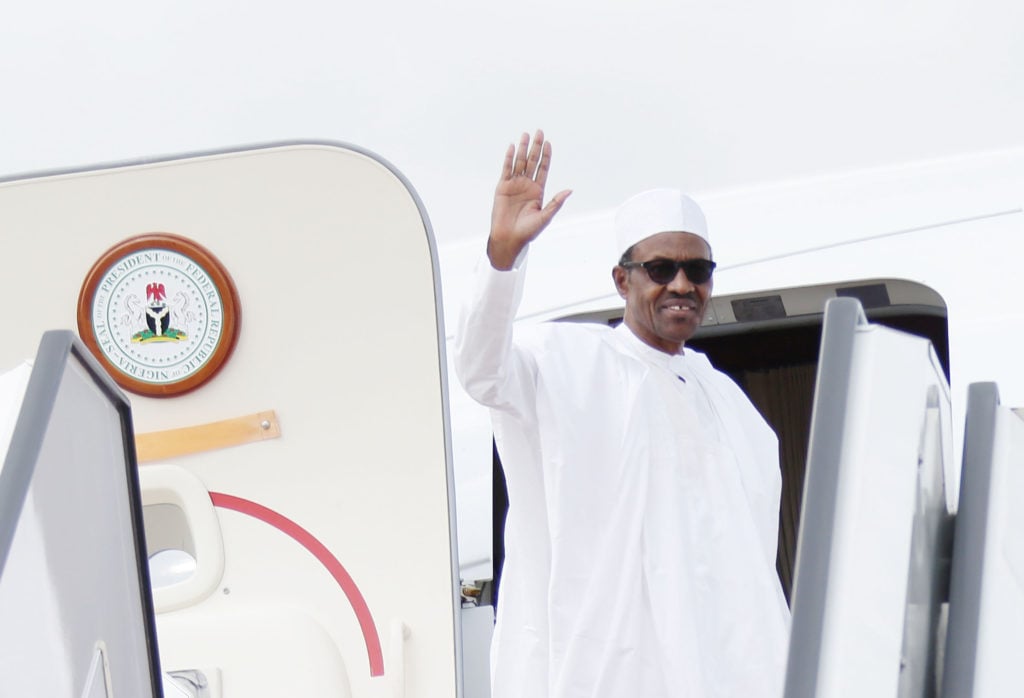 Nigeria's president, Muhamaddu Buhari, headed to the United Kingdom for his "annual leave" on January 19, and Vice President Yemi Osinbajo became acting president. Two weeks later, Buhari notified the National Assembly that he was extending his leave for medical reasons. It's approaching seven weeks, and Buhari is still on leave. With the exception of calling into a live show on February 23, he has not yet been seen in public. According to a leading online news outlet, Buhari had a prostate flare up and is also undergoing treatment for Crohn's Disease.
Several Nigerian politicians have made a pilgrimage to the UK—potentially at taxpayers' expense—and released photos with a seemingly jovial Buhari. U.S. President Donald J. Trump called Buhari in mid-February to discuss shared security concerns and the provision of weapons to the Nigerian Army to combat terrorism. Buhari's press aides have also routinely tweeted good wishes to the Nigerian people supposedly from the ailing president. However, they have yet to arrange for Buhari to make a physical appearance, leaving Nigerians to draw their own conclusions about Buhari's health and if and when he will return.
The silence around Buhari's disappearance furthers a narrative that Nigeria's political elites refuse to provide critical information to the public because it's against their own self-interest. While lawmakers have jumped on a plane to visit the ailing president, none have chosen to share his medical state or call on his government to disclose the gravity of his health condition with the nation. Also, no one has shared the cost that the nation is incurring while maintaining an ill president in the U.K. and an acting president in Nigeria.
Many Nigerians who initially decried the elected president's absence have begun celebrating the acting president for doing many things they wish President Buhari had done. In his six weeks leading Nigeria, Osinbajo has visited the Niger Delta, injected U.S. dollars into the Nigerian forex market to ease exchange rate pressure, and requested that the Senate approve the acting chief justice. President Buhari refused to make these decisions, much to the chagrin of his citizens.
It's easy to view Osinbajo's short stint as a success given how it has injected renewed momentum into governing the country. It's also true that Buhari naming Osinbajo as acting president was a win for Nigeria's constitutional democracy—unlike in 2009 when in an eerily similar situation, as the then-president, Umaru Musa Yar'Adua, lay dying in Saudi Arabia, the ruling People's Democratic Party (PDP) refused to acknowledge his inability to govern. The Senate had to use a parliamentary maneuver to name the VP as acting president. After three months overseas, Yar'Adua returned to the country and died shortly thereafter. And if Buhari is in fact significantly ill and unlikely to return, it will be the second time that the North has lost the presidency due to such circumstance.
In a country where politics and ethnic identity are so fraught, one might assume Buhari and the now ruling party, All Progressives Congress (APC), are intentionally refusing to show the president live or discuss the gravity of his condition. While much of the country is decrying the cost of keeping Buhari in the U.K. and wondering whether he's still fit to govern, several prayer vigils are taking place in the North. As one would expect, Northerners are hoping to not lose their grip on power once again.
Beyond ethnicity, many of the elite likely are convinced Buhari's departure would be to their detriment. In his two years in office, Nigerian civil society leaders have criticized Buhari's reticence to address the allegations of corruption from those in his inner circle. Most notably in January, he refused to dismiss the Secretary General of the Federation whom the Senate recommended be removed and prosecuted. Buhari's chief of staff has also been accused of diverting funds from the Nigerian High Commission in the UK to pay his own medical bill. Yet, at the very least, a rebalancing of power creates enough uncertainty for elites that maintaining the status quo may be their preferred option.
However, irrespective of Osinbajo's great work as acting president, Buhari's absence and the silence around it is a problem because of the many troubling issues that the elected head of state would ideally be healthy enough to manage. The country is suffering from drastic economic decline, slumping oil prices, ongoing Boko Haram attacks that have led to a humanitarian crisis, and internal strife between farmers and herdsmen in the nation's middle belt—any one of which would ordinarily require the unhindered attention of a head of state. The acting president can try to address all of these problems in his temporary tenure, but Nigerian voters elected Buhari because they trusted him—not necessarily his deputized president—to play this role.
And with every passing day, the progress from a democratic transition is buried deeper. Buhari became president after a much celebrated concession from the incumbent—the first in the country's history. It's ironic then that a president who benefitted from his predecessor doing the right thing is now refusing to grant Nigerians the same display of putting country first.
For his part, Osinbajo might very well become the best acting president Nigeria has ever had. However, by enabling his boss and their party to keep withholding critical information from Nigerians, he's now complicit in a regression of democratic ideals—ideals that appeared to be headed on the right trajectory when he and Buhari were duly elected in 2015.
Hopefully, President Buhari is alive and recovers. But for now, he should have the courage to share his prognosis with Nigerians. He should appear in public physically and demonstrate to Nigerians that in a short while he will be able to undertake the grueling task of governing again. For its part, the National Assembly should debate the severity of Buhari's health and determine if it's time for him to resign and let Osinbajo govern full-time. The nation's psyche and fiscal health require nothing less.
Kehinde A. Togun is a senior director at The Arkin Group and a Truman National Security Fellow. He was previously the deputy director of PartnersGlobal's Sub-Saharan Africa program. During Nigeria's 2011 elections, he trained and advised civil society as they monitored the electoral process. Views expressed are his own. You can follow him on Twitter @kehindetogun.