Trump Administration Looks to Weaken Rules on Conflict Minerals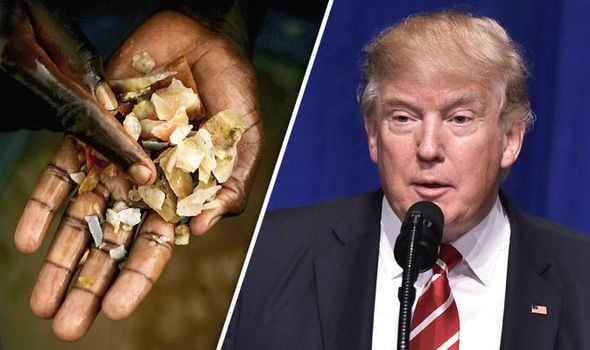 In the US, the Trump administration has ordered a review of Dodd-Frank banking regulations with view to scale back the scope of the 2010 Act.
This would include dismantling rules that requiring companies that use certain types of 'conflict minerals' originating in the Democratic Republic of Congo to disclose their sourcing and monitor supply chains.
The goal of Section 1502 was to ensure US-listed companies were not financially supporting armed groups that have benefitted from illegal mining to fuel the DRC's many armed conflicts.
President Trump is still considering an already drafted executive order which would suspend the conflict minerals section of Dodd-Frank regulations, among others, for two years as part of an effort to reduce federal regulations on businesses.
The proposed weakening of the conflict mineral rules has been criticized by human rights groups at a time when the fragile political detente in the DRC is already under threat. In 2016, president Joseph Kabila sidestepped constitutional rules to stay in office beyond the end of his term on 19 December.
Several protests have turned violent around the country in recent months, while a negotiated transition deal signed on 31 December is in jeopardy after opposition leader Étienne Tshisekedi died in Brussels in February. Armed groups are also increasingly active.
"Late 2016 and early 2017 have seen increased armed group violence not just in the DRC's restive east, but also in the central Kasai region, the western province of Kongo Central and the northern province of Mongala, in which such violence is historically less common," says Jordan Anderson, senior analyst at IHS Markit.
The concern is that as militant activity increases, easing Dodd-Frank regulations at the same time will create opportunities for mining to finance militants once again.
"This action would play right into the hands of president Joseph Kabila at a time when the United States should be increasing its leverage over the DRC, as opposed to weakening it," US congresswoman Karen Bass wrote in a 17 February statement opposing the White House's draft order.
So-called 'conflict minerals' are listed under OECD guidance as tin, coltan, tungsten and gold, or derivatives of these minerals. Large deposits of each are found in several regions of the DRC, including its restive southern and eastern provinces.
Today, 79% of miners in the eastern DRC who extract tin, tantalum and tungsten work in conflict-free mines. At the height of the civil war, however, the minerals sector was fueling arms sales for militias and funding recruitment drives.
Many attribute at least part of this shift to Dodd-Frank, and worry that changes to rules would undermine this progress.
However, some analysts argue the move will not result in rapid changes.
Pressures for transparency in the global mineral supply chains are not exclusively dependent on US legislation. The EU's Directive on Mandatory Due Diligence for Conflict Minerals and moves by China to scrutinize the origins of these minerals have both helped the push for greater global accountability.
Some even say that re-examining Dodd-Frank could be a positive step. After a successful appeal at the US Court of Appeals in 2014, Section 1502 was never fully implemented and has been in stasis ever since.
"This consultation may bring some clarity to over 6,000 US registered businesses who produce or use tantalum, tin, tungsten or gold and have been left to decide how and when to strengthen their 'conflict minerals' due diligence as the US courts stall on 1502," says Nicholas Garrett, director of due diligence firm RCS Global.
Boris Kamstra, the CEO of Alphamin Resources Corporation whose firm is developing the Bisie Tin mining project in the DRC's North Kivu province, has mixed feelings about the prospects of repealing elements of Dodd-Frank.
He is skeptical this will have much impact on the political situation in the DRC, which has stabilized considerably in the past few years. Armed groups with access to illicit minerals might be able to generate some revenue from them, but but he thinks local communities will not support militants who try to provoke widespread unrest.
However Mr Kamstra does believe the Act has helped African governments clean up corruption in the mining sector. "The mining sector [has been] aligning itself to compliance with Dodd-Frank, improving governance in the sector as a whole. This is a process, and one that could decelerate with a roll back," he points out.
Regulatory about-faces are also bad for business in an industry that requires long term planning. "There are aspects of the current legislation that could be streamlined and made easier for all producers to comply with, [but] these are refinements and not repeals," he concludes.
A copy of this article originally appeared at the Financial Times service This Is Africa, and reappears here with kind permission.