Tillerson Gives Beijing Face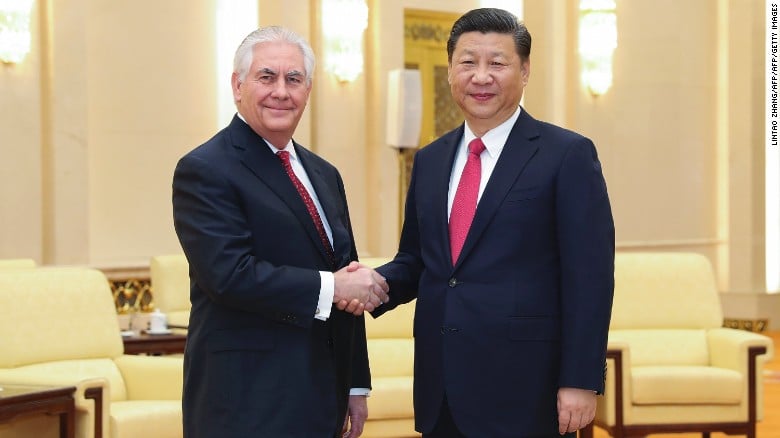 U.S. Secretary of State Rex Tillerson concluded his visit to China earlier this month, meeting with Chinese President Xi Jinping and pledging to his Chinese counterpart, Wang Yi, that relations between the two countries would be based on "non-conflict, non-confrontation, mutual respect, and win-win cooperation."
The statement by Tillerson is a Chinese concept, first put forth by Beijing in 2010, perhaps in an effort to avoid the much-quoted "Thucydides trap", after a theory developed by an Athenian historian after the Peloponnesian War between Sparta and Athens. The "Thucydides trap" simply says that a rising power causes fear in an established superpower which escalates toward war.
Tillerson's seemingly easy endorsement of a Chinese phrase is in sharp contrast to the previous Obama administration's refusal to do so, largely because the term "mutual respect" was seen as implying that other nations should respect China's "core interests," including Beijing's claims to the East and South China Seas.
Tillerson's acquiescence to the phrase also contrasts with his testimony during the confirmation process, when the aspiring secretary of state sent this confrontational message to Beijing: "We're going to have to send China a clear signal that, first, the island-building stops and, second, your access to those islands also is not going to be allowed."
During that testimony, he also reiterated Beijing's building and placing military equipment on the contested South China Sea islands were "illegal actions" and "extremely worrisome," arguing "They're taking territory or control, or declaring control of territories that are not rightfully China's," while adding the territorial grabs were "akin to Russia's taking Crimea" from Ukraine.
Of course, with his latest comments, Chinese and foreign media were quick to jump on the apparent reversal of Tillerson's earlier hawkish statements and serve their respective readerships. The Global Times, a state-owned nationalist tabloid, referred to "analysts believing that this means Tillerson has implicitly endorsed the new model of major power relations."
The critics from the Western media also pounced, with the Washington Post running the headline: "In China Debut, Tillerson Appears to Hand Beijing a Diplomatic Victory." Bonnie Glaser of the Center for Strategic and International Studies, argued Tillerson's acceptance of "mutual respect" translates into "the US is in effect saying that it accepts that China has no room to compromise on these issues." 
With Xi Jinping praising the U.S. Secretary of State's comments: "You said that China-US relations can only be friendly," adding, "I express my appreciation for this," Tillerson has chosen to save face for his Beijing hosts. His face-saving gesture may be an effort not to rock the boat in the days preceding the planned Trump-Xi summit in April. 
Yet if we are to take Tillerson's and Trump's previous statements at face value, the foreign policy they will adopt toward China will unlikely be one of 'non-conflict". One skeptic is Shi Yinhong, director of the Center for American Studies at the Renmin University of China. "Tillerson said these words because Trump wants to create a friendly atmosphere and environment for the upcoming summit," according to Shi.
For despite the pleasantries offered by Tillerson to his hosts, the Trump administration has plans for a huge new arms sale to Taiwan, officials are preparing measures to punish Chinese trade practices in the automotive industry, and Tillerson has said that military force might be an option should North Korea persist with its development of nuclear weapons. Trump may want to create a friendly atmosphere for the upcoming summit, but if these issues are still on the table in April, the practice of saving face may be swept aside.