Three Problems Facing Spain's Government Today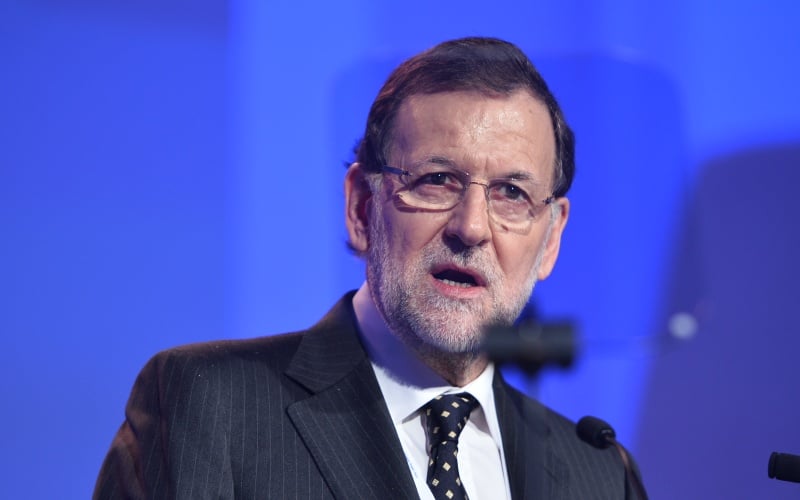 The medium-term outlook in Spain is under pressure from three issues. Its politicians will have to act judiciously to avoid a constitutional crisis. 
Spain's minority PP (Partido Popular) government has stuttered since October 2016. Despite the country's relatively buoyant economic performance this year, the government is under continued pressure from three sides: Catalan separatism, corruption allegations and the durability of its economic recovery. Significant movement in one of these areas could change the country's political calculus, and the wider region.
Impressive growth / stubborn unemployment
Mariano Rajoy's conservative PP administration has been in power since 2011, and has been one of Europe's foremost adherents of austerity. After years of painful cuts, however, Spain's economy has registered 14 consecutive quarters of growth. This year it has exceeded expectations, had its IMF forecast upgraded, and is now the Eurozone's fastest growing economy. If this trend continues time would appear to be on Rajoy's side, if real incomes continue to rise ahead of the next election, nominally due in 2020.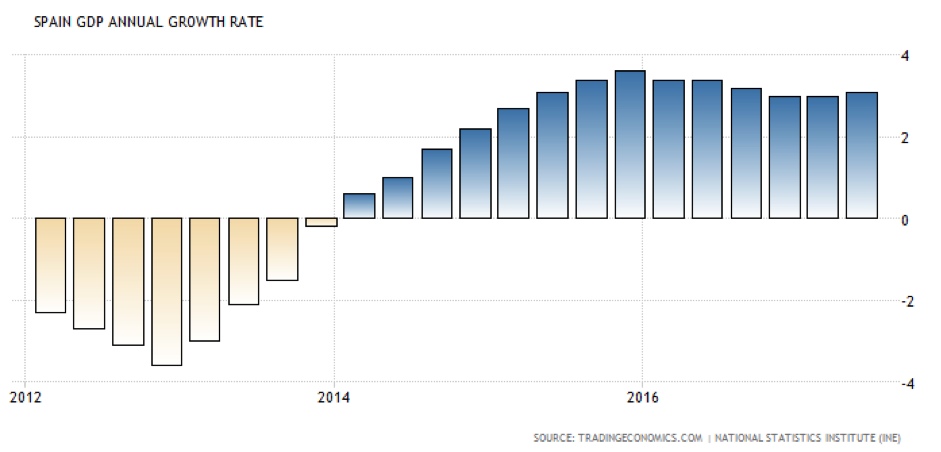 What tempers this optimism is the unemployment rate. Although the figure (currently 17.2%) has dropped from an eye-watering 26.3% in 2013, including a steep fall this year, the figure is still unsustainable. There is also a suspicion that the recent improvement is due to temporary – not full-time – jobs, encouraged by the PP's labour market reforms. The Spanish economy will need many more quarters of growth to bring this figure down, even into single digits. Meanwhile, pressure from Eurozone officials in Brussels is further limiting Spain's fiscal room for manoeuvre. After receiving a reprieve from a financial penalty last year, the government will have to – and most likely achieve – a budget deficit under 3.1% of GDP in 2017.
Corruption allegations circle the Moncloa Palace
Rajoy's government probably wishes it could focus all its energies on the economy. Other crises, however, present mortal threats to its survival. Corruption scandals have plagued the PP for years. Rajoy became the first serving Spanish Prime Minister to testify in court on 26 July. He denied any knowledge of corruption in the PP. Nevertheless, as leader since 2004 and government minister 1996-2003 he is precariously close to the scandal, which is alleged to date back two decades. Former PP treasurer Luis Bárcenas is the most high profile political casualty so far. The charges include bribes, influence peddling and secret slush funds. Rajoy gave evidence in the so-called 'Gürtel case', which is linked to the Bárcenas affair. The PP minority government rely on support from Ciudadanos (Citizens), a new party founded in opposition to corruption and growing Catalan separatism. It is not inconceivable that the scandal could fell the government.
Source: Heritage Foundation, Index of Economic Freedom
An October plebiscite on Catalan independence?
The final – and potentially most serious – component of this trio of risks is an independence referendum in Catalonia. The Catalan regional parliament, led by Carles Puigdemont, of the pro-independence Catalan European Democratic Party (PDeCAT), has called a referendum on 1 October this year. The central government in Madrid has so far refused to recognise the legitimacy of any plebiscite, stating that it would contravene the 1978 constitution. Both sides seem set on a collision course, driven by brinkmanship. Despite the chaos caused by the Brexit referendum last year, the probability that Madrid would not recognise the result, and that even if independence was declared a fledgling Catalan state would be blocked from joining the EU, opinion polls are currently very close.
Catalonia exceeds the rest of Spain's economic performance by every measure: higher growth, lower unemployment, higher GDP per capita. Catalan nationalists have eyed an almost perfect opponent in the PP government. Posters have started to appear around Barcelona making the link between a no vote in October and the Franco dictatorship. The current situation in Catalonia is the very essence of political risk. However Madrid choses to approach the referendum, a 'Yes' vote – even without recognition – would cause the dominos to fall in a most unpredictable manner.
Spain has registered steady economic growth since the depths of the financial and Eurozone crises. The country has implemented a number of reforms, demonstrating a flexibility less obvious in its other neighbours in South Europe. Nevertheless, Madrid will have to weather a number of other storms if this outward stability is to be maintained.
This article was originally published by Global Risk Insights and written by Robert Ledger.